La Cocina's 2018 Culinary Holiday Tamalada Class (NEW: Multiple classes for all expertise levels!)

Saturday, December 1, 2018 from 10:00 AM to 7:00 PM (PST)
Event Details

Join the city's best tamale makers as they work their masa magic, and then take your tamales home for your holiday parties.
Taught by the chefs of La Cocina, La Tamalada is an annual holiday celebration of food and family run by the family matriarchs.  Over the course of several days, the women make staggering amounts of tamales for families and friends, and with the help of a stovetop steamer, the supply lasts well throughout the holidays.  
From sweet-corn, banana-leaf wrapped goodness to tamales wrapper in tender corn husks and a plantain bow, acquaint yourself with the culinary diversity of Mexico, Central and South America, followed by a big feast and leftovers to cover your tamale cravings for days.  Like so many traditional foods, los tamales represent so much more than just a tasty bite - it's community and family.
---
ABOUT THE TAMALE CLASSES | 
This year we're doing something different. We heard your feedback and we are now offering smaller, more intimate group classes with a range of expertise levels to meet the needs of our savvy home cooks who want to make tamales from scratch to those who prefer to assemble tamales as they mingle. What this means... 

Tamale Assembly Mixer | Can't wait to get your manos in the masa and eat your tamales? This class is for you!
10:00 am - 11:15 am | $35 per person
12:00 pm - 1:15 pm | $35 per person
The class includes a short walkthrough of the recipe, procedures, and a demo of tamale assembly. All ingredients (masa and filling) will already be prepared by the La Cocina Chef ; and you'll get to quickly get your hands assembling as many tamales as you can while you get your mingle-game on during this short 1 hour class. Take your tamales home and steam them to be ready to eat just in time for the holiday season! This is not a cooking class. |  Limited availability; Reserve soon. 
---
Tamale Culinary Class | Become an expert, make tamales from scratch, from start to finish. This class is for the savvy home cook.
2:30 pm - 6:30 pm | $120 per person
This class includes a thorough instruction of the tamale recipe. In this 4 hour class, a La Cocina Chef will get you ready and guide you from start to finish on how to make the masa from scratch, prepare and cook the guisado (filling), and lastly assemble the tamales. Take your tamales home and steam them to be ready to eat just in time for the holiday season! | Small Group Class | Limited availability, Reserve soon!
---
@lacocinasf | #lacocinasf | #latamalada
<|Please note: Children allowed in the kitchen must be 12 years of age & above|>
<| Sign up to volunteer here |>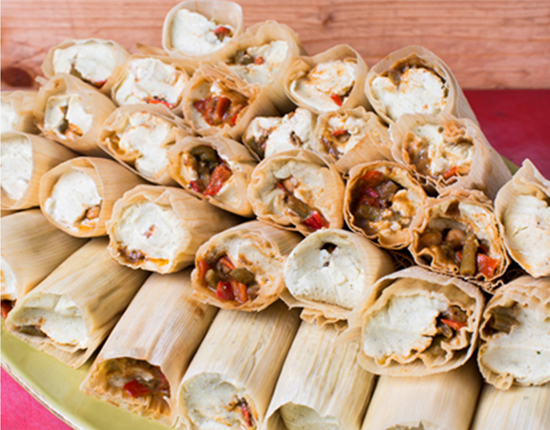 Have questions about La Cocina's 2018 Culinary Holiday Tamalada Class (NEW: Multiple classes for all expertise levels!)?
Contact La Cocina
When & Where

La Cocina
2948 Folsom Street
San Francisco, CA 94110


Saturday, December 1, 2018 from 10:00 AM to 7:00 PM (PST)
Add to my calendar
Organizer
La Cocina is a ground-breaking business incubator designed to reduce the obstacles that often prevent low-income food entrepreneurs from creating successful and sustainable small businesses. By providing affordable, shared, commercial kitchen space, an array of industry-specific technical assistance and services, access to market opportunities and access to capital, La Cocina works with entrepreneurs as they launch, grow, and formalize successful food businesses. We focus primarily on women from culturally diverse communities and immigrant communities. Our vision is that our program participants will become economically self-sufficient and contribute to a vibrant and diverse economy doing what they love to do.