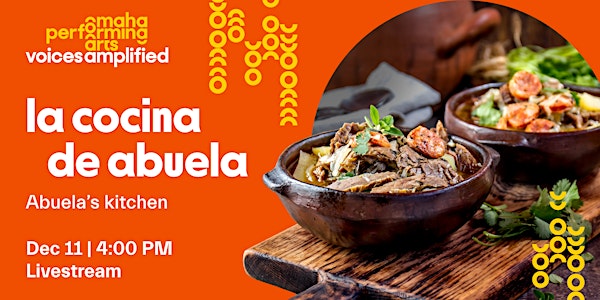 La Cocina de Abuela: Order Curated Meal Kits
Reserve a free curated meal kit to cook the same dish featured in the "La Cocina de Abuela" virtual cook along.
About this event
La Cocina de Abuela Video Premiere
Join Omaha Performing Arts and No More Empty Pots for a virtual cook along to learn about the vast impact of Latino culture on food. The video will air on O-pa's Facebook and Youtube channels on Sunday, December 11, at 4pm.
Cook alongside the "La Cocina de Abuela" panel in your own homes by reserving a curated meal kit FREE from No More Empty Pots. Each meal kit will include the ingredients and cooking instructions for four (4) servings of Arroz Mamposteao (vegan) and Pupusas (vegetarian) featured in the virtual cook along.
Order Instructions:
Each kit contains printed instructions/recipes and ingredients for four (4) meal servings. Order the number of kits based on the number of individuals you plan to cook for.
Kits are available to the first 50 registrants. In order to prepare orders in time for the live video premiere, the deadline to register is Friday, December 2nd, at Noon.
Kit assembly can accommodate most food allergies or dietary restrictions. The dish itself is vegetarian.
Kits are available for either PICK-UP or DELIVERY in Greater Omaha.
Pick-Up Options:
Friday, December 9, from 10: 00 a.m. to Noon (8501 N. 30th Street, Omaha, NE 68112)
Friday, December 9, from 3:00 to 5:00 p.m. (8501 N. 30th Street, Omaha, NE 68112)
Delivery Options:
Thursday, December 8
Friday, December 9
Saturday, December 10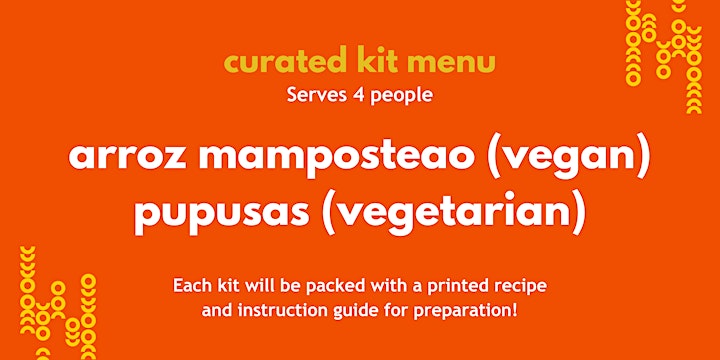 About the Voices AMPLIFIED! Series
This multidisciplinary arts and social justice series amplifies artists in diverse cultures. In the 21/22 season we're amplifying Black and Latinx voices by partnering with local and national touring artists to offer free community events every month through June 2022.