About this Event
In the working-class communities of Latinx America, the word "Chamba" can be heard on any bustling street corner. La "Chamba" literally means "work," and is a word used to describe one's hustle. La Chamba's humble origins began in a garage in South Los Angeles, with hard-working music that lured eager ears to their fresh West Coastal sound, known as "Chicha Angelina."
La Chamba transports the textures of 60's & 70's Amazonian Peruvian Surf-Pop "Chicha", to the present-day reality of life in the concrete jungle of Los Angeles. Their world is infused with Psychedelic Guitars, Lush Organs & Sweaty Synths, over a Hypnotic, heavy-grooving dance floor of fiery Afro-Latin rhythms, reminiscent of L.A's high-energy swagger & charm! Their signature "Chamba" tone pays homage to Peru's rich vintage "Chicha" spirit, with a sonic stamp that is distinctly Angeleno!
La Chamba's melodic landscape of Amazonian Surf Pop, Classic Psych-Rock, Los Angeles G-funk & deeply rooted Afro-Latin rhythms (spiced with Tropical nostalgia), known as "Chicha Los Angeles Style," or simply put "Chicha Angelina," encourages folks to nod their heads, shake their hips, break down barriers, let-loose and release their grind on the dance floor!
They've come a long way since their modest beginnings as a garage jam-band in South L.A! Since its inception, La Chamba has carved a distinctive mark on the musical terrain of Los Angeles- resonating as a musical force that "Owns the Streets of L.A!" (-According to Mitú). They've been featured in numerous publications, blogs and international radio stations including NPR, KCRW, Barrio Gold Records (Japan), Radio Krimi (France), Radio Berlin (Germany), Ibero FM (Mexico), Remezcla, PBS's Dublab, L.A. Record, KCRW, and LA WEEKLY! They've shared the stage with Peruvian Chicha giants Los Mirlos, Cumbia legend Celso Piña, Mexican icons Los Freddys, Colombia's Famous Rockers Aterciopelados, Grammy Award Winners La Santa Cecilia & Quetzal, Nigeria's Mdou Moctar, L.A's very own Ozomatli, Las Cafeteras & Chicano Batman to name a few!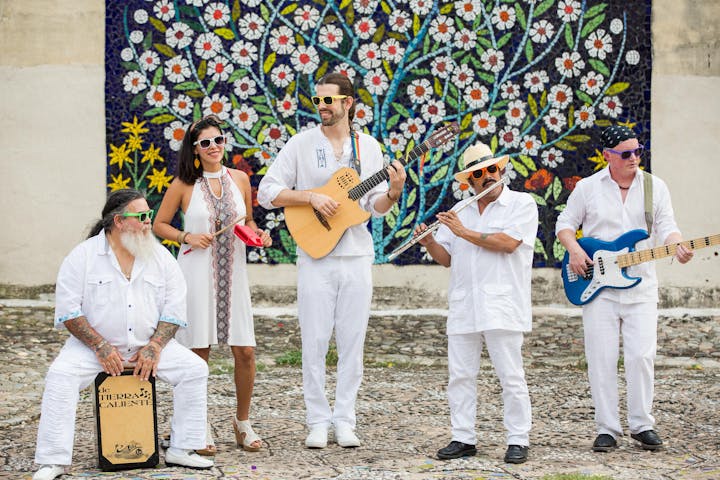 De Tierra Caliente are a Latin party band whose music fills the air with bright colors and gets everybody up and dancing. Catchy melodies and unaffected lyrics fuse with Latin, Caribbean and Brazilian rhythms to inspire an irresistible North/South American party.
Since its formation in 2014, this flavorful band from Philadelphia has released 2 full-length albums and played hundreds of shows throughout the US, Colombia, Brazil and Puerto Rico.
De Tierra Caliente delivers the sabor, spice and alegría of warm-weather countries to American audiences, where formidable winters and nose-to-the-grindstone work ethic sometimes overshadow simple pleasures like sharing a meal with friends or going out dancing. At a show you can't help but heat up as intoxicating songs in Spanish, English and Portuguese sing out the bright colors and familial warmth of a South American kitchen.