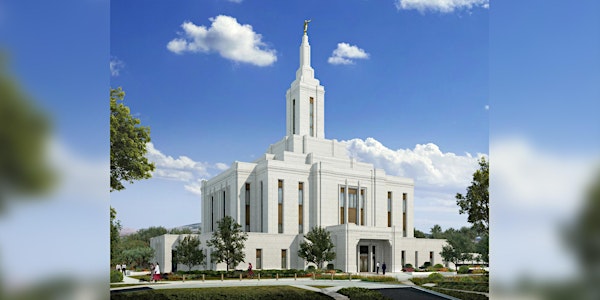 La Casa Abierta Del Templo de Pocatello - October 18, 2021 - Spanish Only
Sales Have Ended
Registrations are closed
Thank you for taking this opportunity to visit the Pocatello Idaho Temple during the open house.
La Casa Abierta Del Templo de Pocatello
About this event
ESTÁS INVITADO
Visitantes de todas las edades están invitados a la casa abierta del recién construido Templo de Pocatello Idaho de La Iglesia de Jesucristo de los Santos de los Últimos Días. Los recorridos iniciaran el sábado 18 de septiembre y continúan hasta el sábado 23 de octubre de 2021 (con la excepción de todos los domingos y el sábado 2 de octubre).
Los horarios de los recorridos son lunes a jueves de 8:00 a.m. hasta 8:30 p.m y viernes y sábado de 7:00 a.m. hasta 9:00 p.m.
QUE ESPERAR
La experiencia de la casa abierta inicia con un breve video seguido de una visita guiada al templo y concluye en el área de recepción. Visitantes pueden caminar y tomar fotos en los terrenos del templo. Los voluntarios estarán disponibles para responder preguntas o tomar fotos para los visitantes.
PAUTAS DE ASISTENCIA
Observe las siguientes pautas cuando están visitando la casa abierta:
Estaciónese en la dirección que figura en su boleto.
Se recomienda llevar zapatos cómodos y vestimenta modesta.
Se establecen medidas de seguridad para la seguridad de los visitantes de la casa abiertas. Estas medidas no permiten que las mochilas, paquetes, alimentos, armas, cámaras y cameras de grabación entren a los edificios de la Iglesia. Por Favor aseguren las bolsas en los vehículos antes de entrar a los terrenos del templo. Todas las bolsas serán registradas antes de ingresar al templo.
Las cosas prohibidas incluyen: armas, armas con filo, gas pimienta / maza, Tasar y objetos de fuerza contundente.
La fotografía y la grabación de video también están prohibidas adentro del templo.
No se permiten animales de servicio en el templo. Si se necesita ayuda, los voluntarios están disponibles para ayudar.
Por favor, absténganse de fumar o vapear en los terrenos del templo.
¡Gracias por su cooperación! Esperamos que tenga una maravillosa experiencia de la casa abierta.