Event Information
Location
Lola & tots
1109 Fulton Street
Brooklyn, NY 11238
Emit Theatre's original interactive story of the Coquí frog and El Yunque rainforest. Crafted for ages 4-9.
About this event
Please note that the bathrooms in the performance space are not wheelchair accessible. Please reach out to info@emittheatre.org if you would like us to coordinate access to an accessible bathroom.
English:
Come be whisked away to El Yunque rainforest in Puerto Rico!
El Coquí's home has been destroyed after the god Juracán has become upset and caused a wild storm to ravage the rainforest! Audiences will help the tiny but mighty Coquí frog save the home she loves. This interactive quest is infused with Spanish language as well as traditional Puerto Rican music and mythology. Children will learn important lessons about taking care of their environment and their feelings. Fun for all, crafted for ages 4 to 9.
Tickets are free but must be reserved in advance--limited spots are available!
Run time: 45 minutes
COVID safety: This is an indoor performance. Masks for adults and children over 2 are highly encouraged. The performance space will have an air purifier and the front door propped open for ventilation. All actors are fully vaccinated against COVID-19.
For questions about accessibility and accommodations, please reach out to info@emittheatre.org.
La Canción en la Tormenta is made possible by the New York State Council on the Arts with the support of the Office of the Governor and the New York State Legislature.
Español:
Los niños y las familias serán transportadas a la selva tropical de El Yunque en Puerto Rico.
¡El hogar de El Coquí ha sido destruido después de que el dios Juracán se enojó y causó una tormenta feroz que devastó la selva! La audiencia ayudará a la pequeña pero poderosa Coquí a salvar el hogar que ama.Esta aventura interactiva incorpora la lengua española, junto con canciones y mitos tradicionales puertorriqueños. Los niños aprenderán lecciones importantes sobre cómo cuidar el medio ambiente y sus propias emociones.
Los boletos son gratuitas, pero deben reservarse con antelación. ¡Los lugares son limitados!
Duración: 45 minutos
Seguridad COVID: Esta es una actuación en interiores. Se recomienda encarecidamente el uso de máscaras para adultos y niños mayores de 2 años. El espacio de actuación tendrá un purificador de aire y una puerta abierta para ventilación. Todos los actores están completamente vacunados contra el COVID-19.
Si tiene preguntas sobre accesibilidad y adaptaciones, comuníquese con info@emittheatre.org.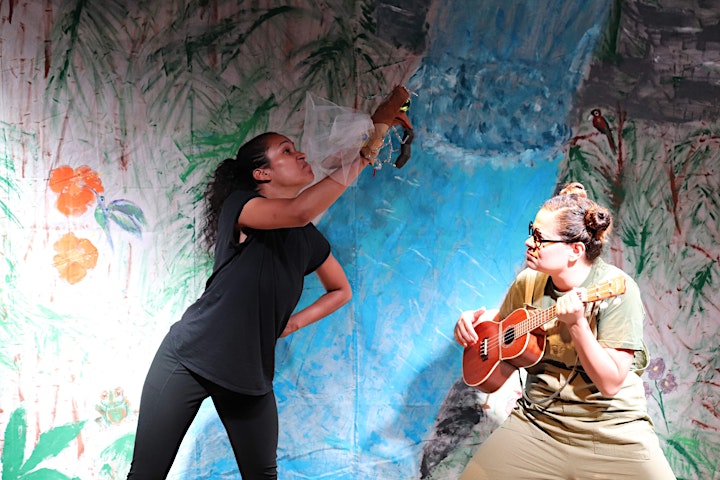 Date and time
Location
Lola & tots
1109 Fulton Street
Brooklyn, NY 11238