La Brea Summer Block Party Series

Monthly Event - Third Saturday of every month
Event Details
    ***District La Brea Summer Nights Block Party Series***
Special Live Painting in Partnership with TARFEST 2013

La Brea, LA's newest street retail, restaurant and gallery destination, is excited to host it's last installment of the La Brea Summer Nights: Block Party Series. Boutiques, galleries and retailers between 1st & 2nd Street on La Brea Avenue will host exclusive discounts, promotions, music, refreshments, and special artist exhibits.
A Very Special LIVE ART EVENT produced in partnership with Tarfest Music and Art Festival, LaunchLA and Merry Karnowsky Gallery will some of the top LA artists; 
CRAOLA / AXIS / devNgosha / Edward Walton Wilcox / Britt Ehringer + NAMAAK collective / and KMNDZ. 

Each artist will create hand painted murals on 10 ft tall x 25 – 50ft wide wooden barricades which will stretch out over 175 feet along La Brea Avenue. 

Truly a unique event! Join us and explore the shops, cafes, and galleries on the block! 
Connect with us: https://www.facebook.com/events/1407378299474582/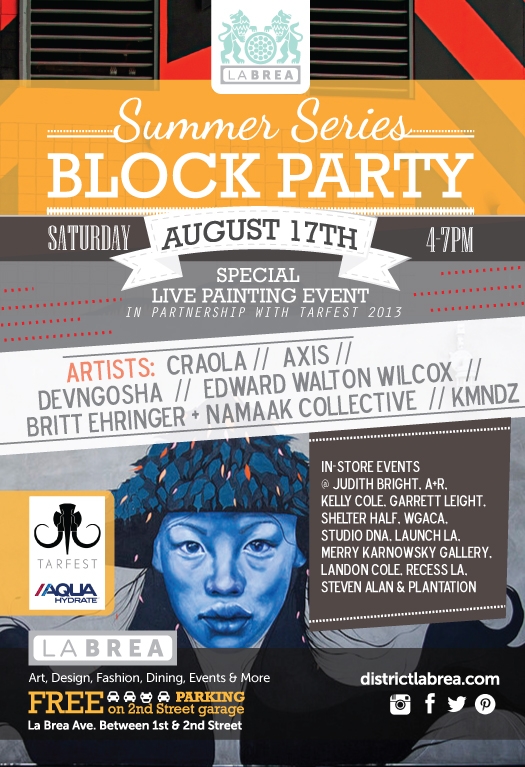 FREE parking located on 2nd Street- garage.

Participating Businesses:
Judith Bright – 177 S. La Brea Ave. 
* Music, refreshments and exclusive event discount

Kelly Cole USA – 175 S. La Brea Ave. 
* Exclusive 20-50% OFF, refreshments, music

A + R – 171 S. La Brea Ave. 
* Refreshments and exclusive event discount

Merry Karnowsky Gallery – 170 S. La Brea Ave. 
* Artists Reception 

Launch Gallery – 170 S. La Brea Ave. 2nd Floor
* Artists Reception 

Garret Leight California Optical – 163 S. La Brea Ave.
* In-store event, music, refreshments

Shelter Half- 161 S. La Brea Ave. 
* Live Painting by Artist Brady Erickson 

What Goes Around Comes Around – 159 S. La Brea Ave. 
* Exclusive in-store discounts

Studio DNA – 151 S. La Brea Ave. 
* Music, refreshments and exclusive event discount

Landon Cole – 149 S. La Brea Ave. 
* Exclusive in-store discounts

Recess LA – 111 N. La Brea Ave. 
* Music, champagne & exclusive 10% discount on all merchandise

*Studio DNA
- FREE Services include braiding, styling, touche ups, DJ & wine

Undefeated – 112 ½ S. La Brea Ave. 
Plantation –144 S. La Brea Ave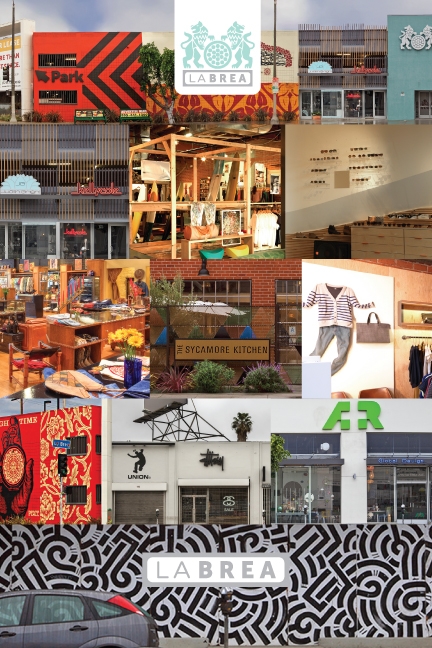 Where
181 S. La Brea Venue
Los Angeles, 90036


Monthly Event - Third Saturday of every month
Add to my calendar
La Brea Summer Block Party Series