Actions and Detail Panel
LA BioMed Innovation Showcase 2017
Thu, March 9, 2017, 8:30 AM – 6:30 PM PST
Description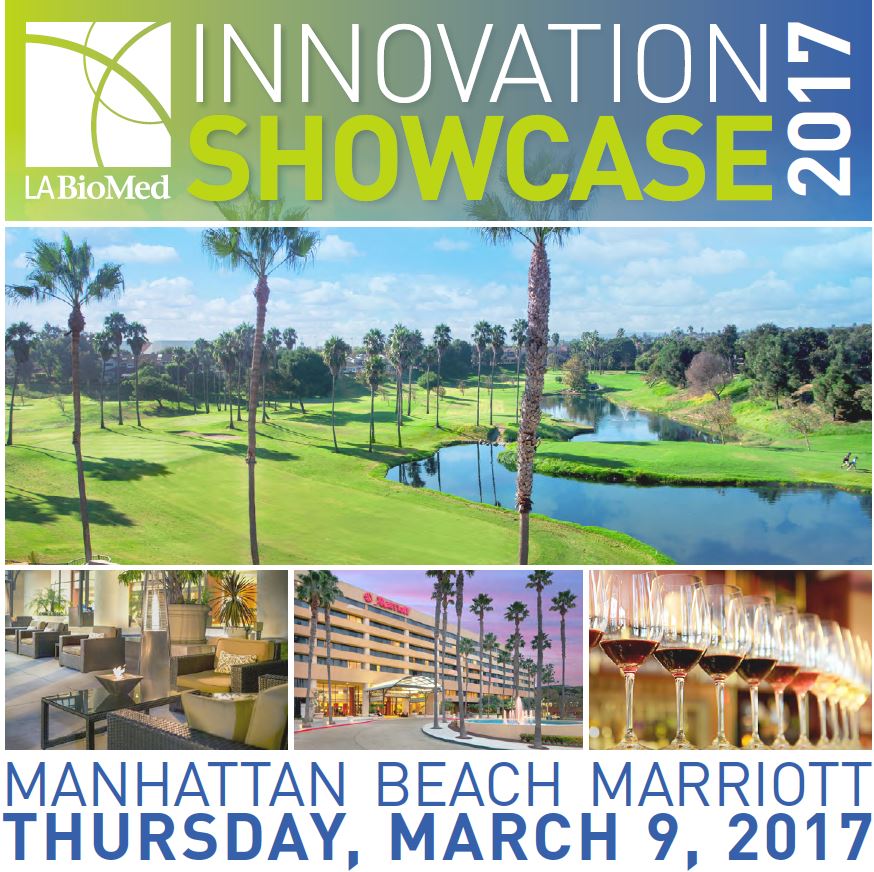 LA BioMed invites you to join over 300 participants for an exciting day of innovation. Startup companies from prestigious research institutions throughout California will present, including: LA BioMed, Biocom, California Life Sciences Institute, CalState LA, Cedars-Sinai Medical Center, Children's Hospital Los Angeles, Lab Launch, Larta Institute, Pasadena Bioscience Collaborative, UC Irvine, UCLA, UC Riverside, UCSD, USC, and more.
Additionally, we will be focusing on broad issues that can affect commercialization so we will have major addresses from LA County Supervisor Mark Ridley-Thomas, CEO & President of LA BioMed David Meyer, NIH SBIR/STTR Program Manager J.P. Kim, Executive Director of Biocom Dina Lozofsky, Silicon Valley Bank Director of Southwest Life Sciences Brett Maver, California Life Science Association CEO Sara Radcliffe, and Larta CEO Rohit Shukla.
The program will be followed by a reception featuring posters on break-through technologies, along with a fine wine tasting hosted by LA BioMed's President and CEO, David Meyer, PhD and our Vice President of Business Development and Technology Transfer (and Certified Sommelier), Keith Hoffman, PhD.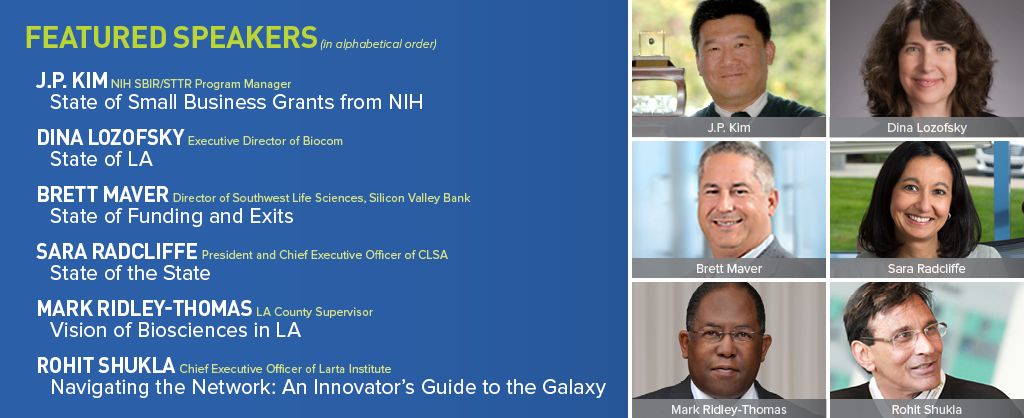 Quick View Schedule
8:30 – 9:30 Registration and Continental Breakfast
9:40 – 9:55 Introduction and Opening Remarks
9:55 – 10:10 "State of the State"
10:15 – 10:30 Emmaus Life Sciences
10:30 – 10:45 Novadigm Therapeutics
10:45 – 11:00 SyneuRx
11:00 – 11:15 QT Medical
11:15 – 11:30 Coffee Networking Break
11:30 – 12:30 Session 1A, Medical Device Presentations: NeoVative, Max BioPharma, Blast Resolve, Nfant
11:30 – 12:30 Session 1B, Therapeutics Presentations: Avenzoar Pharmaceuticals, Empire Biotechnology, Sixal, Vitalex
12:30 – 2:00 Lunch
2:00 – 3:30 Session 2A, Medical Device Presentations: Deton, Velox Biosystem, SensoryGen, Ziteo Medical, BDI, Capillary Bio
2:00 – 3:30 Session 2B, Therapeutics Presentations: Onco Therapies, JeniVision, Proteris Biotech, AF-Tech, Cell Care, WinSanTor
3:30 – 3:45 Networking Break
3:45 – 4:00 "State of LA"
4:00 – 5:00 Session 3A, Medical Device/Therapeutics: Unlicensed: CAR-T cells and immune-oncology, Tiny Kicks, EOS, Syntr Health Tech
4:00 – 5:00 Session 3B, Therapeutics Presentations: Panaceanano, BioVinc Platform Tech, BCN Biosciences, SHAL Technologies
5:00 – 5:15 "State of Funding and Exits"
5:15 – 6:30 Poster Session with Fine Wine Tasting
For event inquiries, please contact events@labiomed.org.
For sponsorship opportunities, please contact partner@labiomed.org.