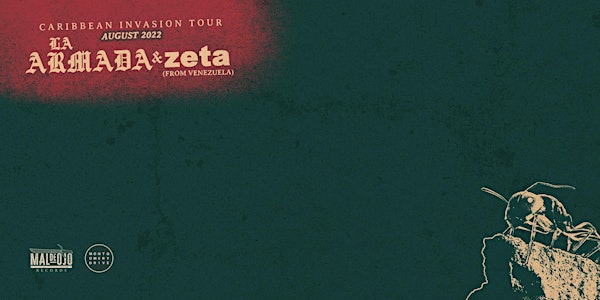 LA ARMADA with ZETA, GENERATION WHY, MUNGO MOUNTAIN on AUGUST 19!
Ages 21+
TOM JOHNSON PRODUCTIONS presents
GENRE: PUNK/METAL
When and where
Location
Lyric Room 231 N Broadway Green Bay , WI 54303
About this event
TOM JOHNSON PRODUCTIONS presents
LA ARMADA with ZETA, GENERATION WHY at the LYRIC ROOM on AUGUST 19
DOORS 8:30PM | SHOW 9:30PM
TICKETS: $14 ADV | $16 DOS - available to purchase at Keggers Bar, Rock n Roll Land, at the door or on Eventbrite
21+ event
ABOUT THE BANDS
LA ARMADA - La Armada's focus is to leave their mark on heavy music. A punk band at heart, they utilize elements of Afro-Caribbean rhythms and metal to create a style as unique as their story. Formed in the Dominican Republic in 2001 from where they dominated the Caribbean scene for years, the band opted to take a leap and relocate to Chicago in 2008, where they still reside.
Influenced by bands ranging from the Bad Brains to Death, they take elements from their native Island's music to conjure a unique recipe; explosive live energy, and a clear cut narrative that highlights the effects of neo-colonialism on vulnerable communities.
Whether headlining tours throughout the world or supporting the likes of Sick of it All, Propaghandi, Strung Out, Death by stereo, and more, La Armada has come to bring a vibrant spin to the scene.
ZETA - The South American rock group known as Zeta (originally from Venezuela, now based in the United States) embraces their identity through music in collaboration with The Abajo Cadenas Orchestra (a collective of musicians spread out across the world) to publicly share a new album that connects them to their roots more than ever. Experimenting thoroughly with musical elements that anyone who grew up around Latin American culture will have engrained in their psyche such as calypso, cumbia, salsa, bossa nova and the distinct afro-Caribbean rhythms among other sounds that have left a cultural imprint that represent the places where the musicians grew up and formed their musical identities.
"Todo Bailarlo is more than just a transformation- it represents a reconnection to our origins -the act of opening the door to our souls- Where on the on the other side of it our real purpose was revealed. We humbly wish to offer some of these learnings as tools to help us collectively heal from the suffering and hardships of past times. The world as we once knew it is ready to usher in something new, to take a leap of faith into a new era and we want to make it as welcoming as possible to anyone who becomes acquainted with our art to find comfort in it- we wish to offer a map. A map well-known routes and with new paths taken. Paths that may feel unfamiliar but have been tread by humanity for a very long time," Juan Chi
GENERATION WHY - We are a hardcore punk / power violence band from Neenah, WI.
Uri W. Heavy left - Bass/Vocals
Ethan S. drunken bastard- Guitar/Backing Vocals
Hunter K. blahfish/ the koz - Drums
MUNGO MOUNTAIN - We are out of Kenosha, Wisconsin. We play garbage disposal rock.
https://mungomountain.bandcamp.com/releases