Description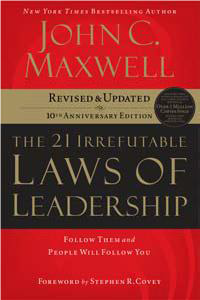 Presented by AD2 Consulting and Kasuyi & Associates, LLC in partnership with the L2L Leadership Institute, invites you to a Virtual Leadership Seminar based on the book "21 Irrefutable Laws of Leadership" by Dr. John C. Maxwell. The virtual Seminar will take place on Friday, December 1, 2017, 12 noon, est.
The "21 Irrefutable Laws of Leadership" is one of the most powerful and foundational books on leadership and is New York Times Bestseller. In this book, John Maxwell asserts "that personal and organizational effectiveness is proportionate to the strength of leadership." In order to become better leaders, each of us must personally grow as leaders and as a result, we help others follow suit.
In this leadership seminar, you will have the opportunity to hear from Ditu Kasuyi, a founding member of the John Maxwell Coaching, Speaking and Teaching Team and learn how successful people take their leadership skills to the Next Level by examining some key leadership principles from this book.
Secure your spot in this virtual workshop by registering at https://L2L21LeadershipSeminar.eventbrite.com
For More Information, please contact us at:
AD2consulting@comcast.net or Ditu.Kasuyi@kasuyiassociates.com