Description
---


This edition of L U S T is all about luxuriating in the heat of summer. As we reawaken from our slumber of winter and spring, we open ourselves to all of the possibilities that the heart desires. Limbs entertwine, mouths open wide in pleasure, eye contact lingers....
Love and L U S T take many different forms. Discover yours June 16th in the heart of the creative capital of the world, in a room full of NYC's most provocative performance artists. This event is for couples, singles, groups of friends...for everyone with love and l u s t in their hearts, an open mind, and a penchant for consensual interaction.
---
*All Sales Are Final. See policy at bottom of page
---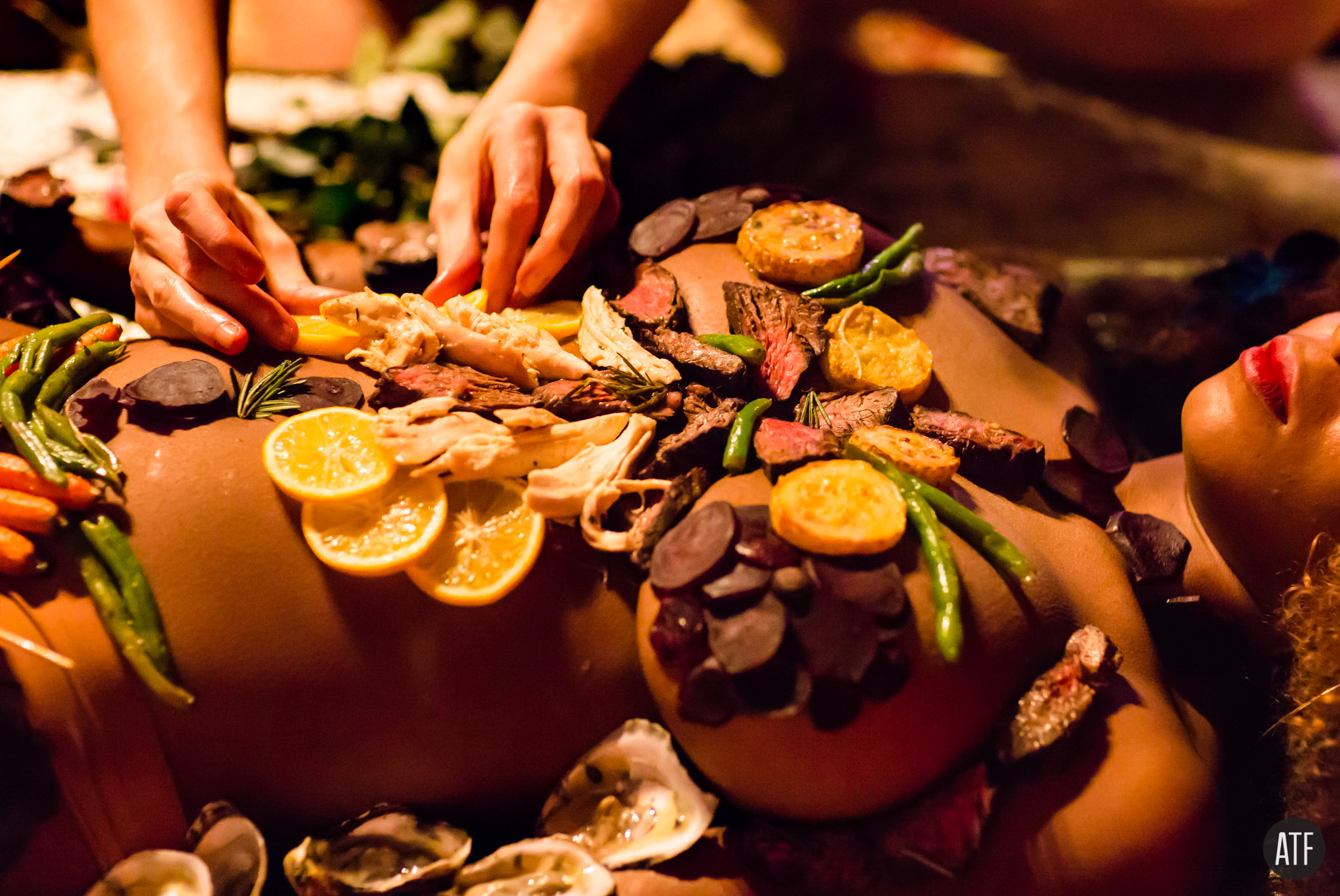 ---

~Leave your inhibitions at the door~

Does danger excite you? Have you ever wanted to live one night completely on the edge of your boundaries?

L U S T presents a night curated by Abby Hertz at Lot 45 featuring NYC's most daring performers, and a night of sen$ual debauchery.

Indulge every sense and make no apologies

Lose yourself...

Lock away your decency and throw away the key…

---

::~Dinner~::
7pm-9:30pm

*photo by Adrian Buckmaster

Enjoy a sumptuous feast served off of n*ked bodies, fed to you by our lascivious servants.
There are no plates and no utensils. All food is eaten with your hands.
We are carnal animals. Remember your origins and eat with abandon.
Each table and body has a different course. Spend time lounging at each table to get your full meal.
Our Summer feast is a sumptuous, sensuous, and indulgent.
Vegan and vegetarian options will be available as well as choices for our omnivores.
Food by Chef Samia Behaya
---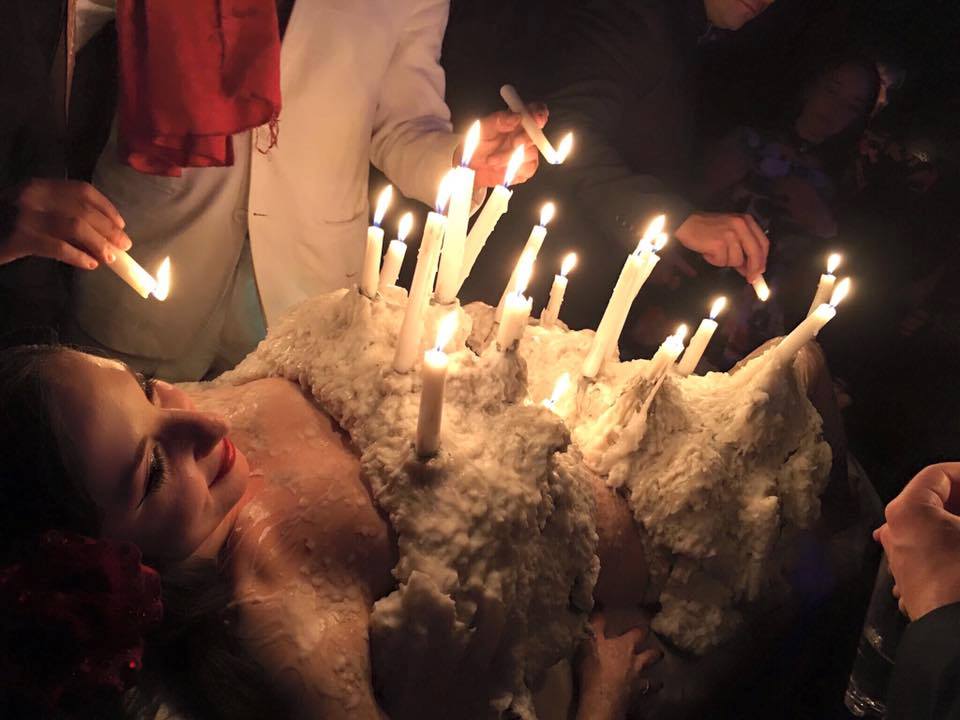 ::~Main Event~::
9:30pm-3am

Immerse yourself in e r o t i c art installations and a night packed full of delicious, s*nsual performances.
Our garden of earthly delights will titilate your senses all night with interactive art installations, erot*c performance art, secret fet*sh stations, dungeon and play area, cuddle puddle lounge, live musical acts, and a late-night steamy DJ session.
...Watch out, you just may be kidnapped by one of our High Priestesses and initiated into her underworld...

Night of ecstatic pleasures includes:

~S e x Magick Ritual and Opening Ceremony
~Interactive Human Candelabra and Hot Wax play area
~Private Dungeon by Head Mistress Lydia Vengeance & her Vengeance Vixens
~Shibari installation and interactive experience by Kissmedeadlydoll
~Cuddle Puddle by Domino Vi and sensual lounge area
~Violet Wand Flogging (Yes, really)
~Erot*c Ambient Acrobatics by XO Acro
~A plethora of performance art including: contortion, aerial, fire, burlesque, and more...
~Live Music
~Stage performances all night long...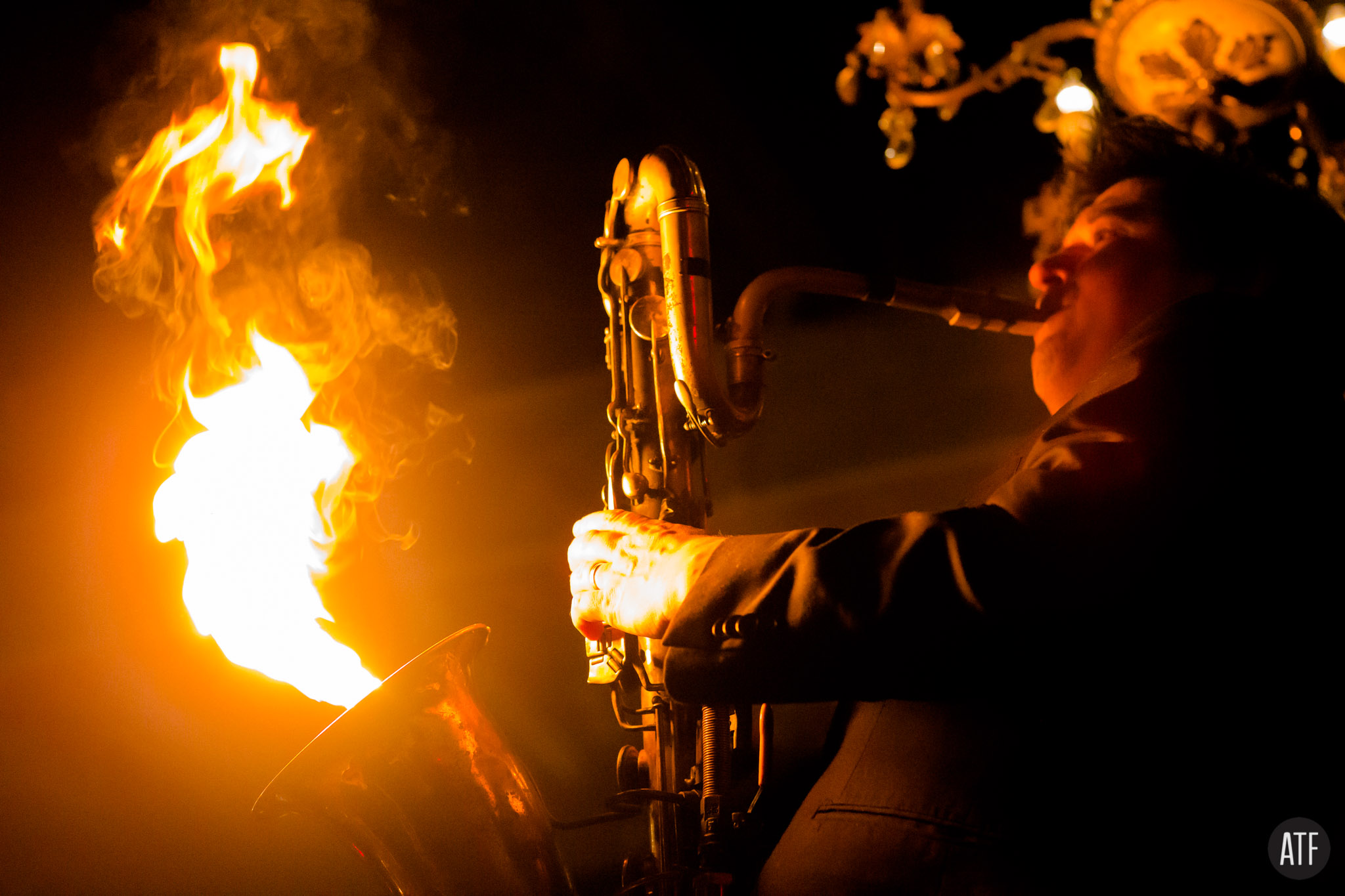 ---
STARRING:

Veronica Varlow
Abby Hertz
Chris Flambeaux
Chelsa Doll & Mildred S. Pierce
Natasha Phoenix King
Delysia LaChatte II
Tad Emptage & Mendel Romanenko
Sugar Mamasota
Jackie Powell
Pixel Chick
Al Emadi
De Stewart
Jonathan McDonald
Sarah Sparkles
Contessa Montebello
Sarah Elizabeth
Nola Kodish
Roy Davis
Jackie Skye
Juanita Jenny Viera
Adam Rei Siegel
Frank RopeDart Hatsis
Kayla Lael aka Lydia Vengeance
Vonka Romanov
Audrey Deja Allen
Albert TJ Santiago
Alesha Sedasey
John Fathom
Innocenia Davoren
Andriana Santiago
Roberto Garcia
Amy Hope
Victoria Elizabeth
Leona Beretta
Michael Klimovich
Jonathan Cartagena

DJs Kevin Bourgeois and Milk Gian

Live Band La Pachamambo


~more to be announced~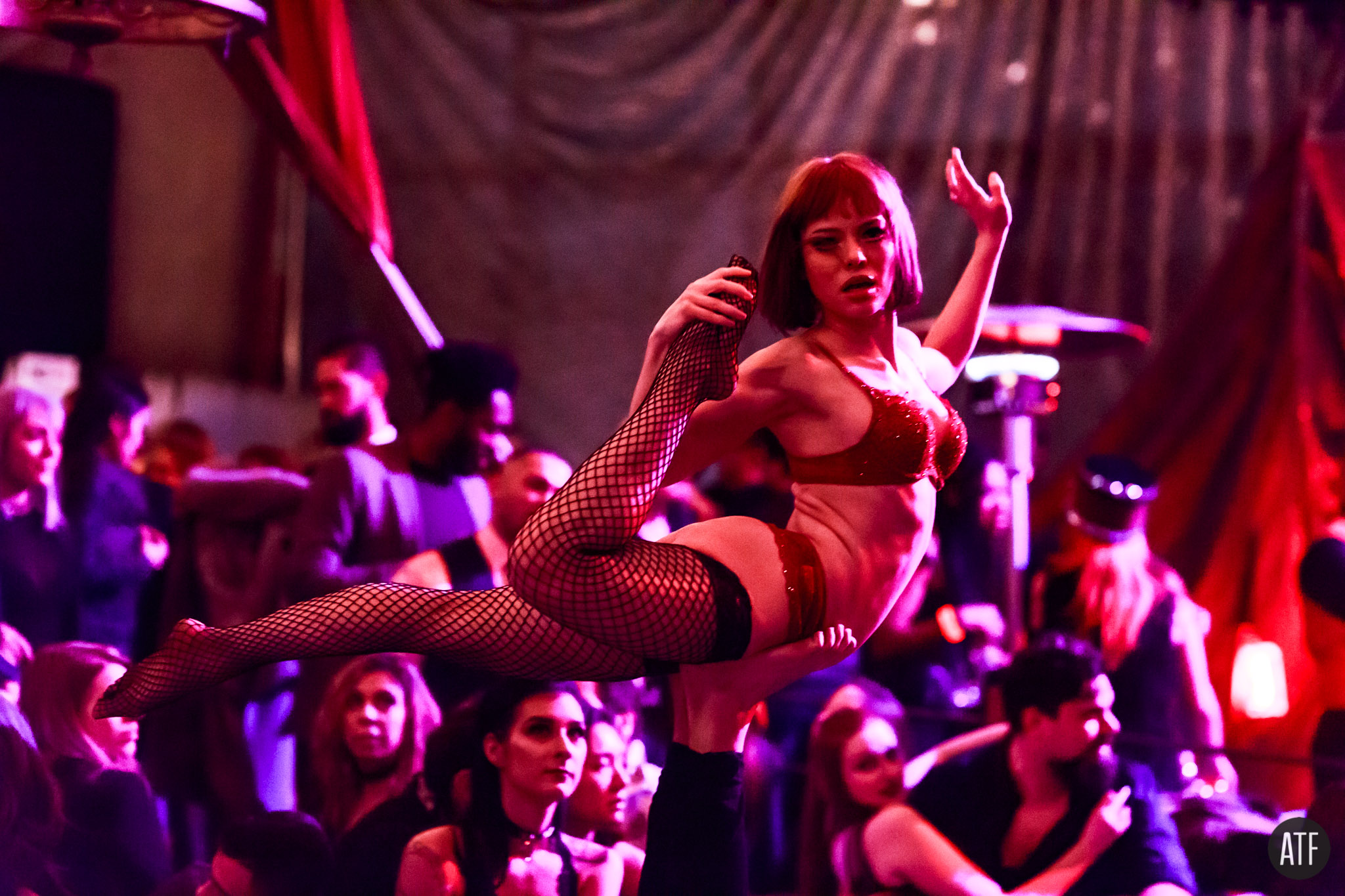 ---
~~~Consent is s e x y~~~
~~Please let our servants and mistresses know your limits~~
L U S T creator Abby Hertz works hard to create a lush, s e x y, and SAFE environment for guests to explore their s*nsuality through their senses. ALL touch between guests must have prior affirmative consent. Ask before you touch. Ask before entering anyone's scene. Be respectful of other's play areas, space, and most importantly, bod*es. If you feel uncomfortable at any time, please tell a monitor, stage manager, producer, or staff. Producer and venue reserve the right to have anyone escorted off premises that v*olate consent or to deny entry to anyone acting inappropriately.
---
PHOTO POLICY: NO CAMERAS ALLOWED OTHER THAN PRESS AND OFFICIAL PHOTOGRAPHER. If you bring a camera, you will be asked to check it in coat check. Please use camera phones sparingly, discreetly, and always ask permission before taking any photos of other guests.
Members of the media will be present at LUST and both photographs and video will be taken that could include guests.
---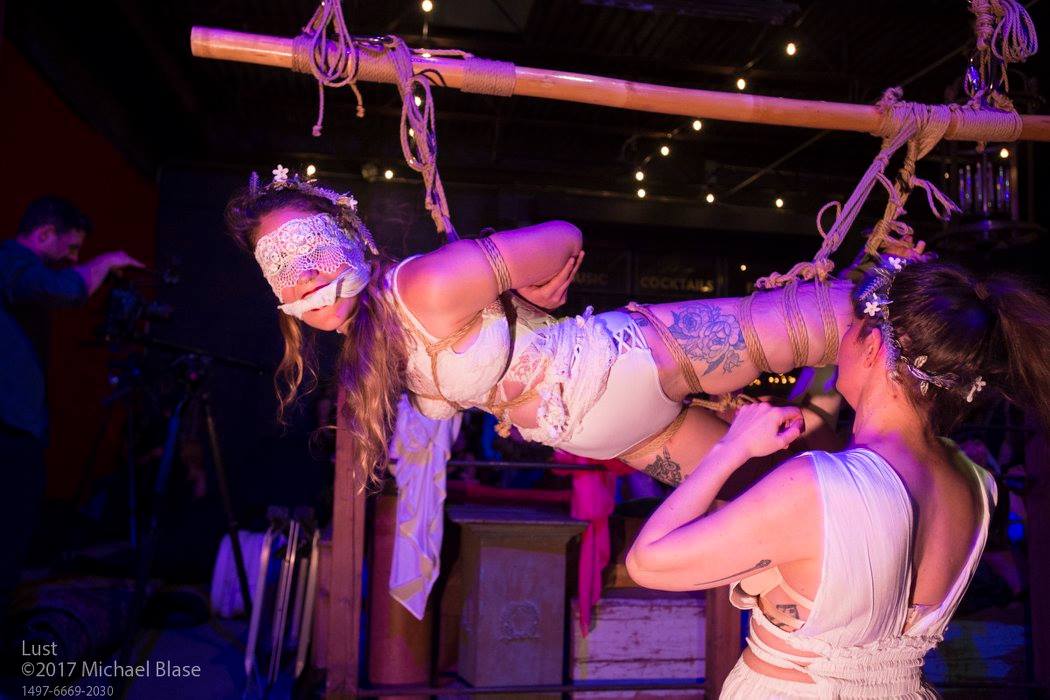 ---
*Refund Policy: ALL SALES ARE FINAL.*
If you cannot make it to LUST for any reason, please post your tickets in the discussion section of the FB event page: https://www.facebook.com/events/137852743570301

LUST producers reserve the right to refund any ticket if they deem the ticket holder to be inappropriate or unsafe for the event prior to the event, or ask a person to leave the event with no refund if they act inappropriately. LUST and venue staff decide what they deem to be inappropriate for their event and venue.
Tickets are also NOT TRANSFERABLE. If you can't make it for any reason, you are not entitled to transfer the ticket to a future event.
LUST is an above-the-belt event. We are a s*nsual party with erot*c tones and NOT a s e x party. If you are caught breaking the no-s*x/no-below the waist interaction rule, you will be asked to leave.
---
DRESS CODE:
FORMAL, FET*SH, and/or CREATIVE DRESS FOR ALL GENDERS.
NO STREET CLOTHING. NO JEANS, NO T-SHIRTS, NO KHAKIS, NO POLO SHIRTS, NO FLIP FLOPS, NO SNEAKERS.
For inspiration: https://www.pinterest.com/avygal/lust/
L U S T is an immersive environment and you are part of it so dress the part <3
---
21+
No one under 21 permitted
All photos © Andrew Foster unless otherwise noted