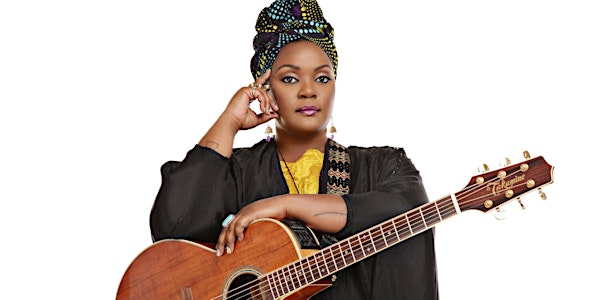 Kyshona with Ali McGuirk
Swallow Hill excitedly welcomes Kyshona with Ali McGuirk to our Daniels Hall stage!
When and where
Location
Swallow Hill Music - Tuft Theatre 71 East Yale Ave Denver, CO 80210
Performers
Headliners
More Performers
About this event
Artist. Activist. Music Therapist Gone Rogue.
(Kuh-SHAUN-Uh)
Kyshona has always lent her voice and music to those that feel they have been silenced or forgotten. She began her career as a music therapist, writing her first songs with her patients -- the students and inmates under her care. She soon found the need to write independently and find her own voice, and endeavor which led her to the fertile ground of the Nashville creative community and songwriting culture.
Since then, she has learned how to balance her music career with her passion to heal and foster community through her non-profit organization Your Song.
Her song Listen became an anthem for many in 2020. Of her album, one fan reviewer wrote: "Amidst these hard, divisive times this set of songs is a salve for the grief many of us are feeling about resulting loss of family, friends, and community." Within the grooves of its 10 tracks, Kyshona blends roots, rock, R&B, and folk with lyrical prowess to uplift the marginalized and bring awareness to the masses. It's for every silent scream, every heavy load, fearful thought, and a simmering sense of anger that the repressed, the lost, and the forgotten try to hide from the world.
Audiences will find a common thread of empowerment, overcoming adversity, and finding hope in her work. The show doesn't end when the last song is sung. After her powerful performances, concertgoers often ask, "What can I do?"
Her response? "Listen."
Ali McGuirk
Ali McGuirk has made a career of captivating audiences with her powerful, buttery voice and heartfelt songwriting. Her earliest years as a performer were spent earning residencies across 4 continents, from Santorini to Hong Kong.
In 2016, she was recognized by the Boston Globe as an "artist to hear," along with Lake Street Dive, Haim and other notable names. Shortly thereafter, she released her debut, self-titled EP and has been riding that momentum ever since.
In November 2017, she released her first full-length album, "Slow Burn," which saw her working with an eclectic mix of artists, including Boston guitar legend Jeffrey Lockhart (Lettuce, D'angelo, Lalah Hathaway), Brandon Mayes (Kendrick Lamar, Soulja Boy), DeShawn D'Vibes Alexander (Marcus King, Eric Krasno) and Cilla Bonnie (Air Traffic Controller).
"Slow Burn" was named on multiple year-end lists, including Boston rock critic Steve Morse's Top Ten Albums of 2017, and contributed to Ali's current total of 7 Boston Music Award nominations and her 2018 New England Music Award nomination for R&B Act of the Year.
At the 2018 Boston Music Awards, Ali took home Blues Artist of the Year and Live Residency of the Year for her monthly First Fridays at Bull McCabe's Pub. Find Ali playing most regularly around Cambridge and Somerville or check her schedule to see when she'll be coming to a city near you.
Find "Slow Burn" streaming on all online platforms.