About this Event
8PM Doors
9PM Show
Kyle Emerson
Folk rock guitarist and singer-songwriter Kyle Emerson broke out with his debut EP, 'Worth It', in May of 2017. With that first release, Emerson has quickly become one of Denver's most promising talents. Mixing swift finger-picking, breathy vocals, and tell-all-lyrics, Emerson tight ropes a blend of the harmonious folk rock of the 60's with a twist of modern sonics.
On his debut full-length, 'Dorothy Alice' (via Guilty Pleasure Records), Emerson showcases a poise and maturity for the craft of songwriting far beyond his years.
Having opened for artists over the years such as Charles Bradley, The Districts, Jeff the Brotherhood, La Luz, Twin Peaks, Israel Nash, Anderson East, Wild Child and more, Emerson continues to solidify his presence as an artist on the rise.
"... a scoop of Ryley Walker, a sprinkle of Elliott Smith - that's different and gripping enough to peg Emerson as Denver's next artist to watch." - Denver Post
"The album is a blend of rich psychedelic folk that couples the trippy, dripping harmonies of early Beach Boys (See: "Dorothy Alice") with the pop sensibilities of The Beatles' more far-out tracks (See "Post Egomania")...he is able to tackle some far-reaching soundscapes and open a bevy of psychedelic doors, while also keeping the album light, approachable and captivating" - Marquee Magazine
The Spirettes
Originally named after the band's lead guitarist "Katey Sleeveless," the power trio Spirettes Kate Perdoni [guitar/vocals], Kellie Palmblad [bass/vocals], and Emily Gould [drums/vocals] formed in Colorado Springs in spring 2017. The ethereal guitar-driven rock, supported by pop structures and sprinkled with myriad ghostly female vocals, launched a unique sound, style, and collaboration which quickly garnered interest and local notoriety.
Perdoni and Palmblad joined forces in 2015 through a mutual friend, embarking on musical collaborations in several pre-established projects. The two found immediate synergy, blending their musical tastes, writing styles, and aesthetics with reverb-heavy, atmospheric, layered soundscapes and vocals. Perdoni's work in a previous project, Eros and the Eschaton (Bar/None Records), was richly accentuated by Palmblad's vocal composition style from former experimental bands including Eyes Caught Fire. Perdoni and Palmblad, seeking to solidify their team, brought on drummer and vocalist Emily Gould. Armed with Gould's keen sophistication and versatility -- informed by 18 years of playing in a variety of projects -- the group's sound elevated to a hard-hitting power trio. Their combined creativity and emotive writing quickly cemented a foundation for the band's forceful, raw, and lush expression of the female experience.
The band produced a lo-fi recording of their original set in April 2017, dubbed "The Horse Barn Recordings" for its setting in a reconstructed horse barn built in the early 1900's. From this stark, haunted initial sound, the band landed a spot in Denver's Underground Music Showcase, then began booking throughout Colorado. Playing art houses, DIY space, and rock clubs, the project gained ground, then received the support of engineer Andrew Jones, who recorded their self-titled EP in August 2017.
The recording process solidified the band's blended vocal arrangements, layered guitars, and stirring waves of sonorous frequencies. David Lynch-infused dark atmospheres mixed with feminine harmonies and playful power-rock moments on the recording, leading to band's actualization of a dreamy and ghostly soundscape -- and a new name, Spirettes. The convergence of vocal harmonies, alluding to classic-girl-groups like The Shangri-Las, thickened in overdrive-drenched reverb, ghost-harmonics, and driving drum lines, resulted in something otherworldly, and rooted in an older rock heritage. The name Spirettes, like the band's sound, nods to an early female rock and roll legacy, utilizing an old-french female diminutive.
In fall 2017, the band performed an acoustic version of the EP at the Colorado Springs Gallery Of Contemporary Art (GOCA) featuring local classical performers on violin and cello. Spirettes have since summoned a version of the EP's live rock set to include Lisa Show on cello, blending legato bass movements with wall-of-sound guitars. In March 2018, the band fused forces with Desirae Garcia (in/PLANES and The Haunted Windchimes) adding bass and luminous vocals, creating the dynamic of the full five piece sound.
Spirettes' influencing sounds range from Warpaint in vocal creativity, to early Broken Social Scene's guitar layering, paying tribute to hints of darker 80's and 90's new-wave as in New Order or The Cure. Classic guitar riffs and songwriting borrow from Neil Young and Crazy Horse, and dynamic spaces between heavy and soft lend tribute to Yo La Tengo. In March 2018, Desirae Garcia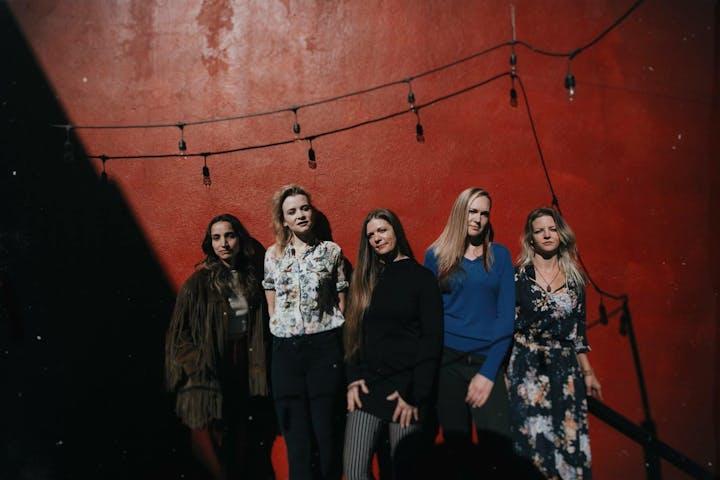 Performers
Date and Time
Location
Refund Policy