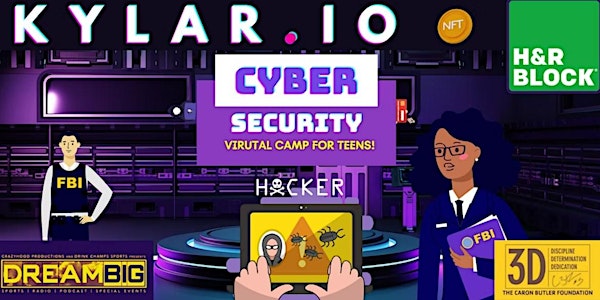 Kylar.io: Cyber Security "Web 3" Camp for Teens!
The Kylar.io Foundation - a 501(c)(3) org.
Refund Policy
Contact the organizer to request a refund.
About this event
The 2022, Kylar.io - Cyber Security "Web 3" Virtual Camp is a, one-week program that introduces teens within the US, to Web 3 & Cybersecurity first principles and the rapidly developing field of Blockchain & Cybersecurity.
Camp Schedule:
Day 1: What is Cybersecurity? | Intro to Blockchain | Brand Protection
Day 2: Safe Browsing | Blockchain Domains | Identity Verification
Day 3: Cyberbullying | Cybersquatting | Hackers
Day 4: Social Engineering | API Monitoring | Tracking Analysis
Day 5: NFTs/ DAOs | Tools | Resources | Legal
Ages:
8-17
How to Participate:
1. Register your camper
2. Download Google Meet (https://apps.google.com/meet/) for free on your laptop or mobile device.
3. Before each session you'll receive an email with a link to join.
4. Gather any necessary supplies for class and come ready to learn!
Our Camps Include:
•Live instruction from a top expert with plenty of group discussion and collaboration.
•Specialized content and learning resources from our camp guest stars.
•Small group environment means your camper gets a chance to make new friends.
•After camp challenges to keep your camper engaged between camp sessions
•Tons of times and dates so you can fit multiple camps into a single week.
About Kylar.io:
At Kylar.io, we help you connect with the right tutor or class for your needs, right when you need them most. And our innovative learning platform, personalized approach, and highly credentialed instructors make it easier for you or your student to learn with confidence.
Community Partners:
H&R Block - 12462 St. Charles Rock Rd Bridgeton, MO 63044