The KYHA Annual Conference & Tradeshow will take place on August 5, 2021 at Mellwood Center for the Arts in Louisville, KY.
About this event
Conference Information:
Mark your calendars for the KYHA Annual Conference & Tradeshow presented by Halcyon Holdings, coming up August 5th, 2021 at Mellwood Art Center in Louisville, KY. This is your opportunity to stay up-to-date on the latest hemp industry news, legislative information, research, and product applications.
Keynote Speaker, Congressman Andy Barr:
Congressman Barr is a senior Member of the House Financial Services Committee and is Ranking Member of the Financial Services Subcommittee on National Security, International Development and Monetary Policy. Congressman Barr amended The SAFE Banking Act to include protections for legal hemp companies. The bill has passed the House of Representatives and awaits the Senate. We look forward to having him address our membership and event attendees to provide legislative and banking updates.
Programming:
The KYHA welcomes university researchers, and industry professional to the stage to present on a variety of topics including: agronomy, legal issues, insurance, retailing hemp-derived products, hemp grain, hemp fiber, hemp economics, and more!
See Full Program Schedule below.
Lunch:
Food trucks will be on-site and a complimentary lunch ticket to the trucks is included with your conference ticket. Choose from:
HELIOS Concert feat. Kentucky Musicians:
Plan to join us later in the evening for a concert featuring Kentucky musicians! The evening will include music by Ben Sollee & Friends, Kyle Eldridge & The Kentucky Cowhands, Britton Patrick Morgan, Jay Goldstein & The Coal Mine Canaries, and a jam session with the HELIOS Orchestra! Ron Whitehead and Holly Lynnea will host the event. Bourbon tastings provided by Four Roses, and hemp beer tastings provided by Monnik Brewery (using Victory Hemp Foods hemp seeds).
Admission to the concert requires a separate ticket. Once you register for the KYHA Conference & Tradeshow you will receive an email with a special discount code to use to purchase your concert ticket at https://heliosconcert.eventbrite.com.
Sponsorships and Exhibitor Space:
Thank you to all of our sponsors! If you are interested in sponsoring the event or exhibiting, please email info@kyhempassociation.org. Sponsorships and booth space are limited and will be reserved on a first-come, first-served basis.
Please see sponsorship and exhibiting opportunities below. If you have questions, please contact info@kyhempassociation.org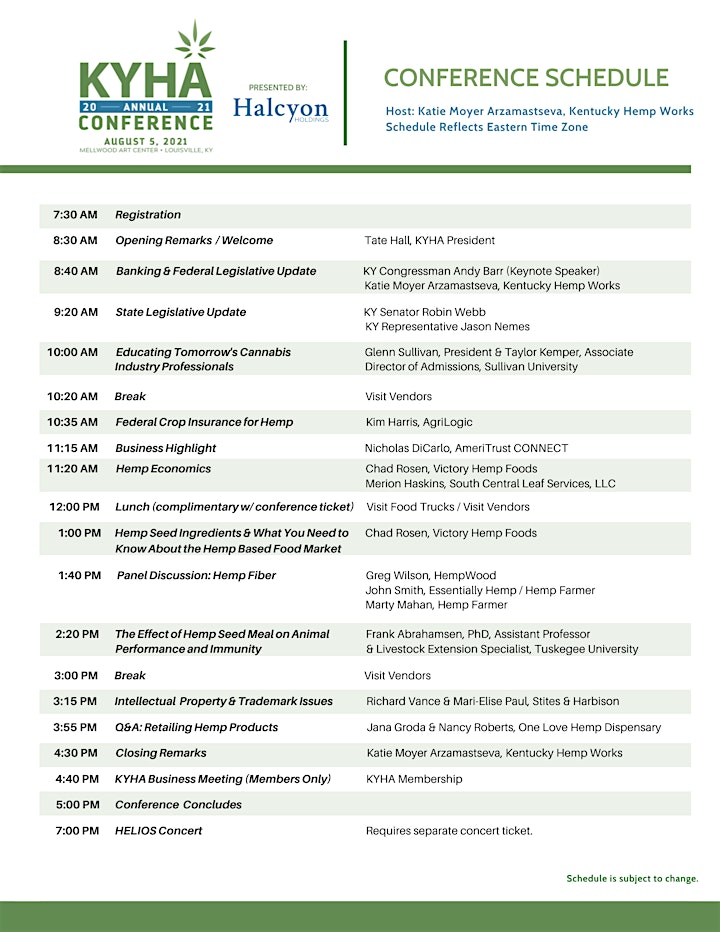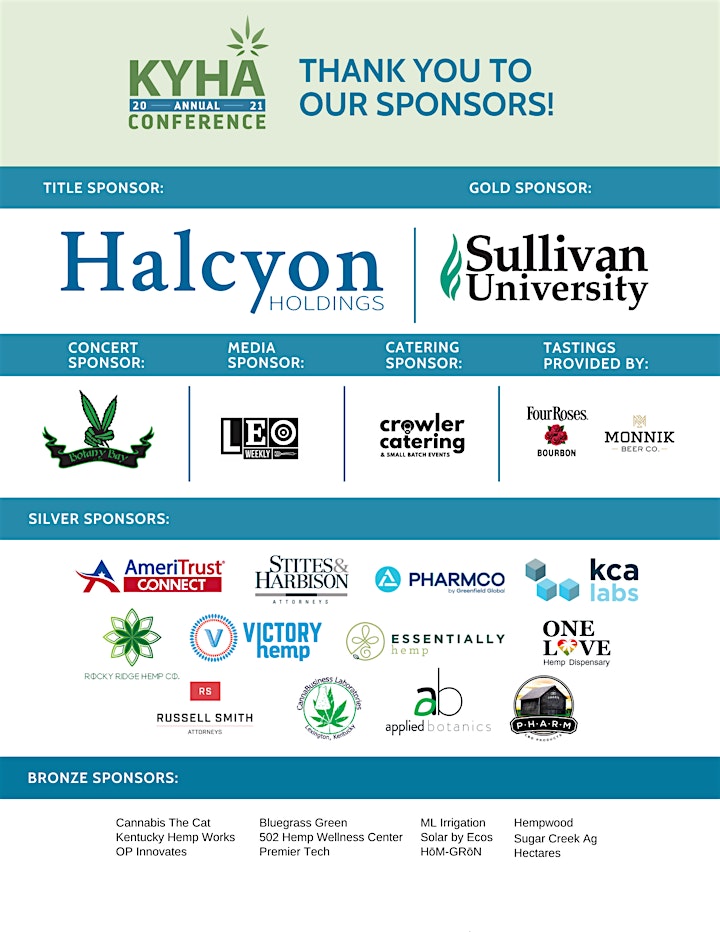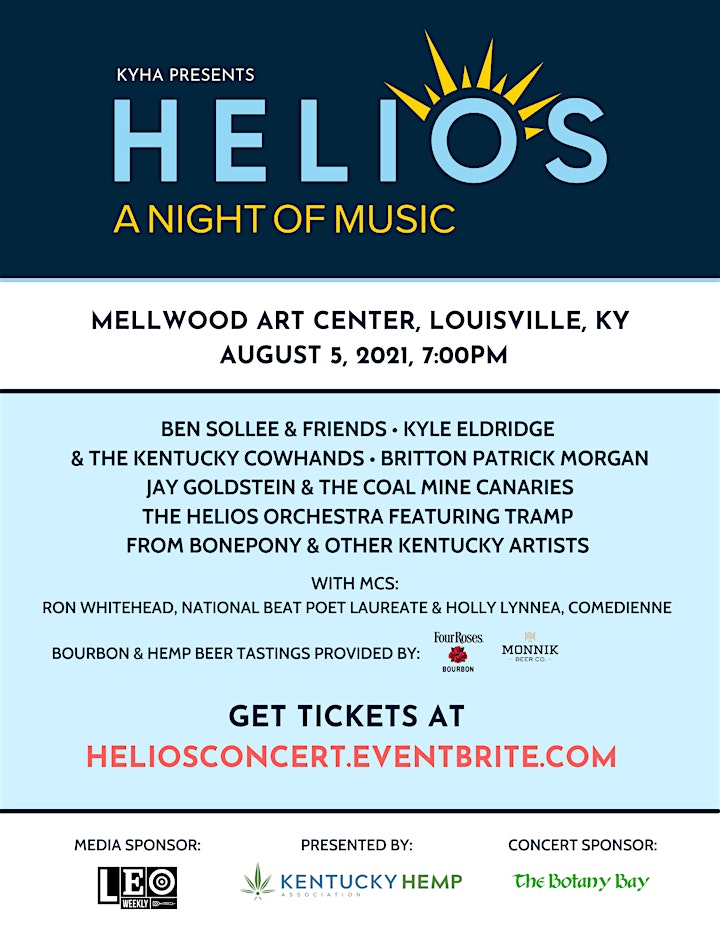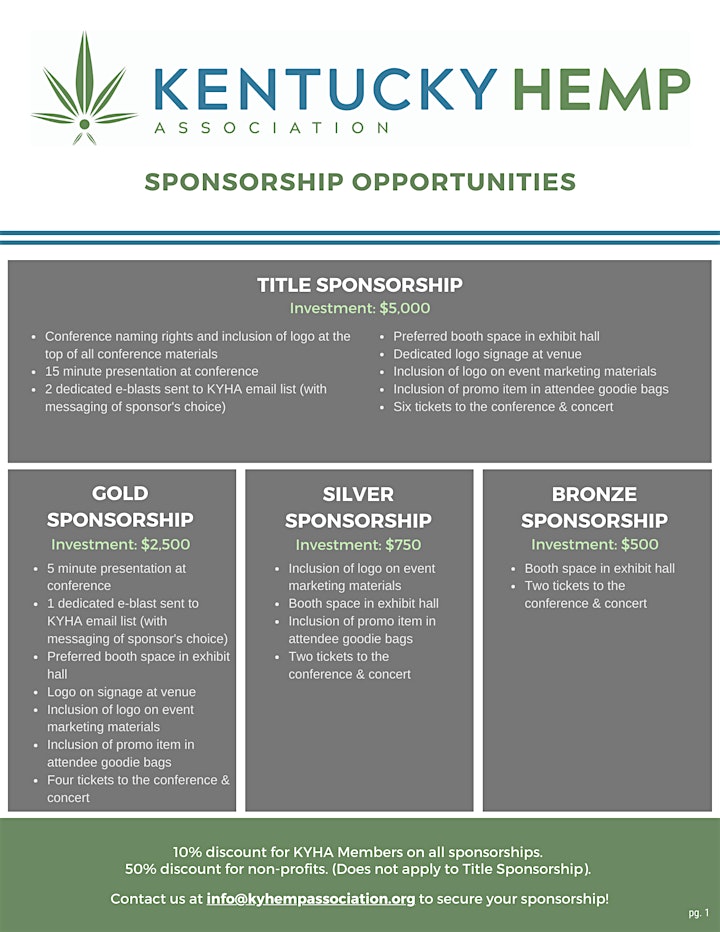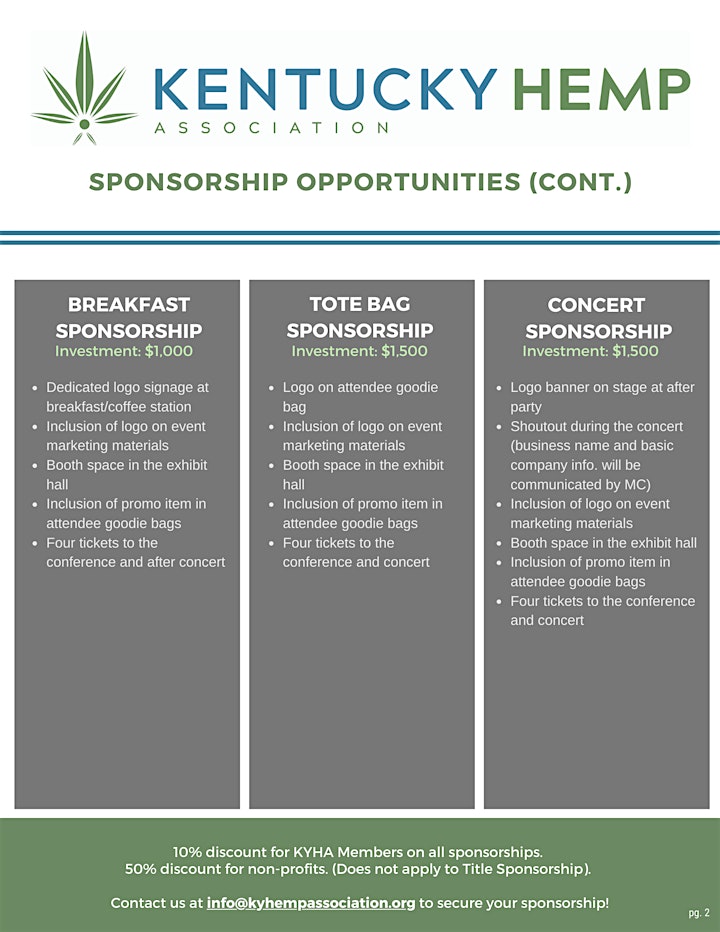 Organizer of KYHA Annual Conference & Tradeshow 2021