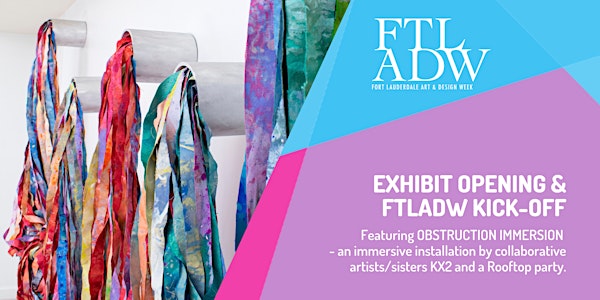 KX2 Exhibit Opening & FTLADW22 Kick-Off Reception @ Kimpton Goodland Hotel
Location
The Kimpton Goodland Hotel Fort Lauderdale Beach
2900 Riomar Street
Fort Lauderdale, FL 33304
Featuring "Obstruction Immersion" - an immersive installation by collaborative artists/sisters KX2 with a Rooftop Party to kick off FTLADW22
About this event
Join us for the exhibit opening of "Obstruction Immersion" - featuring an immersive installation by collaborative artists/sisters KX2 with a Rooftop Party to kick off Fort Lauderdale Art & Design Week (#FTLADW22 takes place 1/22-1/30/2022) at the beautiful Kimpton Goodland Fort Lauderdale Beach with a breathtaking view overlooking the intracoastal & downtown Fort Lauderdale skyline.
The exhibition of sculptural works incorporates repurposed/recycled materials and sound, that while aesthetically pleasing, are critiques on normative behavior of indifference.
This event will include a welcome glass of champagne, light bites from The Kimpton Goodland's "Botanic" restaurant, a live DJ, the opportunity to mix and mingle with other art lovers, and meet the co-founders of Fort Lauderdale Art & Design Week. Exhibition will be open daily during Fort Lauderdale Art & Design Week.
ABOUT
We have begun to work on pieces with large scale, immersive installations in mind. The works on this page are both stand alone pieces, as well as parts that make up a larger installation.
As artists, we are inspired to create work with underlying themes of consumption, environmentalism, and connection. We are currently working to create an immersive installation exhibition of sculptural works using repurposed/recycled materials that while aesthetically pleasing, are critiques on normative behavior of indifference.
Consumerism, pollution, and politics converge daily, and the long-term effects remain debated and neglected while the planet and our communities suffer. The exhibition goal would be to raise a deeper understanding and awareness for our everyday impact on our environment while highlighting individual responsibility towards each other and the planet.
Inspiration
These pieces aim to raise an awareness of our dependence on the vast and hidden networks of utility pipes of our modern world. While this infrastructure is necessary for modern societies, it also comes at a significant environmental cost that can cause conflicts between our neighborhoods via natural disasters and human pollution. Drainage pipes clogged with plastic bags, industrial sludge and human debris are common sites in our community. Environmental agencies struggle to maintain these networks and those responsible are left unaccountable.
This event is made possible with support from The Broward County Cultural Division's sponsorship of FTLDW & grant awarded to artists KX2.
Space is limited, complimentary RSVP is required.
For full list of Fort Lauderdale Art & Design Week Events log on to - www.ftladw.com
Questions? E-mail info@artftlauderdale.com