Event Information
Location
MOTHER Bar + Kitchen
447 Edgewood Ave, SE
Atlanta, Georgia 30312
Description
kweliTV presents kweliLIVE Experience, a 6-city film screening tour experience powered by AARP.
Each event will feature award-winning and film festival-acclaimed short films from kweliTV's library, brunch with mimosas, post discussions with filmmakers and community.
Come join us in ATL!
Atlanta's SHORT FILM PROGRAM
I AM BLACK & BEAUTIFUL — Seven Afro-Australian women explore the impact of western media on their identity and understanding of beauty.
LADYLIKE is a modern day noir that follows Vaughan and Harlan, two vintage vixens who have a penchant for retro… and retribution. Not only are they bosom buddies, Vaughan and Harlan's disturbing pastime makes them a gruesome twosome.
LITTLE MUSIC MANCHILD: THE STORY OF MALIK KOFI follows an 11-year old African American Birmingham native, child prodigy who plays the cello. Raised and home-schooled by his 58-year old grandmother, Malik Kofi is an inspiration and the epitome of one who is living his life on purpose. Malik is brilliant, curious, musically inclined and mature beyond his years.

THE BILL — Lena and ten other women could not be more excited to celebrate Barbie's 35th birthday. When an unexpectedly huge bill arrives, the happy birthday dissolves into drama. As Lena works tirelessly to align the group, she ultimately reaches a point of no return. The Bill comical celebrates friends from all walks of life, as they react to an experience that is all too common.
PROGRAM
12:00-1:00 pm - BRUNCH
1:00-2:15 pm - FILM PRESENTATION
2:30-3:15 pm - FILMMAKER Q&A
3:15-3:30 pm - CLOSING

DIRECTOR Q&A
We're having a lively discussion with award-winning documentary filmmaker Malena Cunningham Anderson, the director of Little Music Manchild.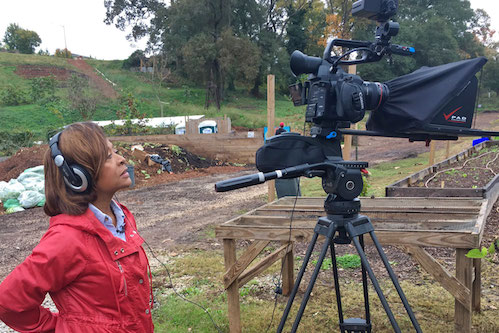 TICKETS
Free | kweliTV Subscribers* — (VIP Access for kweliTV monthly and annual subscribers. Brunch + bottomless mimosas included with film screening. *Must provide proof of subscription to hello@kweli.tv.)
$15 | kweliLIVE Community — (Brunch + one mimosa drink ticket included with film screening.)
$30 | kweliLIVE Community + Mimosas — (Brunch + bottomless mimosas included with film screening.)
$50 | kweliLIVE Community All Access — (Brunch + bottomless mimosas included with film screening and 6-month subscription to kweliTV.)

Note: You must be 21 years or older to attend this event.
TOUR DATES
JUN 1 - WASHINGTON, DC
JUN 29 - NYC
JUL 13 - CHICAGO
AUG 17 - OAKLAND
SEP 14 - LOS ANGELES
OCT 5 - ATLANTA

ABOUT KWELITV
kweliTV celebrates global black culture through curated indie films, documentaries, web series and kids shows from North America, Africa, Latin America, Europe and the Caribbean. Kweli means truth in Swahili so our mission is to curate content that is a true reflection of the global black community.
POWERED BY:

Date and Time
Location
MOTHER Bar + Kitchen
447 Edgewood Ave, SE
Atlanta, Georgia 30312
Refund Policy