Description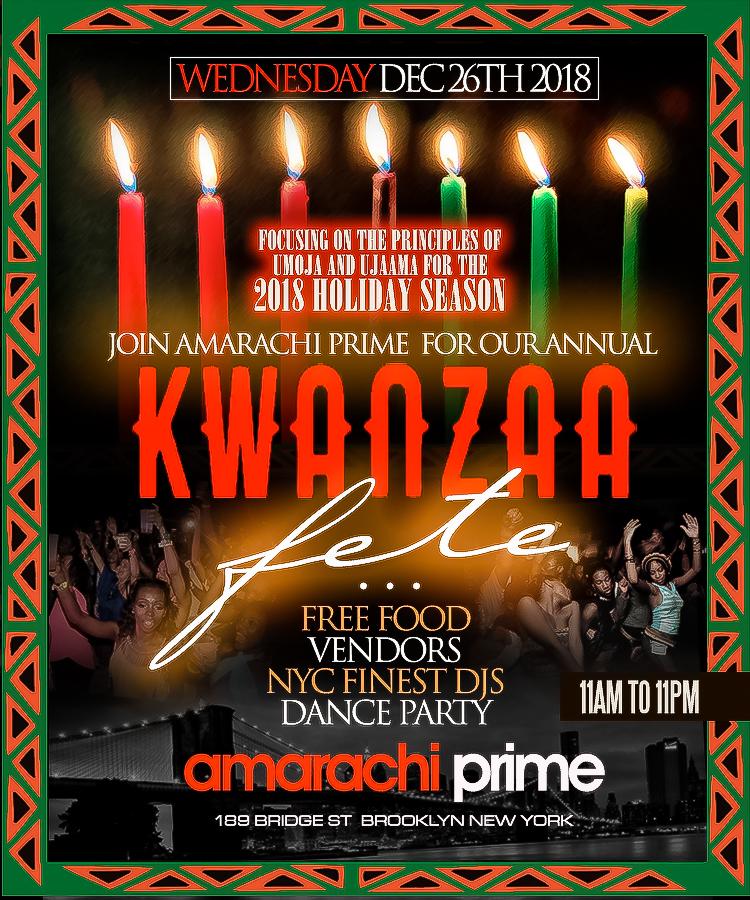 Kwanzaa is not a religious holiday, nor is it meant to replace Christmas. It was created by Dr. Maulana "Ron" Karenga, a professor of Black Studies, in 1966. Kwanzaa inspires a cultural revolution strengthening our collective identity, purpose and direction. The Kwanzaa celebration begins on December 26 and last seven days.
Dr. Karenga established Kwanzaa to help African descendants worldwide to reconnect with their African cultural and historical heritage by uniting in meditation and study of African traditions and the "Nguzo Saba", the "seven principles of African Heritage," which Karenga said "is a communitarian African philosophy. The seven principles are as follows:
Umoja (Unity): To strive for and to maintain unity in the family, community, nation, and race.

Kujichagulia (Self-Determination): To define and name ourselves, as well as to create and speak for ourselves.

Ujima (Collective Work and Responsibility): To build and maintain our community together and make our brothers' and sisters' problems our problems and to solve them together.

Ujamaa (Cooperative Economics): To build and maintain our own stores, shops, and other businesses and to profit from them together.

Nia (Purpose): To make our collective vocation the building and developing of our community in order to restore our people to their traditional greatness.

Kuumba (Creativity): To do always as much as we can, in the way we can, in order to leave our community more beautiful and beneficial than we inherited it.

Imani (Faith): To believe with all our hearts in our people, our parents, our teachers, our leaders, and the righteousness and victory of our struggle.
You are cordially invited to come and celebrate the beauty and gift of Kwanzaa at Amarachi Restaurant located at 189, Bridge Street on December 26th from 11am to 11pm. Focusing on Umoja and Ujamma Amarachi will offering a complimentary meal showcasing delicious dishes from the African diaspora and an opportunity to shop with local vendors showcasing their merchandise. In the spirit of celebration Amarachi is hiring the very best Deejay's in NYC to keep the party going all day and night spinning the best in Afrobeat, Soca, Reggae, House, Hip Hop and R&B.