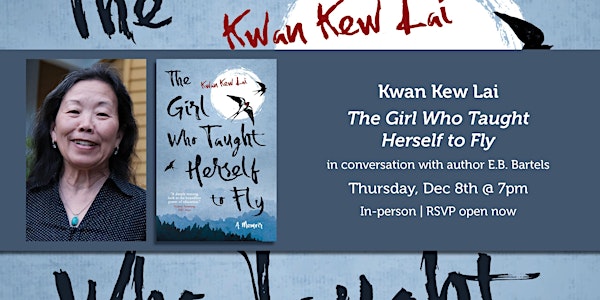 Kwan Kew Lai presents "The Girl Who Taught Herself to Fly"
Disaster relief doctor, Kwan Kew Lai, joins us to discuss her powerful new memoir in conversation with fellow author E.B. Bartels.
When and where
Location
Wellesley Books 82 Central Street Wellesley, MA 02482
Refund Policy
Contact the organizer to request a refund.
About this event
If you would prefer to RSVP by phone, you may call Wellesley Books at 781-431-1160.
Books will be available for purchase at the event. Please note that you must purchase your copy of the book from Wellesley Books in order to have the author sign it at the event.
COVID Protocols
• Attendees must wear masks at all times during the event. Masks are not required while browsing the store.
• Attendees must present proof of COVID-19 vaccination along with a picture I.D.
ABOUT THE BOOK
Kwan Kew Lai met her first Punjabi woman doctor while lying in a hospital bed with a severe kidney infection at the age of fourteen. Watching the woman walk away down the hall, Kwan Kew was convinced she could, and would, carve out her own destiny.
In the British Straits Settlement of Penang Island, she was born into an impoverished Chinese family of two boys and ten girls on the cusp of the Japanese occupation during World War Two. She did not wish to repeat the life of her uneducated mother, burdened with an endless brood, nor tolerate the fact that her father considered girls useless since they could not carry on their family name.
The newly independent country of Malaya developed a national policy favoring one racial group, the Bumiputras, vastly diminishing her chance of receiving a university scholarship. Her fortuitous introduction to a free library and her determination to continue her education, led to the opportunity of a lifetime: a scholarship from Wellesley College.
When her father saw her off at the Penang International Airport as the first child to attend college, she proved herself to him, but more importantly she started the journey of a lifetime fulfilling dreams that originated as a young girl playing in the mud with the chickens.
In The Girl Who Taught Herself to Fly, the author weaves in her family's story of joy, sorrow, loss, love, and endless struggles with poverty and hunger. This poignant memoir, with universal and timeless themes, will leave you in awe.