About this Event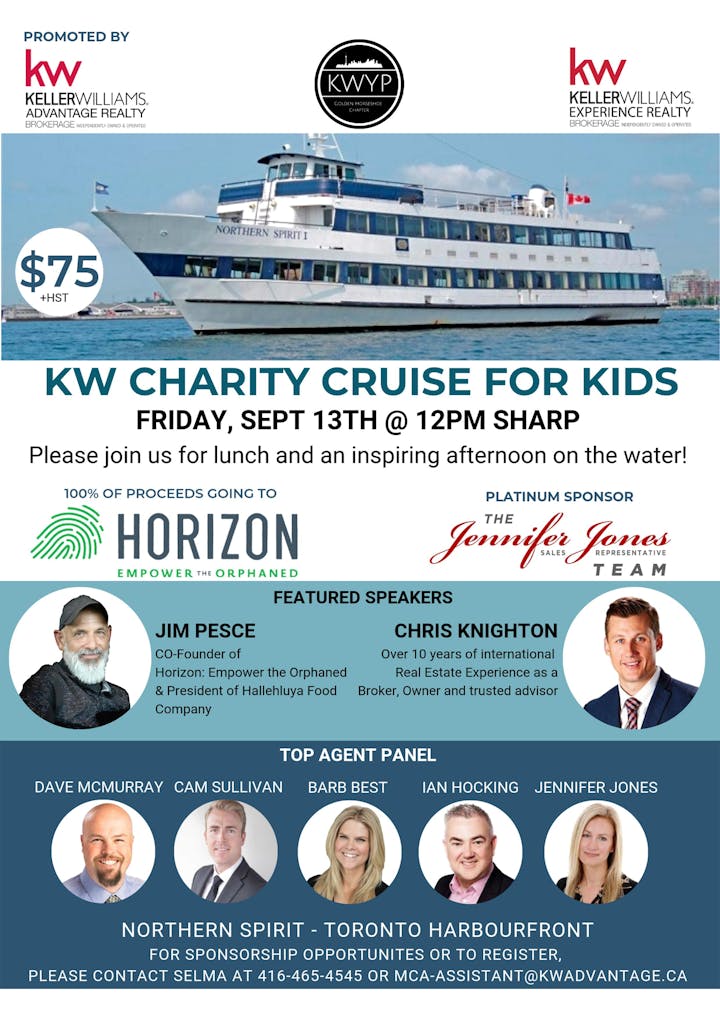 Join us for our 2nd annual KW Charity Boat cruise with 100% of proceeds going to Horizon: Empower the Orphaned. A non-profit organization determined to empower orphaned children to long-term self-sustainability, permanently breaking the cycle of poverty through a Micro Community model.
For sponsorship opportunities, please contact Selma Jasar at mca-assistant@kwadvantage.ca
SPONSORSHIP OPPORTUNITIES
PLATINUM - BOAT SPONSOR - $5000 - SPONSORED by Jennifer Jones
GOLD - LUNCH SPONSOR - $4000
SILVER - ENTERTAINMENT SPONSOR - $2000
BRONZE - DECOR SPONSOR - $1000
VIP TABLE RESERVATION - $300 (WHILE SUPPLIES LAST)
SPEAKERS
Jim Pesce
A Philanthropist, Business Owner , Minister who is passionate about giving back and making a difference. He is President of Hallehluya Food Company, Co-founder/Director of Horizon: Empower the Orphaned and Co-founder/Director of Parkdale Youth Ministries Toronto. He has been Married for 38 years and blessed with 3 children, 2 grand children and hundreds of adopted children through Horizon and Parkdale Youth Ministries.
Chris Knighton
With over 10 years of international Real Estate experience as a Broker, owner and trusted advisor, Chris has a Real Estate background that has garnered him the title of an Expert Real Estate Advisor across all facets of the industry. And his clients truly value his unbiased opinions and willingness to put their needs first with a focus on helping them make the best decision possible based on their individual needs. After Joining Keller Williams in 2014, Chris' clients immediately began to notice his honest, client-first approach, and along with his hard work which helped him become the number one agent in the area. Honest, integrity and attention to his client's needs has helped Chris build lifelong relationships with the individuals and families that he works with, and his high-quality of service along with exceptional marketing and results have made him the consummate professional that Buyers and Sellers can count on with the Real Estate needs.
Dave McMurray
Dave chose to move to Muskoka from Toronto in 2001 with his wife Lisa to start a new life together as newlyweds. After serving hundreds of properties throughout the region with their property services/maintenance businesses and buying their first Muskoka acreage in Bracebridge, Dave turned his attention to the booming custom-construction market in Muskoka, and focused on sales and estimation. Dave caught the 'house bug' after dealing with many Realtors who knew very little about how houses and cottages were made, and was encouraged by his friends and family to pursue real estate work as a 'perfect fit'. It's hard to find a place in Cottage Country where Dave hasn't been. Dave's work has brought him in contact with virtually every property type from Orillia to South River (north/south) and Haliburton to Georgian Bay (east/west).
Dave understands what it's like to work construction in Muskoka year-round, and also appreciates the well deserved rest at the cottage, escaping the rush of the city. Dave has a vast network of local contacts ---businesses, tradespeople, and civil servants --to call on for his clients. ---recommending the best work from trustworthy sources.
Cam Sullivan
cam was born and raised in Burlington and attended Wilfrid Laurier University to study business. He has a passion for coaching and mentoring. He met his wife, Suzie, through volunteering with a local youth organization, Young Life. They live in Oakville with their sons, Theodore and Milo, and are committed to the local community.
Formal real estate training started at Wilfrid Laurier University where Cam earned his Honours Business Degree. Now, with years of experience in brokering real estate Cam and his team have handled transactions ranging from as large as $2 Million dollars, to as small as a $1,200 per month lease… and everything in between.
Barb Best
Barb comes to the Real Estate profession with a wealth of experience in sales and sales leadership positions, spending her entire career loyally with one Fortune 500 company. Her friendly approach and high level of customer care combined with her strong negotiating skills is guaranteed to make buying or selling a home a win-win experience. In addition, Barb earned her Bachelor of Business Administration degree from Simon Fraser University while also playing on the Women's Varsity Soccer team. A true team player and ultimate multi-tasker, Barb now transfers these skills into creating successful customer experiences in real estate.
Jennifer Jones
Jennifer ranks with the best. She is part of the Top 1% of agents of the Toronto Real Estate Board . She is currently part of the Agent Leadership Council (KWRC) and started since 2018 .
In 2018 she ranked #1 in Group in all categories (KWRC). She also ranked 9th for Units Sold and 11th for GCI on the same year.
She holds a consistent year-on-year record of excellent performance. She was awarded the Bronze Sales Award in 2014, the Gold Sales Award in 2015 and the International Double Platinum Sales Award in 2016.
ABOUT - HORIZON: EMPOWER THE ORPHANED
Horizon: Empower the Orphaned is a 501(c)3 non-profit organization determined to empower orphaned children to long-term self-sustainability—permanently breaking the cycle of poverty. Its vision is to radically transform the way orphaned children are cared for by expanding its Micro Community model around the world. Currently, Horizon serves over 200 orphaned children in Kenya and is expanding its reach to Guatemala. All of Horizon's administrative costs are covered by philanthropic investors, which means 100% of your donations go directly toward caring for the children. For more information, go to EmpowerTheOrphaned.org.