About this Event
Travel can inspire in surprising ways: Kurt Vile discovered as much making his first record in three years, the eclectic and electrifying Bottle It In, which he recorded at various studios around the country over two very busy years, during sessions that usually punctuated the ends of long tours or family road trips. Every song, whether it's a concise and catchy pop composition or a sprawling guitar epic, becomes a journey unto itself, taking unexpected detours, circuitous melodic avenues, or open-highway solos. If Vile has become something of a rock guitar god—a mantle he would dismiss out of humility but also out of a desire to keep getting better, to continue absorbing new music, new sounds, new ideas—it's due to his precise, witty playing style, which turns every riff and rhythm into points on a map and takes the scenic route from one to the next.
Using past albums as points of departure, Bottle It In heads off in new directions, pushing at the edges of the map into unexplored territory: Here be monster jams. These songs show an artist who is still evolving and growing: a songwriter who, like his hero John Prine, can make you laugh and break your heart, often in the same line, as well as a vocalist who essentially rewrites those songs whenever he sings them in his wise, laconic jive-talkin' drawl. He revels in the minutiae of the music—not simply incorporating new instruments but emphasizing how they interact with his guitar and voice, how the glockenspiel evokes cirrocumulus clouds on "Hysteria," how Kim Gordon's "acoustic guitar distortion" (her term) engulfs everything at the end of "Mutinies," how the banjo curls around his guitar lines and backing vocals from Lucius to lend a high-lonesome aura to "Come Again."
These journeys took Vile more than two years to navigate, during which time he toured behind his breakout 2015 album b'lieve I'm goin' down, recorded a duets album with Australian singer-songwriter-guitarist Courtney Barnett, opened for Neil Young in front of 90,000 people in Quebec, famously became a clue on Jeopardy, hung out with friends, took vacations with his wife and daughters. "I've been bouncing around a lot and recording all over. My family would meet me in the middle of America, and we'd go on a road trip somewhere. I would record in between all that stuff."
Let's start in Philadelphia, Vile's hometown and a perennial inspiration. The first song recorded for Bottle It In became the album's opener: A quintessential Violators tune featuring longtime band members Jesse Trbovich, Rob Laakso and Kyle Spence, "Loading Zones" is a paean to the City of Brotherly Love as well as an explication of his peculiar parking strategy. "I park for free!" he and the Violators all proclaim, proudly and defiantly, as he moves his car from one loading zone to another, always avoiding meter fare and parking tickets. The song dates back to the b'lieve sessions, but it took Vile a while to figure out how to put the song across. "It ended up feeling too weird for the last record, and I'm glad I waited because it had to grow into a guitar jam. I don't think I was ready for the swagger it took to deliver such a ridiculous concept. It's about owning your own town. It's about knowing a place like the back of your hand." And if that curious guitar tone—the one that sounds like a distorted voice, sounds familiar, it's because Vile used the same kind of pedal that his friends/idols Sonic Youth used on 1995's "The Diamond Sea," which at 27 minutes is roughly the amount of time Vile can leave his car in one Philly loading zone. Coincidence?
From there Vile headed west. In April 2017, he trekked out to Indio, California, to catch the Stagecoach Festival and sit in with his friends the Sadies ("my favorite modern band"). Inspired by Willie Nelson's epic set, Vile spent a few days in Los Angeles working with producer Rob Schnapf at his Mant Sounds studio. "He does these really cool pop things, weird versions of pop songs," says Vile of Schnapf, who has produced albums for Beck, Elliott Smith, and Guided by Voices, among many others. The two had previously worked together on "Pretty Pimpin," the leadoff track on b'lieve that became a number-one AAA radio hit. Their second collaboration was similarly inspired: Featuring backing vocals from Cass McCombs, the eleven-minute title track is full of ominous bass rumbles, hazy-steady drumbeats from Warpaint's Stella Mozgawa, delicate harp stabs from Mary Lattimore, and what sounds like chewy distortion leaking out of a David Lynch flick. "I didn't know exactly what was going to happen. I didn't know 'Bottle It In' was going to be that long. It's sort of like living something rather than having it all planned out. You have to go out there for the experience and the inspiration."
Months later, when a lengthy Violators tour ended in Salt Lake City, Vile let the momentum carry him further west, where he recorded several more songs with engineer/producer Shawn Everett (Alabama Shakes, the War on Drugs) at The Beer Hole in Los Angeles. Another epic came out of that meeting, the loping "Bassackwards," the album's beating heart and Vile's most compelling evocation of how he sees the world. "I was on the ground circa Planet Earth, but out of sorts," he sings over a gently psychedelic bed of backmasked guitars. "But I snapped back, baby, just in time to jot it down." Other songs were put to tape during sojourns to Portland, Oregon, and to Greenpoint, Brooklyn, where fellow Violator Rob Laakso co-produced. The bulk of Bottle It In was bottled up at Tarquin Studios in Bridgeport, Connecticut, with Peter Katis (Interpol, the National) engineering and producing. Bottle It In captures the spontaneity of these impromptu sessions, revealing Vile as a diligent and singularly determined musician.
These recordings are the destinations, but the journeys were just as important, whether they gave him time with his wife and kids or an opportunity to get some writing done. "For a while I was terrified of flying, so I would be listening to whatever country songs I was obsessed with. I'd have George Jones blasting in my ears. Or, I would be reading something about country music. Or, I would start writing songs in that flash of being afraid, being swallowed by life. I'm up there on a plane drinking wine because like everybody else I'm afraid to die. And I wrote 'Hysteria' up there." That new song, with its woozy guitar fanfare, captures mid-flight queasiness well, as Vile daydreams about escaping the flight: "Stop this plane 'cause I wanna get off," he sings. "Pull over somewhere on the side of a cloud."
Bottle It In is about place only insofar as it is about the people in those places: friends and family, bandmates and music heroes, colleagues and collaborators. There's a lot of love in these big-hearted songs, a lot of warmth toward everyone in Vile's orbit and even toward those whose paths he's yet to cross. "Loved you all a long, long while," he sings on "One-Trick Ponies." "Looked down into a deep dark well, called all of your names." The jangly country-rock tune serves as a valentine to… he won't say, but he and Mozgawa and Farmer Dave Scher deliver a beautifully sympathetic sing-along chorus that invites every one of us one-trick ponies to join in.
As Vile prepares for another round of lengthy tours and countless shows, these songs should prove good company, reminders of the love and responsibility he has toward those he leaves at home and those he meets along the way. That makes the sentiments resonate more strongly and lends Bottle It In an emotional weight. "It's like that moment on the airplane," Vile says, "when you're on your way somewhere and you have that burst of panic. When you're terrified of dying, that's when you want people to know you love them."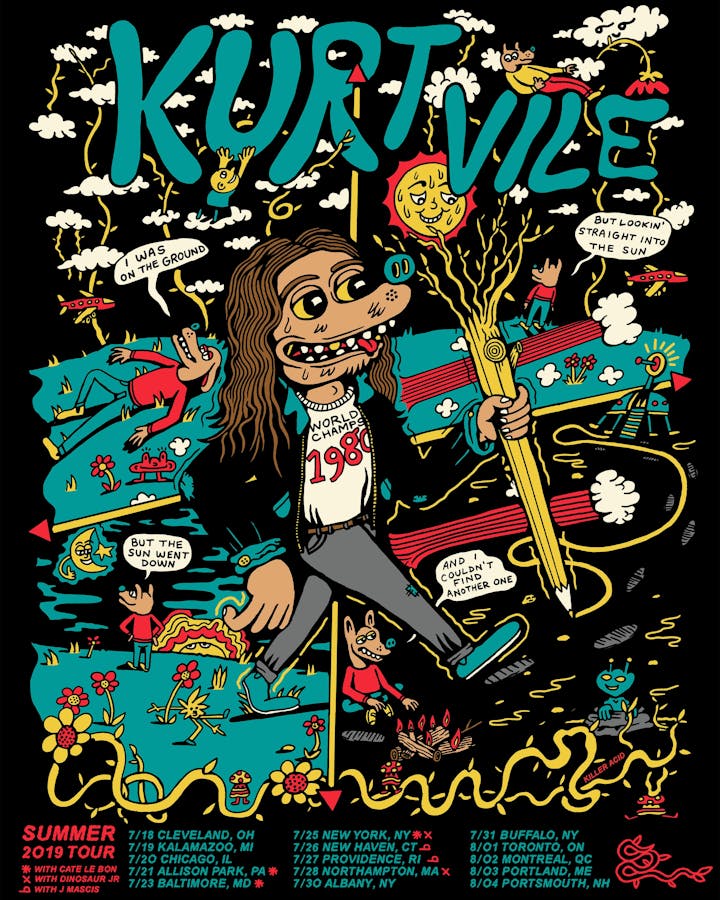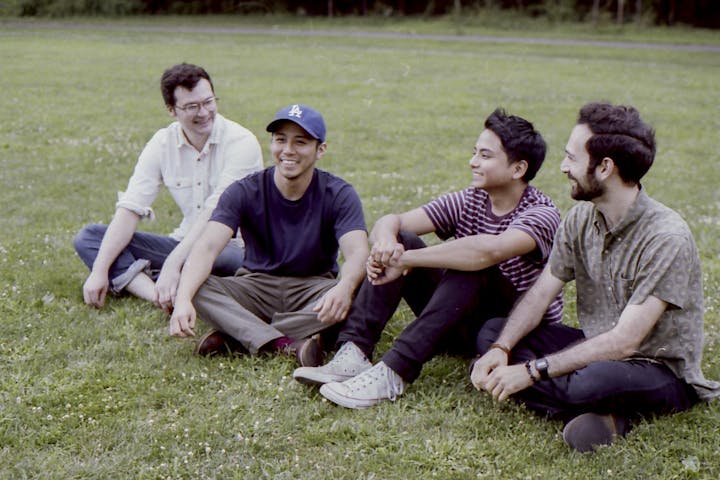 Garcia Peoples
Consider Natural Facts by Garcia Peoples to be your heady, friendly reminder that it's alright to let the sunshine in. The second album in less than a year from those lovable New Jersey moptops with the sweet twin guitars, Natural Facts provides a portal to the carefree place that both indie rock and jam bands forgot, and a handy alternative to whatever you may need an alternative from. Bolstering the summer glow of 2018's Cosmic Cash with flashes of fuzz, teeth, and power, Natural Facts is a natural progression for Garcia Peoples.
The more driving counterpart to its rural predecessor, Danny Arakaki and Tom Malach's guitars remain at centerstage on machine gun shreds like the album-opening "Feel So Great" and the rolling grooves like "High Noon Violence" (which would fit right in with one of David Crosby's early '70s studio supergroups). Playing cleanly articulated lines that perhaps recall any number of other guitar tandems–Allman/Betts, Verlaine/Lloyd, Jansch/Renbourn–Garcia Peoples' guitars are most influenced by the sound of two guys hanging out, figuring out how to play guitar together.
With Derek Spaldo (bass) and Cesar Arakaki (drums), the quartet is joined on roughly half the tracks by keyboardist Pat Gubler (PG6, Wet Tuna, Tower Recordings), who–since contributing to Natural Facts–has become a frequent auxiliary Garcia. On the quieter passages of "Patient World," Gubler's zones set Tom and Danny's entwinements into an atmosphere that suggests what the briefly-lived never-recorded Barrett/Gilmour Pink Floyd lineup might have done, given another few years.
Discovering the secret and perhaps even endangered language of riffs, Danny and Tom formed Garcia Peoples in Rutherford, New Jersey in 2011 or 2012, depending when you ask). And over the past year and change, Garcia Peoples have hit launching speed, writing albums' worth of material too fast to release. While Natural Facts is the perfect introduction to the band's light-footed cosmic Americana, it's only one piece of an emerging picture that perhaps Garcia Peoples don't even quite see yet. The tapers have started showing up for Garcia Peoples, too, keeping track of the evolving song suites. Despite only having one official full-length under their belt, the band barely repeated a song over their four shows during their weekly residency at Brooklyn's Wonders of Nature. Depending on when you're reading this, the next Garcia Peoples show will almost certainly contain pieces of album #3 and quite probably #4, too.
It's been a small, happy wonder to watch Garcia Peoples transmit themselves to the outside world. From up close, they're almost too omnipresent to keep track of, playing frequently, and out watching shows around Brooklyn on nearly any other given night. Honing their chops first at their respective parents' places, playing until they had to unplug for the night, Arakaki and Malach would inevitably retire to the 7-11 parking lot. There, they pieced together the emerging jams, fragments, verses, and other stray ideas they had yet to write, until–at least in the Garciaverse–they coalesced into distinct albums. Then they just had to record them. As of this writing, they're only one album behind. Like a road map with constantly changing coordinates, the Garcias' master plan is only barely that, but they plunge into the next territory with an infectious enthusiasm.
Tracked in Philadelphia with Jeff Zeigler (Kurt Vile, War on Drugs, Mary Lattimore), Natural Facts isn't a throwback, as much as Garcia Peoples sometimes accidentally sound like a band one might stumble into at New York's late Wetlands Preserve in the mid-'90s. Rather, it's a newly emerging conversation, songs and structures and solos and duos drawing from the latest and most right-on musicians to cross Garcia Peeps' collective transom.
The classic rock guitarists of yore might be obvious subsequent touchstones, but bend your ear and newer colors emerge, generated from hours and years of talk and music. Listen close. Nothing inorganic here, just pure Natural Facts.
– Jesse Jarnow