Description
Every year, Martin Luther King Jr. Day is recognized as a national day of service, and as an organization built around community service, Kupu is hosting its 11th annual MLK Service Day event on Monday, January 21, 2019.
Join Kupu, Camp Palehua, and Mālama Learning Center for community workday! We will help weed, clear brush, and plant a number of native and other species at several sites across Camp Palehua located above Makakilo to beautify and revegetate its grounds. This will be a learning/working opportunity at an area rich with natural and cultural significance and scenic views of west O'ahu.
Due to the length of time needed to shuttle everyone, we encourage attendees to arrive as early as possible. Volunteers who arrive early may begin working in the nearby gardens, take an interpretive hike around the camp site, or just relax and enjoy the free light breakfast and coffee provided. At 9 a.m., we will convene at base camp for opening remarks and instructions. Volunteers will then split into groups and head to different project sites. Everyone will return to base camp by 12 p.m. to enjoy lunch provided by Kupu.
Please note:
Most of the work is fairly strenuous, requiring standing for long periods, bending, repetitive motion, and wielding heavy and/or sharp hand tools (hand saws, loppers, shovels, pickaxes). Children (minimum age 5) are welcome as long as they are accompanied by an adult. There will be a child-friendly work area.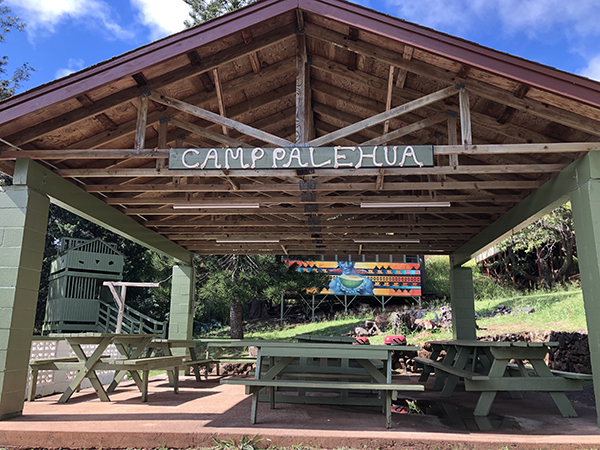 Event agenda:
7:00 – 9:00 a.m. – Arrival, check-in registration,​ and light breakfast.
9:00 – 9:30 a.m. – Opening ​remarks, instructions​​ ​& group photo.
9:30 – 12:00 p.m. – Work at various project sites.
12:00 – 1:00 p.m. – Lunch.
Parking options:
Due to limited parking space at the Camp, there will be no public parking at the Camp. Everyone will be shuttled from the off-site parking area to the camp site. The first shuttle will depart at 7 a.m. and run continuously until 8:30 a.m. One shuttle will resume at 10:30 a.m., with full shuttle service returning at 12:30 p.m. There will be no shuttle service between 8:30 - 10:30 am. If you cannot stay until at least 11 am, please join us instead at a future event as early departures cannot be accommodated.
Parking is available at Mauka Lani Elementary School at 92-1300 Panana St. The lot will be open from 7 a.m. to 2:30 p.m. The school is located directly on Panana Street a little bit past the community park. There is parking in front of the office building, as well as a larger lot near the cafeteria.
Please wear/bring the following items:
Long-Sleeved Shirt (recommended)

Long Pants (recommended)

Close-Toed Shoes (required)

Hat

Sunglasses

Sunscreen

Work Gloves (optional, a limited number with be available)

Insect Repellent (optional)

Refillable Water Bottle

Rain Gear (if inclement weather)
Waiver:
Each volunteer must fill out a waiver. Waivers will be emailed beforehand. Hardcopies will be available the morning of the event, however we encourage everyone to fill them out prior to the event.
For More Information:
Please call 808-735-1221 x1045 or email christina.oconnor@kupuhawaii.org.