Description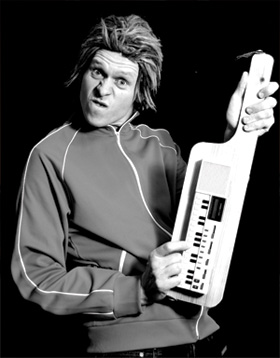 Kunt and the Gang are responsible for some of the web's wrongest songs and videos.
With over a million YouTube views Kunt and the Gang has become Basildon's most famous export - apart from Depeche Mode, Vince, Alison Moyet, Denise Van Outen, Terry Marsh and Brian from Big Brother (black, not gay).
In recent years Kunt and the Gang have played sell-out runs at the Edinburgh Fringe Festival and won the Malcolm Hardee Cunning Stunt Award for encouraging people to deface pictures of comedians with stickers of a crudely drawn penis and testicles. They have featured on Channel 4's shoddy low-rent internet clip show RudeTube, won Album Title Of The Year in NME, performed as guests of drug-addled pop ponce Pete Doherty and received death threats from mental Michael Jackson fans over their YouTube tribute. They have been banned from Butlins, had their YouTube channel closed down and scored two of the most inappropriately titled top 75 UK hit singles of all time with their tracks Fucksticks and Use My Arsehole As A Cunt.
Kunt and the Gang present the 1st Annual Kuntvention at the Fiddler's Elbow, Camden - featuring the best Kunt and the Gang videos on the big screen, Kunt Disco, amazing Kunt shop merchandise deals and not one but TWO SETS from Kunt and the Gang, filmed for their forthcoming live DVD out later this year. If you love all things Kunt, then get your arse over to the Fiddler's on the 23rd March!
Kunt and the Gang virgin? Go here!
Tickets: £5 Adv (before mid-day on 23rd March) or £6 on the door.
Doors: 8pm
Onstage: 9pm (no support)
Followed by Kunty Disco with Madam Stan