Kumu Kahua Theatre Presents, as Part of its Dark Night Series, The PlayFest...
Description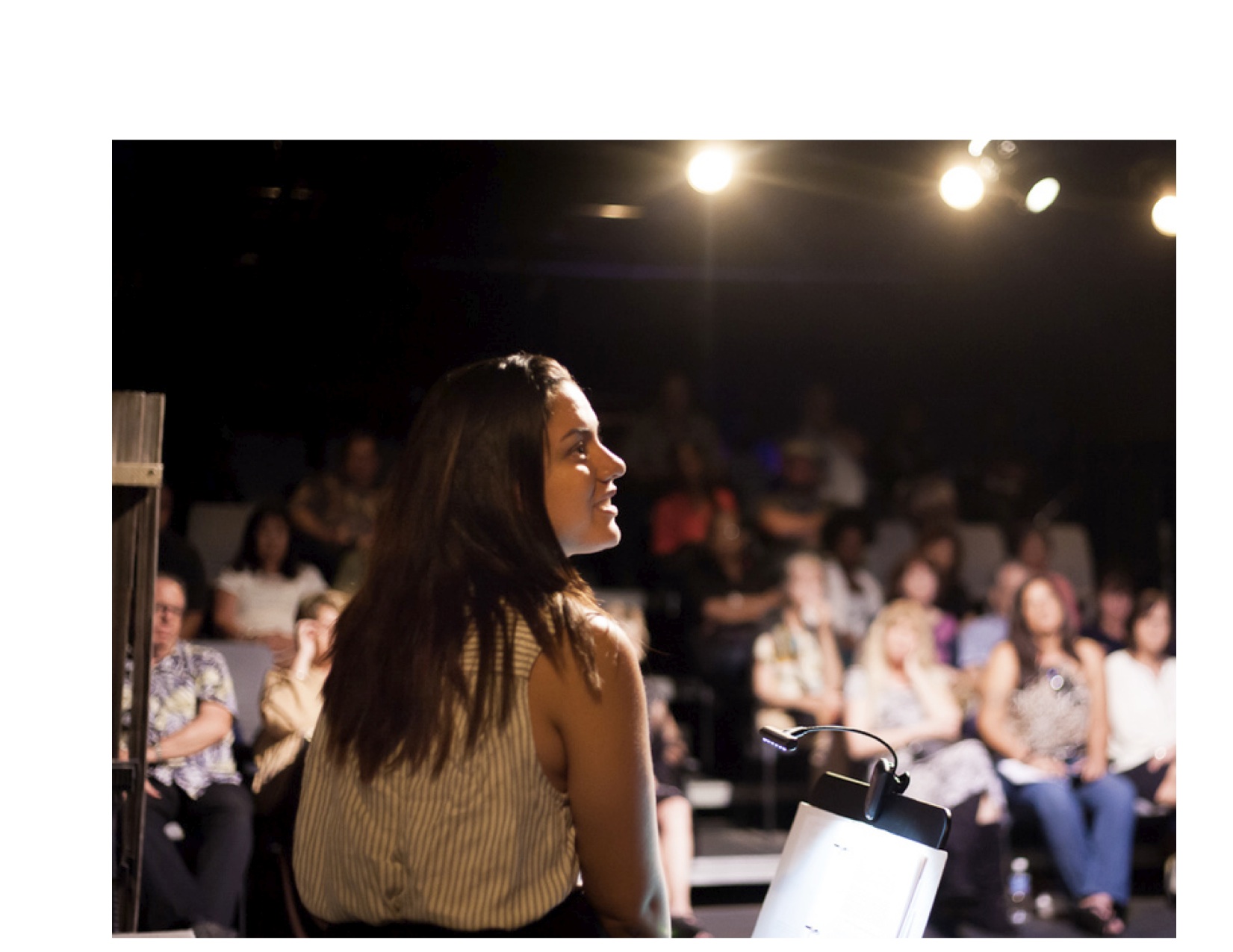 (Kuulei Shafee received an acting award for her performance in "Shipment Day" by Lorenzo DeStafano, which won "Best Play" in The PlayFestival 2016. Photo by Raul Soria, Jr. )


Kumu Kahua Theatre Presents, as Part of its Dark Night Series,
The PlayFestival 2017 by PlayBuilders of Hawaiʻi Theater Company


HONOLULU, HI--Kumu Kahua Theatre presents, as part of its Dark Night Series, The PlayFestival 2017, an annual event organized by PlayBuilders of Hawai'i Theater Company.
Formerly known as the Festival of Original Plays, PlayBuilders first launched the festival in 2011, as a way to meet their mission of "gathering and sharing real stories that resonate, empower and connect" the people of Hawai'i.
"The PlayFestival serves as an outlet for new plays and playwrights, and participants have enjoyed many successes as a result." Festival chair, Rachel Heller, explains, "An open call for original plays by local playwrights went out last fall and only the best plays were selected. The PlayFestival has developed into an incredible opportunity for local playwrights who wish to have their works seen and possibly produced."
PlayBuilders has commissioned past PlayFestival participants, to write full-length, community-collaborative plays to further serve their mission. Recently, former festival participant and PlayBuilders Managing director, Terri Madden, was commissioned to write "Dragonfly, The Story of a Young Girl's Journey Through Foster Care" in collaboration with The Foster Care Training Committee. The play is currently in rehearsal and will tour the island of Oahu this spring, in collaboration with The Foster Care Training Committee, to help educate the public and recruit more high quality foster homes. (At any given time, state wide, more than 1000 foster children are living in emergency shelters, waiting for a safe and loving place to live.)
Other theatre companies have chosen several PlayFestival plays as part of their regular seasons as well. Such examples include Nancy Moss' Will the Real Charlie Chan Please Stand Up, Marion Lyman-Mersereau's Eddie Wen Go: The Story of the Upside Down Canoe, and Jan Shiarella McGrath's Outage, which were produced at Kumu Kahua Theatre, The Hawai'i Theatre, and TAG respectively.
The PlayFestival 2017 will be held at Kumu Kahua Theatre on April 2nd, and 3rd. The festival will consist of rehearsed readings of original, one-act plays by local playwrights, in two divisions, youth and adults. Plays from the Youth Division will be presented on Sunday afternoon, April 2nd: 4:30- 6:30. Plays from the Adult division will be presented on Monday, April 3rd from 6pm-9pm. Awards in each category will be announced at the festival's closing. Each festival night will include a special "Meet the Playwrights" ice cream social during intermission.
The following plays and playwrights have been selected from a record number of submissions this year and will be presented on dates indicated:
April 2: 4:30 - 6:30 pm (Youth)
"The Order of the Purple Swallow" by Daisy Sprenger, directed by Violet Schwarzsmith
"Anarchy in the Milky Way: by Hayley Dietrich,
directed by Daisy Sprenger
"Death Wears a Hoodie by Noah Goebert,
directed by Clay McDermott
Intermission
"Fun Family Dinner by Sunny Lee,
directed by Justus Wahl
"My Conscience Hates Commies" by Daisy Sprenger,
directed by Hayley Dietrich
"Stress" by Justus Wahl,
directed by Robert St. John
"Loss Found" by Clay McDermott,
directed by Ian Chong
April 3: 6:00-9:00 pm (Adult)
"Da Truth of Da Fruit" by Lyana Atsumi,
directed by Karen Loebl Kaulana
"Patient" by Tali Ariav,
directed by Nicole Tessier
"DaʻAina" by Vanessa Lee Miller,
directed by Taurie Kinoshita
Intermission
"Da Kine Hawaiian Soap Opera" by Sean-Joseph
 Choo , directed by Jasmine Fernandez,
"Saving Mofo" by Robert St. James,
directed by Walt Gaines
Location: Kumu Kahua Theatre
46 Merchant Street, Honolulu
Tickets: $10 per evening. 
Free Ice Cream Social during intermission!
***
Kumu Kahua Theatre's Dark Night Series was created to offer other theatre groups, playwrights, and performance artists the opportunity to present their work to the community. The PlayFestival 2017 is being presented during dark nights, evenings when Kumu Kahua's regular season shows are not being performed. To be part of the Dark Night Series artists must submit a proposal, which is reviewed by the Board of Directors of Kumu Kahua. From these proposals, projects are chosen that Kumu Kahua feels will promote the development of the theatrical arts and benefit local artists. Kumu Kahua sees this as another way to enhance and enrich the cultural diversity and artistic climate of Honolulu.
PlayBuilders of Hawaiʻi Theater Company gathers and shares real stories that resonate with, empower, and connect individuals throughout the culturally rich and diverse communities of Hawai'i.
TICKETS: $10.00
To purchase advanced tickets, please go to www.playbuilders.org
Tickets may also be purchased at the door 45 minutes prior to the event.
For additional information please contact Rachel Funk Heller at rachelfunkheller@gmail.com