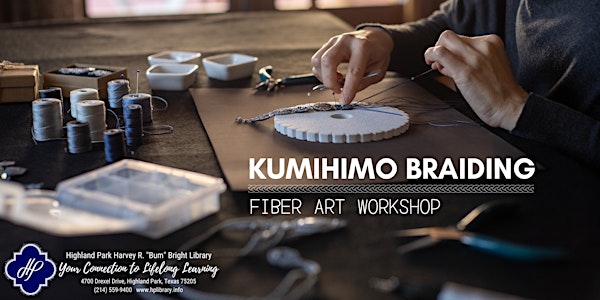 Kumihimo Braiding Fiber Art Workshop
Join us as artist Melody Lynch presents the basics of kumihimo, the traditional Japanese art form of making braids and cords.
Date and time
Saturday, March 25 · 10am - 12pm CDT
Location
HIGHLAND PARK HARVEY R. "BUM" BRIGHT LIBRARY 4700 Drexel Drive Dallas, TX 75205
About this event
Adults 18 and up
Come join us and learn the fun and relaxing art of Kumihimo. Kumihimo is the ancient art of braiding on a frame (or disk) and was used to hold the armor plates of the Samurai warriors together. Later they were used as belts to hold their sashes closed and have been used as decorative items on their wearables.
Current-day use of Kumihimo braids includes jewelry, glasses holders, key fobs, belts, purse handles, dog leashes, and many more. These can be made from cord, ribbon, fibers, beads, and a combination of any of them.
In this 2-hour workshop, we will be using rattail cord (in your choice of colors) and a foam disk with bobbins to make a key chain. In Japan (and by many Kumistas here in the USA) a wooden frame called a marudai is used to make these braids. But these frames are cumbersome to carry around and more costly, so the foam disk has gained popularity for its ease of use and size.
Aside from making your key chain, you will learn more about Kumihimo braids and the various items that can be made from them. Including different types of braids using more cords and different types of beaded braids to make many types of jewelry.
About the Artist
Melody Lynch is a retired Neonatal Nurse Practitioner who now devotes much of her time to The Craft Guild of Dallas in the roles of teacher, co-chair of the Glass Department, and member/vice president of the Board of Directors.
Melody has been interested in the arts from a young age and has dabbled in almost every form that has become popular over the years, including needle arts, sewing, quilting, drawing and painting, woodworking, jewelry, and glass. She became interested in Kumihimo about 13 years ago while looking for something to use with her jewelry and glass beads. Since that time, she has taken many classes in kumihimo including several master classes from well-known kumihimo instructor, Adrienne Gaskell. Melody mainly works on a marudai for her kumihimo but uses the popular foam disk for some projects and for travel.
Helping others to learn and enjoy the arts is what makes Melody happiest. She also enjoys spending time with her family, husband of 54 years, 4 children, 8 grandchildren, and 1 great- granddaughter.