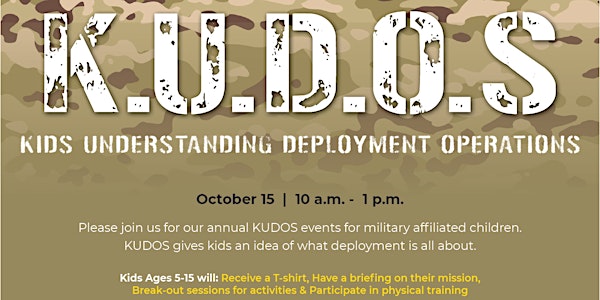 When and where
Location
Fort MacArthur Pool/Picnic Area Meyler Road Los Angeles, CA 90731
About this event
The Los Angeles AFB Military & Family Readiness Center invites you to our annual KUDOS (Kids Understanding Deployment Operations) event. Operation KUDOS teaches children about the deployment process through fun activities such as obstacle courses, bouncy houses and a mock pre-deployment line. This event is open to all branches and their family members.
When: Sat, 15 Oct from 10:00 a.m. 1:00 p.m.
Where: Fort MacArthur Pool/Picnic Area
Who: Kids age 5 - 15 years old
Kids will:
• Receive a T-shirt
• Have a briefing on their mission
• Participate in self-defense lesson
• Participate in physical training
• Free lunch will be provided
For questions or concerns: please contact the M&FRC at 310-653-5290 or LAAFB.MFRC@spaceforce.mil
*Parents or guardians are required to stay throughout the event*
* Afterwards, please join us for the annual Oktoberfest event from 2:00 - 7:00 p.m. at the Fort MacArthur Community Center.
This event is located on a military installation and open to authorized patrons only. Registration does not grant access to enter the installation. You must have a valid DoD ID to enter.