Description
Agenda:

6:00 - Doors open. Networking. Food and drinks.

6:30 - Welcome.

6:40 - How Istio integrates with Calico to enable network policy enforcement by Andy Randall Co-founder and VP Business Development at Tigera
7:10 - Q&A break.

7:20 - Kubernetes Solutions at VMware by Simone Morellato, Director of Technical Product Management at VMware

7:50 - Q&A break and wrap-up
Parking / Transport: Embarcadero BART, Bus station Folsom/Howard
DETAILS
Talk 1
Title: How Istio integrates with Calico to enable network policy enforcement
Speaker: Andy Randall, Co-founder and VP Business Development at Tigera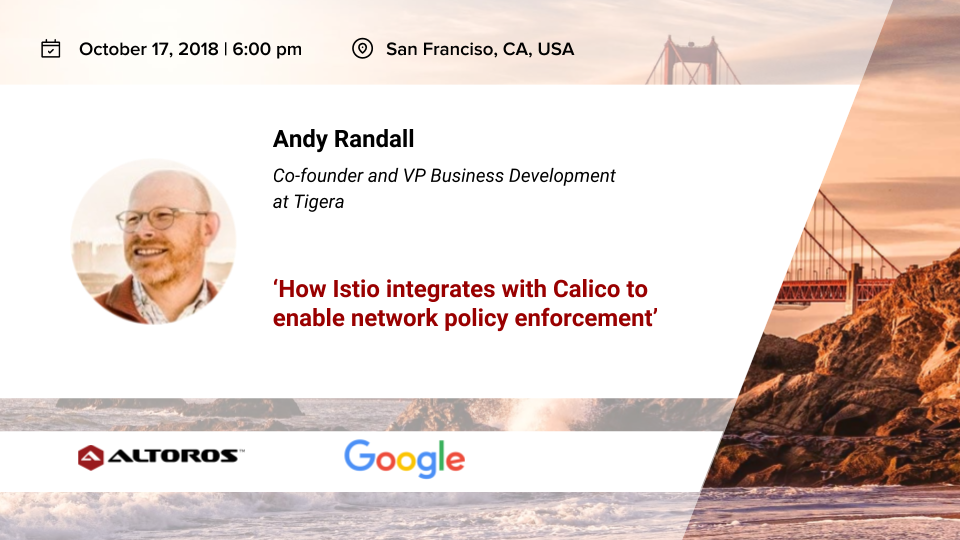 Abstract: Tigera's Calico is well known as the de facto standard for network-level security in Kubernetes, being integrated into all the major Kubernetes distributions and managed service offerings. At this meetup Andy Randall, Tigera co-founder, will explore how the latest Calico release (3.2) integrates with Istio to implement application security policies, encompassing cryptographic identity, layer 7 rules and synchronized enforcement between the network (iptables) and application (Istio-proxy sidecar) layers. We will also show how Tigera Secure Enterprise Edition builds on these platform capabilities to provide a complete zero trust security model.
Bio: Andy is passionate about technology and believes successful businesses deliver solutions and services that delight customers, the open source community and ecosystem partners. He co-founded Tigera to bring together these passions and redefine application connectivity for the cloud native era.
Talk 2
Title: Kubernetes Solutions at VMware
Speaker: Simone Morellato, Director of Technical Product Management at VMware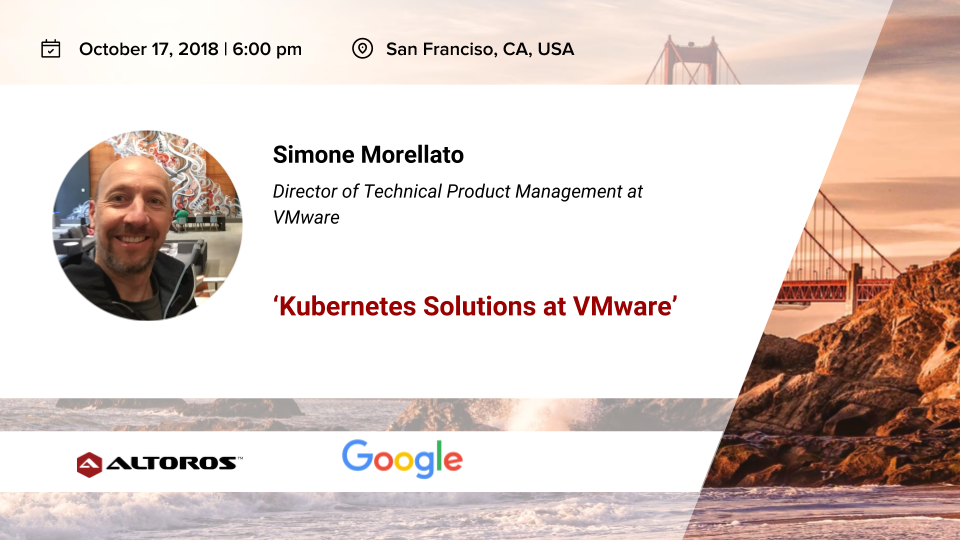 Abstract: In this quick session Simone Morellato will provide you an overview of VMware's container solution portfolio across a variety of product lines, including VMware vSphere Integrated Containers, VMware Pivotal Container Service and VMware Kubernetes Engine. Learn how to pick the right cloud-native infrastructure solutions for your organization
Bio: Simone Morellato is currently a Director of Technical Product Management at VMware where he leads technical product management and marketing efforts for the company's CloudNative Applications business unit. Simone has more than 16 years of experience in storage, networking and infrastructure for both traditional and cloud applications. Before joining VMware, Simone worked at Apcera, a container management platform, acquired by Ericsson. He has also held leadership, marketing and technical presales roles at Cisco, Riverbed Technology, Astute Networks and Andiamo Systems (later acquired by Cisco)
Want to share your experience or sponsor/co-organize the meetups?
Please fill in the following form https://goo.gl/forms/cPUPbJHvLuFNVAkr2
More details to be announced soon!
Thanks to our sponsors: