Actions and Detail Panel
"Kubernetes in Practice" A Workshop by Jetstack and Google
Tue, April 25, 2017, 8:30 AM – 5:00 PM BST
Description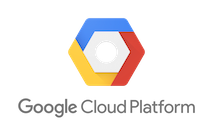 Introduction:
Open Sourced by Google in mid-2014 'Kubernetes' builds on 10 years of managing Linux Containers at massive scale.
Since then the Kubernetes project has exploded, gaining over 30,000 commits and 16,000 stars on Github. It is quickly becoming the default cluster manager, referred to as the new 'Datacentre OS.' Kubernetes is a must to learn if you are using or adopting containers.
In this 'Kubernetes in Practice' workshop by Jetstack and Google Cloud Platform, you will get hands-on experience of how to run Kubernetes, and how it gives you the power to manage a containerised infrastructure like Google.
The day will be split into two halves.

Part 1: Kubernetes in Practice - The Basics [0900 - 1230]

This is an introductory workshop session to put into practice the basics of using Kubernetes. We will demonstrate the deployment of a microservice application on gcloud in a single cluster. By the end of the session you will have:
- Dockerized the microservice application
- Understood the concepts of Kubernetes Pods / replica sets / services
- Understood where the code fits as pods and become services
- Interacted with a running Kubernetes cluster
- Deployed your services onto the cluster
Throughout the morning, we will also discuss a number of Kubernetes features that could solve problems you might face when deploying it into production.
Part 2: Kubernetes in Practice - Advanced [1330 - 1700]

This is an advanced workshop session that will put into practice some of the concepts that were covered in the morning. We will extend the microservices application demo from earlier in the day and work through a sequence of hands-on workshops that will implement:
- Adding persistent volumes and stateful services
- Ingress and TLS
- CI and CD
- Config management and secret management (Vault)
At the end of the day - we will demonstrate a federated, multi-region cluster using the stack we have built up throughout the day. We will also take a deeper dive into the list of more advanced topics covered in the morning.
Pre-Requisites:
Please bring a laptop and power cord. Please ensure it is:
- Linux or OSX
- Has Docker engine installed (for OSX that means the latest version, *not* docker-machine)
- Have a Google Cloud SDK installed
Lunch is provided.
Workshop Feedback: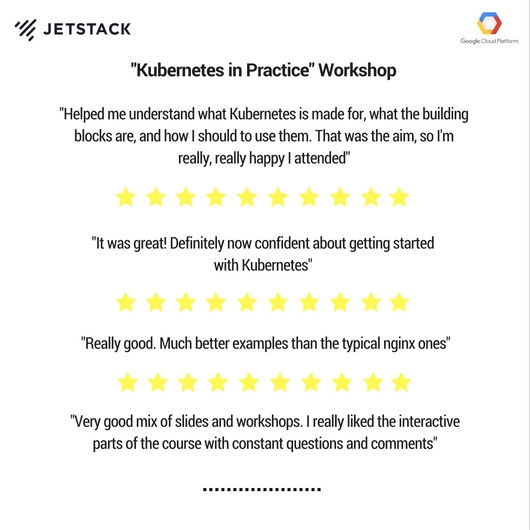 Date and Time
Location
Google
6, Pancras Square, 6 King's Blvd, Kings Cross
London
N1C 4AG
United Kingdom