Description
Learn the theory and practical skills required to get you up and running as fast as possible with

Kubernetes

. This course is a great supplement to any online training.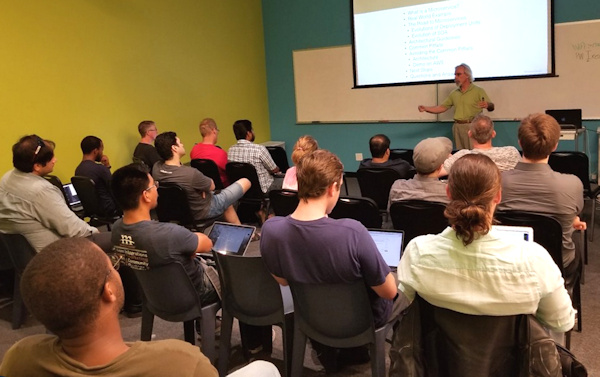 Kubernetes is becoming the go-to open-source technology for container orchestration at the enterprise level. It not only allows IT departments to deploy containers at scale automatically, but also ensures that those containers will run reliably in a fault-tolerant manner.
Why Take this Course
The purpose of this one day course is to provide working and aspiring IT professionals with the foundational knowledge necessary to have operational facility with Kubernetes. During this intensive one day session, attendees get a working understanding of Kubernetes through a combination of lectures and hands on labs.
In order get full advantage from the course attendees are expected to have a basic understanding of computer programming and system administration, either under Linux or Windows. Also, attendees should have a basic understanding of how data moves around the internet. The course is presented in a manner that is Whylanguage agnostic.
What Can Kubernetes Do For You?
Kubernetes solves a fundamental problem in distributed computing: how to keep large-scale, containerized applications that are subject to continuous change, both in terms of features and resource requirements, running reliably on the internet. Kubernetes solves the problem by using the concept of a predefined state to create, run and maintain container-driven applications over a cluster of physical or virtual machines. Deployment engineers create the application (or service) state and submit it to Kubernetes. Kubernetes then creates, deploys and maintains the application forever, or until the application is taken offline.
Course Outline
Overview of Architecture

Working Hands On With Kubernetes Resources

Working with Data

Foundations in Kubernetes Security

Application Management with Helm
About the Instructor
Bob Reselman (@reselbob) is a nationally-known software developer, system architect and technical writer. Bob has written four books on computer programming and dozens of articles about topics related to software development technologies and techniques, particularly those applicable to distributed computing and Kubernetes. He write monthly columns for DevOps.com and TechTarget. His profile can be viewed on LinkedIn, here.