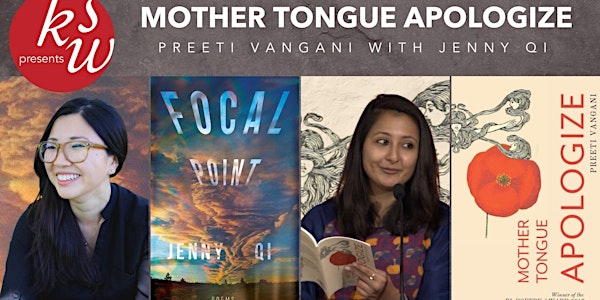 KSW Presents Preeti Vangani with Jenny Qi
KSW Presents Preeti Vangani and Jenny Qi in celebration of Preeti's latest book, Mother Tongue Apologize.
Refund Policy
Contact the organizer to request a refund.
Eventbrite's fee is nonrefundable.
About this event
On Friday, August 27, 2021, KSW Presents a virtual celebration of Mother Tongue Apologize, a debut collection of poetry by Preeti Vangani. Preeti will be joined by Jenny Qi, author of the forthcoming collection Focal Point. Join us for a reading exploring familial loss, grief, daughterhood, and the empowerment of women.
FEATURES
PREETI VANGANI is the author of Mother Tongue Apologize, winner of the RL India Poetry Prize. Her work has been published in The Threepenny Review, Gulf Coast, Cortland Review among other places. She is the winner of the 2021 Foley Poetry Prize for her poem, Raising Mothers. Her essays have been published in Buzzfeed, Bending Genres and Huffington Post. A graduate of University of San Francisco's MFA Program, Preeti has received fellowships from Napa Valley Writers' Conference, Pen America and the California Center for Cultural Innovation. She is a Tin House alumna and a Summer 2021 artist in residence at the Ucross Foundation.
ABOUT MOTHER TONGUE APOLOGIZE
"Preeti's words are embedded with desperate measures to deal with the raw pain of losing her mother to cancer at one level and to cope with her mum's patriarchal suppression at home, at another. 'All letters are odes to spaces mother left behind. Addressed to father never to be sent', she writes. The fiercely confessional poems expose complex emotions when the poet sees in her mother 's dry eyes, 'a butterfly crushed by a bootheel'. The poems are deeply moving, baring a poignant bond between mother and daughter caught in a universe of separation. The imagery is taut and powerful and quite simply soul stirring."
— Vinita Agrawal, author of The Longest Pleasure & The Silk Of Hunger
JENNY QI is the author of the debut poetry collection Focal Point, winner of the 2020 Steel Toe Books Poetry Award. Her essays and poems have been published in The New York Times, The Atlantic, Tin House, ZYZZYVA, and elsewhere, and she has received fellowships from Tin House, Omnidawn, Kearny Street Workshop, and the San Francisco Writers Grotto. Born in Pennsylvania to Chinese immigrants, she grew up mostly in Las Vegas and Nashville and now resides in San Francisco, where she completed her Ph.D. in Cancer Biology and currently works in oncology consulting. She is working on more essays and poems and translating her late mother's memoirs of the Chinese Cultural Revolution and immigration to the U.S.
ABOUT FOCAL POINT
"Focal Point by Jenny Qi is a book of crossings. Here, a mother crosses over from the living to the dead, the daughter crosses over to having a mother and then no longer having a mother, all the while studying science, an organized system of knowledge. There is nothing organized or clear about dying, but the end. "I never believed in anything. / Now I believe in everything, / all the rituals of all the faiths," writes the speaker. Qi grapples with disorder and order at once, endings and beginnings, mapping out a place where both co-exist because they have to. Focal Point is a beautiful and reflective book that inhabits the necessary liminal space of betweenness."
— Victoria Chang, author of Obit
ABOUT KEARNY STREET WORKSHOP
Founded in 1972, during the height of the Asian American cultural movement, Kearny Street Workshop (KSW) is the oldest Asian Pacific American multidisciplinary arts organization in the country. We offer classes and workshops, salons, and student presentations, as well as professionally curated and produced exhibitions, performances, readings, and screenings. KSW makes artists out of community members and community members out of artists. For the past 45 years, KSW has nurtured the creative spirit, offered an important platform for new voices to be heard, and connected artists with community.