Description
KSIxChange

Mari bergabung dalam serial diskusi informal mengenai berbagai topik di sektor pengetahuan Indonesia.
Join us at our new series of informal sharing sessions on different topics around Indonesia's knowledge sector.
Evaluasi Peta Jalan Jaminan Kesehatan Nasional
Evaluation of the National Health Insurance's Road Map
Prof. Laksono Trisnantoro, M.Sc., Ph.D.
Researcher at Centre for Health Policy and Management, Universitas Gadjah Mada
dimoderatori oleh/ moderated by
Pungkas Bahjuri Ali, STP, MS, Ph.D,
Director for Public Health and Nutrition, Ministry of National Development Planning/ National Development Planning Agency
Sejalan dengan prinsip jaminan sosial universal, Sistem Jaminan Sosial Nasional Indonesia bertujuan untuk menjamin bahwa seluruh warga negara dapat memiliki akses terhadap asuransi kesehatan, kompensasi ketenagakerjaan, dan dana pensiun. Sistem tersebut dikelola melalui dua lembaga yang dikenal sebagai Badan Penyelenggara Jaminan Sosial (BPJS) Kesehatan dan BPJS Ketenagakerjaan.

Berfokus kepada BPJS Kesehatan, Peta Jalan Kesehatan Nasional (JKN) telah dirumuskan untuk membantu proses implementasinya. Peta jalan tersebut menitikberatkan pada delapan target, termasuk keikutsertaan yang universal, pengelolaan yang transparan dan akuntabel, dan 85% penerima jasa puas dengan pelayananan yang disediakan oleh BPJS Kesehatan.

Pasca empat tahun berjalan, bagaimanakah keberlanjutannya? Apakah tantangan yang timbul? Serta apakah telah terjadi capaian terhadap delapan target dari Peta Jalan JKN?

Narasumber dari Pusat Kebijakan dan Manajemen Kesehatan Universitas Gadjah Mada akan berbagi temuan kunci terkait evaluasinya serta memberikan rekomendasi untuk meningkatkan proses implementasi kedepannya.
In line with the principle of universal social security, Indonesia's National Social Security System aims to ensure that all Indonesians have access to health insurance, workers compensation and pensions. The system is administered through two newly-created Social Security Providers (Badan Penyelenggara Jaminan Sosial, BPJS), one for health, and one for employment.
A Health Insurance Road Map was designed to guide the roll out of the Health Insurance scheme. This Road Map outlined eight objectives, including universal enrolment, transparent and accountable management, and 85% of members satisfied with the services provided by BPJS Kesehatan.
Four years on, what progress has been made? What have been the challenges? And to what extent have the eight objectives in the Road Map been achieved?
Speakers from the Centre for Health Policy and Management at Universitas Gadjah Mada will share key findings from their recent evaluation and provide recommendations to improve ongoing implementation.
Agenda

Selasa, 26 Maret 2019, 13:00-16:30 WIB / Tuesday, 26 March 2019, 13:00 - 16.30 WIB
SS 1&2 Room, Kementerian Perencanaan dan Pembangunan Nasional/ Badan Perencanaan dan Pembangunan Nasional, Menteng
Jl. Taman Suropati No.2, Jakarta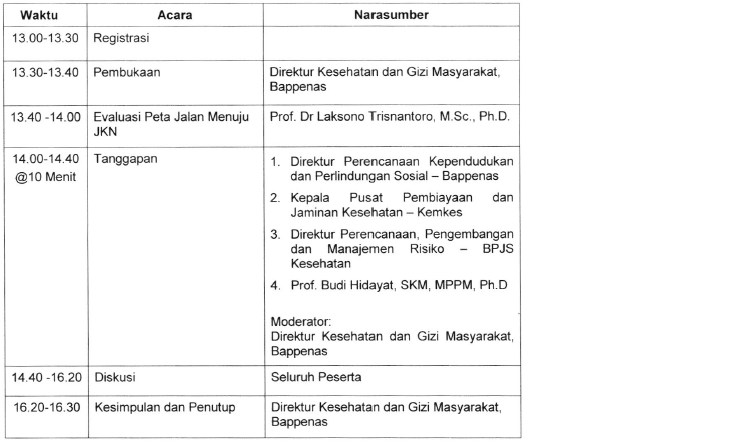 Tentang KSIxChange / AboutKSIxChange
Knowledge Sector Initiative (KSI) mengadakan diskusi rutin yang dipimpin oleh para pembicara terkemuka tentang topik yang berkaitan dengan pembuatan kebijakan berbasis bukti di Indonesia. Setiap sesi akan terdiri dari presentasi singkat dan diikuti dengan sesi tanya jawab interaktif. KSIxChange terbuka untuk umum dan tidak berbayar. Tempat terbatas dan registrasi akan ditutup pada sehari sebelum pelaksanaan kegiatan. KSI berkomitmen untuk menyediakan lingkungan yang inklusif untuk memastikan bahwa para penyandang disabilitas dapat berpartisipasi penuh dalam acara KSI. Mohon beritahukan kepada kami bantuan khusus apa yang Anda butuhkan saat mendaftar di Eventbrite atau hubungi Daniel Dompeipen di ddompeipen@ksi-indonesia.org
The Knowledge Sector Initiative (KSI) hosts regular discussions led by prominent speakers on topics related to evidence-informed policymaking in Indonesia. Sessions include a short presentation followed by interactive Q&A. KSIxChange is open to all and free to attend. Seats are limited and registrations close the day prior to the event. KSI is committed to providing an inclusive environment to ensure that people with disabilities can participate fully in KSI events. Please let us know if you have any special assistance needs when you register on Eventbrite or contact Daniel Dompeipen at ddompeipen@ksi-indonesia.org
Siaran langsung disini / Livestream here