Description
Terbuka untuk umum, kursi terbatas.
Open for public, limited seat.
KSIxChange

Mari bergabung dalam serial diskusi informal mengenai berbagai topik di sektor pengetahuan Indonesia.
Join us at our new series of informal sharing sessions on different topics around Indonesia's knowledge sector.

Doing Research: Menilai Sistem Penelitian Ilmu Sosial di Indonesia

Doing Research: Assessing the Social Science Research System in Indonesia
Speakers:
Dr Inaya Rakhmani (Assistant Professor, Faculty of Social and Political Sciences, Universitas Indonesia)
Dr Zulfa Sakhiyya (Assistant Professor, Faculty of Languages and Arts, Universitas Negeri Semarang)

Moderator:
Gita Putri Damayana, Executive Director, Center for Indonesian Law and Policy Studies (PSHK)
Penelitian terbaru terhadap organisasi dari produksi penelitian di Asia telah menunjukkan adanya efek marketisasi pada kualitas pekerjaan akademik. Pada studi kasus Indonesia, hal ini memberikan gambaran kompleks tentang efek tersebut dalam konteks pasca-otoriter. Sejak tahun 2010, Pemerintah Indonesia telah meningkatkan pendanaan serta menanamkan upaya reformasi untuk membuka Lembaga Pendidikan Tinggi kepada pasar siswa regional sehingga mendorong pembentukannya menjadi lembaga dengan pendanaan mandiri. Namun, karena sistem penelitian ilmu sosial yang ada sebelumnya justru dirancang untuk birokrasi, kebijakan reformasi tersebut menjadi tidak merata. Selain itu, aktor-aktor lain dalam produksi penelitian, yakni lembaga donor, masyarakat sipil dan industri, juga kurang dapat berkontribusi pada produksi penelitian ilmu sosial.
Tantangan-tantangan tersebut akan dibahas dalam diskusi yang berasal dari penelitian yang telah dilaksanakan oleh Universitas Indonesia/Center for Innovation Policy and Governance (UI/CIPG) dengan Global Development Network (GDN). Didukung dan dipandu oleh Akademi Ilmu Pengetahuan Muda Indonesia (ALMI), kegiatan ini akan berlangsung sebagai bagian dari acara International Network for Government Science (INGSA) di Jakarta, 23-24 September 2019. Diskusi ini turut memperkaya temuan yang akan memaparkan kendala struktural, analisis kekuatan dan kelemahan terkait dengan sistem penelitian ilmu sosial di Indonesia serta hubungannya dengan proses pembuatan kebijakan berbasis penelitian.

Recent research regarding the organisation of research production in Asia has shown the effect of marketisation on the quality of academic work, and the Indonesian case provides a complex picture of these effects in a post-authoritarian context. Since the 2010s, the Government of Indonesia (GoI) has increased funding and instilled reform efforts to open up Higher Education Institutions (HEI) to the regional student market thus shape HEIs into self-funding entities. However, as the social science research system was designed for bureaucratic, state promotion rather than for academic professionalisation, these reform policies have been uneven at best. In addition, other actors in the research production, i.e. funding agency, civil society and industry, were either unlikely to contribute to the production of social science research.
These challenges will be discussed under the research that was recently conducted by Universitas Indonesia/Center for Innovation Policy and Governance (UI/CIPG) with the Global Development Network (GDN). Supported and hosted by the Indonesian Young Academy of Sciences (ALMI), the activity will take a place as a part of International Network for Government Science (INGSA) in Jakarta, 23-24 September 2019. The discussion is about to enrich the finding which already provided the structural obstacles, strength, and weakness analysis related to the social science research system also its relations with the evidence-based policymaking process.

Agenda
Selasa, 24 September 2019, 16:00-18:00 WIB / Tuesday, 24 September 2019, 16:00-18:00 WIB
Executive Lounge, 24th Floor | National Library of the Republic of Indonesia
Jl. Merdeka Selatan No 11, Jakarta Pusat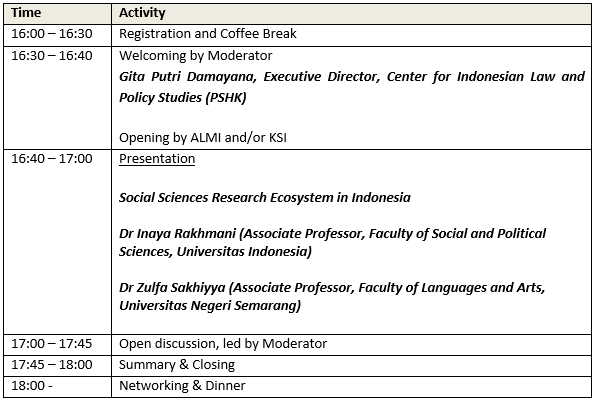 Tentang KSIxChange / About KSIxChange
Knowledge Sector Initiative (KSI) mengadakan diskusi rutin yang dipimpin oleh para pembicara terkemuka tentang topik yang berkaitan dengan pembuatan kebijakan berbasis bukti di Indonesia. Setiap sesi akan terdiri dari presentasi singkat dan diikuti dengan sesi tanya jawab interaktif. KSIxChange terbuka untuk umum dan tidak berbayar. Tempat terbatas dan registrasi akan ditutup pada sehari sebelum pelaksanaan kegiatan.
The Knowledge Sector Initiative (KSI) hosts regular discussions led by prominent speakers on topics related to evidence-informed policymaking in Indonesia. Sessions include a short presentation followed by interactive Q&A. KSIxChange is open to all and free to attend. Seats are limited and registrations close the day prior to the event.

Siaran langsung disini / Livestream here