Description
KSIxChange

Mari bergabung dalam serial diskusi informal mengenai berbagai topik di sektor pengetahuan Indonesia.
Join us at our new series of informal sharing sessions on different topics around Indonesia's knowledge sector.

Mengadvokasikan Sebuah Isu Kepada Pembuat Kebijakan

Advocating Your Issues to a Policymaker

Najelaa Shihab, Researcher at Center for Research on Education and Policy (PSPK)

Terdapat serangkaian proses yang harus dilalui sebelum sebuah kebijakan dapat diputuskan. Berawal dari sebuah permasalahan di akar rumput yang membutuhkan perhatian mendesak dari para pembuat kebijakan. Namun tidak semua isu tersebut dapat dengan mudah diakui oleh pembuat kebijakan. Di sinilah lembaga riset dan organisasi masyarakat sipil dapat berperan, untuk mengadvokasi isu tersebut supaya dimasukkan dalam agenda kebijakan dan ikut membentuk isi kebijakan. Dalam KSIxChange ini, Najelaa Shihab akan membahas pengalamannya mengadvokasi perubahan kebijakan di tingkat makro dengan membawa isu-isu akar rumput ke perhatian para pembuat kebijakan. Diskusi ini bertujuan untuk berbagi pengetahuan dan mendorong diskusi tentang strategi dan pendekatan untuk advokasi kebijakan yang efektif.
A policy decision is the result of a lengthy process. Often, it begins with a grassroots issue that needs the urgent attention of policymakers. But policymakers aren't always familiar with these issues. This is where research institutes and civil society organizations can help, by using their knowledge and experience to advocate for issues to be put on the policy agenda and informing the content of policy. In this KSIxChange, Najelaa Shihab will discuss her experiences of advocating for policy change at the macro-level by bringing grassroots issues to the attention of policymakers. The discussion aims to share knowledge and promote discussion of strategies and approaches for effective policy advocacy.

Agenda
Kamis, 13 Desember 2018, 9:30-12:00 WIB / Thursday, 13 December 2018, 9:30-12:00 WIB
Knowledge Sector Initiative, Ratu Plaza Office Tower 9th Floor
Jl. Jend Sudirman Kav.9 Jakarta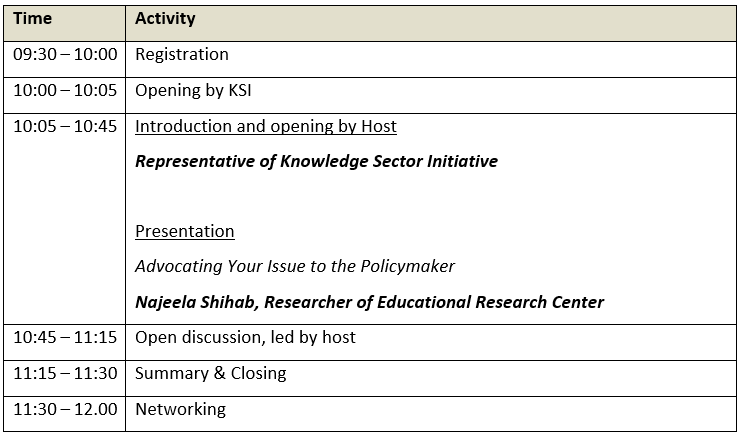 Tentang KSIxChange / About KSIxChange
Knowledge Sector Initiative (KSI) mengadakan diskusi rutin yang dipimpin oleh para pembicara terkemuka tentang topik yang berkaitan dengan pembuatan kebijakan berbasis bukti di Indonesia. Setiap sesi akan terdiri dari presentasi singkat dan diikuti dengan sesi tanya jawab interaktif. KSIxChange terbuka untuk umum dan tidak berbayar. Tempat terbatas dan registrasi akan ditutup pada sehari sebelum pelaksanaan kegiatan.
The Knowledge Sector Initiative (KSI) hosts regular discussions led by prominent speakers on topics related to evidence-informed policymaking in Indonesia. Sessions include a short presentation followed by interactive Q&A. KSIxChange is open to all and free to attend. Seats are limited and registrations close the day prior to the event.

Siaran langsung disini / Livestream here