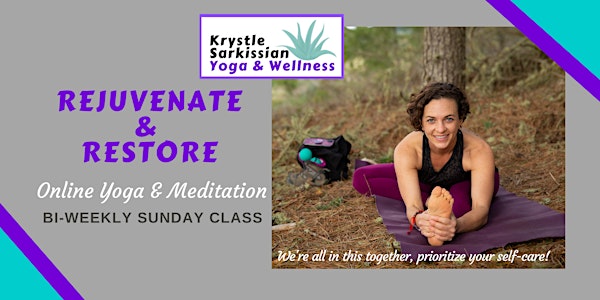 Krystle's Livestream, Rejuvenate & Restore Yoga (Bi-Weekly on Sundays)
Livestream Yoga & Meditation - We'll focus on stress relief & ways to manage anxiety to improve your well-being.
About this event
What you can expect...
Typically we'll begin with a brief GUIDED MEDITATION and/or BREATHWORK to ground you and provide an anchor during these turbulent times.
From there, we'll start slow and warm up the body before dropping into a 60-minute slow flow vinyasa inspired sequence, moving in sync with our breath. Strengthening the CORE is always a part of the practice, which will aid you in your overall stability and being able to move skillfully between postures.
Our session will conclude with an intentional body scan and a DEEPLY RELAXING SAVASANA where you can reap the benefits of all your efforts.
Sequences will cater to all ability levels (beginners are encouraged to join), with options to up-level or modify your practice to suit you.
To receive the link to join via Zoom, REGISTER HERE ----> https://bit.ly/ksonlineclasses
***Current Schedule, Bi-weekly on Sunday's***
SUNDAY 10:30am PST ~ Rejuvenate & Restore Yoga (60 min)
You're welcome to hang out online for a few minutes after class, whether it's to ask questions or simply connect with the supportive community.
***Classes are DONATION BASED, but all are welcome. If you're in a position to contribute, it's greatly appreciated.***
Suggested donation: $12-$25
Venmo: @Krystle-Sarkissian
Paypal: Paypal.me/KSYW
Register here to receive the Zoom Link to Join (FYI it's case sensitive): https://bit.ly/ksonlineclasses
Private Yoga or Meditation Sessions available for individuals or groups of friends, family, or coworkers.
TO BOOK or ask questions - Reach out via email: Krystle.Yoga@gmail.com
UPCOMING ONLINE CLASSES - Please check KrystleSarkissian.com/online-classes for current and future offerings!
STAY IN TOUCH & UP TO DATE - Follow me on social media @KrystleSYoga