Description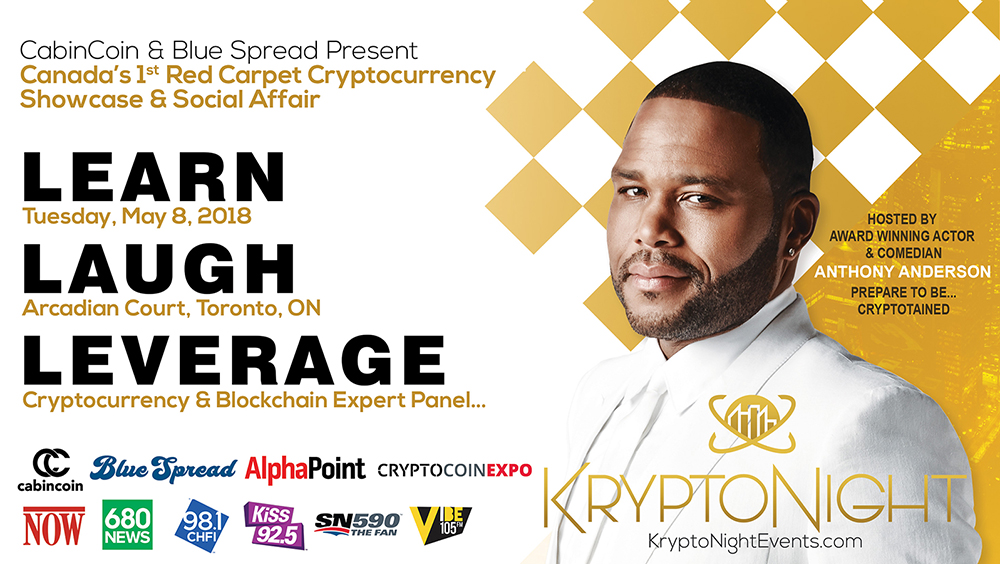 KryptoNight Toronto | Laugh, Learn & Leverage
The Arcadian | 401 Bay Street | Toronto On | Canada
Canada's 1st Red Carpet Cryptocurrency Showcase & Social Affair
Guess Who's Coming to KryptoNight Toronto!
What do Emmy Nominated Actor and Producer, Anthony Anderson, Gemini Awarded Comedian, one of North America's Premier DJs, TV personalities, major cryptocurrency stackeholders have in common?
On Tuesday May 8th, 2018 they will all be at the Arcadian, as they present, perform and participate at KryptoNight Toronto.
Join CabinCoin, Blue Spread and our Media sponsors for an exciting event in Toronto, Ontario.
On Tuesday May 8th, the prestigious Arcadian Court will be transformed into a VIP spectacle for Canada's first Red Carpet Cryptocurrency Showcase & Social Affair.
KyrptoNight Toronto, will be a unique experience that brings together North America's technology professionals with some of Canada's premier entertainers for a fun, fact-filled night.
Red Carpet Meet & Greet | Arcadian Hall
The night starts with a celebrity filled Red Carpet interviews and photo-ops with live band plays. Each guest is greeted with a complimentary glass of wine and multiple food stations positioned around the two floor ballroom.
KryptoNight Live | Performances, Panels & Presentations | Arcadian
We will have a fast paced 90 minute "stage show" with a mix of comedy, tech talk, interactive rapid Q&A panel session and much more. All with the keen focus of educating our guests about cryptocurrency, answering the simplest questions; "What is it? "What will the future look like?"and more.
Dine & DJ VIP Reception | Arcadian Loft
Join our guests in the Lounge upstairs…and let the celebrations begin!" Attendees will be invited to join our VIP Guests at Arcadian Loft, for our Dine & DJ closing reception featuring Canada's Premier Dj Starting From Scratch. The room will have Chef Stations catered by the Award winning staff at the Arcadian and more.
---
TICKETS
Early Bird Tickets Now on Sale!
GENERAL ADMISSION TICKET | $80 plus taxes/charges
Includes Access to All Event Segments
5:30 Pm – "Gold Carpet Meet & Greet"
7:30 Pm – Main Stage "Panels,Performances & Presentations"
9:30 Pm – "Dine & DJ VIP Reception"​
VIP ADMISSION & SEATING TICKET | $105 plus taxes/charges
Includes Access to All Event Segments
Plus Guaranteed Seating during "Panels,Performances & Presentations"
www.kryptonightevents.com