KRJ supporters from across Harlem are working together to make sure her name is on the ballot on primary day!
About this Event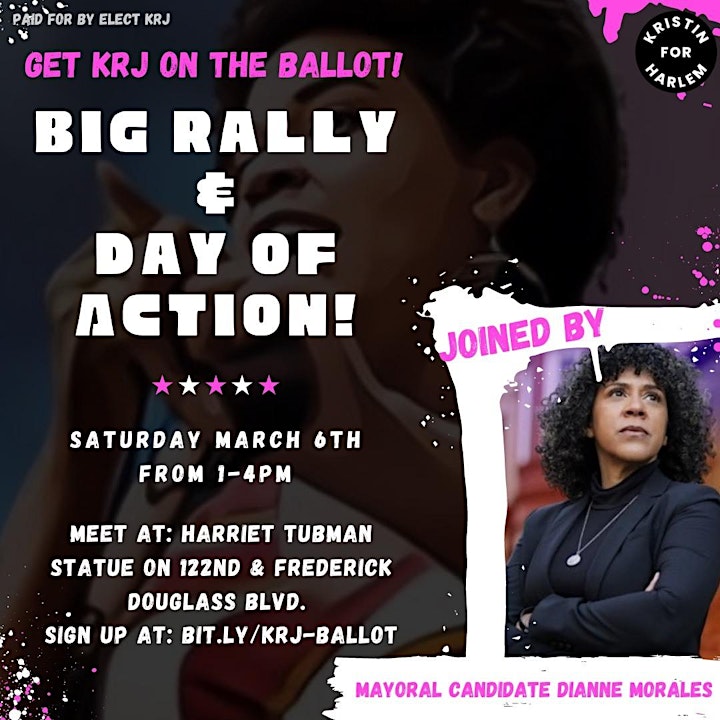 We'll kick off with a fiery speech by KRJ and then do a quick training on how to collect petition signatures. By collecting signatures, not only can we ensure KRJ is on the ballot, but we can also make sure to have important conversations with members of our community about why KRJ is the best candidate to represent Central Harlem in the City Council. The more conversations we have, the more our movement grows.
For KRJ to win Harlem and make it to the City Council it's going to take all of us doing everything we can to disrupt the district with radical love.
Radical love means police accountability and abolition of the NYPD. It means affordable housing. It means a quality education for our youth with access to books & equipment that works. Radical love means decolonizing oppressive capitalist greed and redistributing wealth to lower income families, to our senior citizens and creating more permanent housing for those experiencing homelessness.
As KRJ says this movement isn't about her, it's about "US". Together, we fight for the liberation of historically marginalized communities. We fight to uplift the voices of Black women, of Queer people, of the unhoused, of the elderly, of the poor and working class. Together, we fight to make history.
*Note: we will be practicing COVID-19 precautions by remaining socially distanced and masked at all times.
Para obtener más información en español, envíe un correo electrónico a kristinforharlem@gmail.com