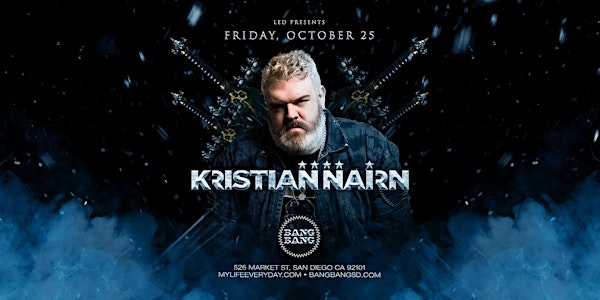 KRISTIAN NAIRN
KRISTIAN NAIRN AT BANG BANG
When and where
Location
Bang Bang 526 Market St San Diego, CA 92101
About this event
LED presents
Kristian Nairn
Kristian Nairn
International touring artist, Kristian Nairn is one of Ireland's most prolific house DJ, playing a blend of progressive and tech house from the likes of Green Velvet, Croatia Squad and Betoko. With musical influences including Eric Prydz, Daft Punk, Valerie Collective and Royksopp, Kristian is touring in all territories including Australia, USA, UK, Ireland, Russia, Netherlands, Oman, Bahrain, Lebanon, Argentina, India, Iceland, France, Morocco.
He's remixed tracks for house music legends including Freemasons, Madison Avenue and Duke to name but a few, his solo releases 'UP' ft Leanne Robinson and 'Beacon' have amassed over 500,000 streams.
A longtime DJ/Producer before he started acting, it was his role in hit TV show 'Game of Thrones' as 'Hodor' that fast-tracked his live career into mainstream media.
Kristian continues to play the most World's most credible clubs and festivals including Ministry of Sound, Pacha, Cielo, Middlelands Festival and Untold Festival, alongside his now legendary Rave of Thrones shows which have sold hundreds of thousands of tickets across the globe.
Website: www.kristiannairn.com
- - - - - - - - - - - - - - - - - - - - - - - - - - - - - - - - - - - - - - - - - - - - - - - - -
Bang Bang
www.bangbangsd.com
www.twitter.com/BangBangSD
www.instagram.com/BangBangSD
For bottle service inquiries please contact:
Conan Dunn
conanneverdunn@gmail.com
1 (619) 762-0833
No flip flops
No Shorts
No Tank tops
No Jerseys
- - - - - - - - - - - - - - - - - - - - - - - - - - - - - - - - - - - - - - - - - - - - - - - - -
LED presents
www.myLifeEveryDay.com
www.twitter.com/LEDpresents
www.instagram.com/ledpresents
www.facebook.com/ledpresents