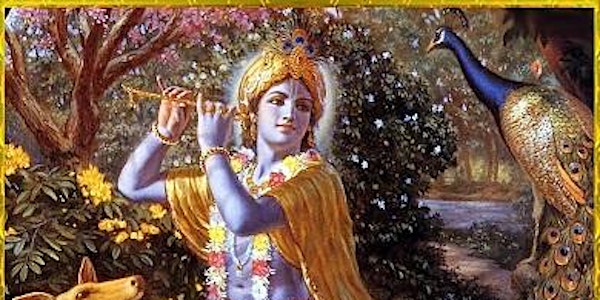 Krishna Janmashtami Retreat - conducted by Swami Kripamayananda
Location
Vivekananda Hall
125 West Scotland Drive
Irving, TX 75062
Swami Kripamayananda will give a retreat on Sri Krishna.
About this event
NOTE: Covid-19 Protocols & Procedure for Attendance:
The in-person attendance will be restricted to individuals who are fully vaccinated including booster(s) or who can show a negative antigen test taken 24 hours prior to the day of the program. Masks are required.
Please arrive before the start of the program (in the imeframes shown below)with your tickets in hand to show our ushers at the door. The Vedanta center's doors will close each day at the start of the program, as the Zoom system is noise sensitive.
If you have registered but on the day are feeling unwell, we request that you please stay home and watch the lecture remotely - and inform us immediately so we can release members on our waiting list. Temperature checks will be made at the front door of the Vedanta center.
We thank you for helping us to keep our attendees safe.
PROGRAM AT VIVEKANANDA HALL:
Fri., August 26: Krishna Janmashtami Retreat
6–7 pm: Arati and silent meditation (Entry into the Hall at this time)
7–8 pm: "Krishna: The Supreme Attraction" – Talk #1
8:15pm: Prasad Supper
Sat., August 27: Krishna Janmashtami Retreat
10-10:30 am: Entry into the Hall at this time
10:30–11:30 am: "Krishna: The Lord of the Yogas" - Talk #2
11:30–12 Noon: Break
12–1 pm: "How Did Saints & Seers View Krishna?" - Talk #3
1 pm: Prasad Lunch
Sun., August 28: Krishna Janmashtami Retreat
10:30-11:30 am: Worship with readings & bhajans (Entry in the Hall at this time)
11 :30 -11:45 am: Break
11:45-12:45 pm: "Krishna: His Last Message" - Talk #4
12:45-1 pm: Arati
1 pm: Prasad Lunch
This retreat is also online: Zoom: https://us02web.zoom.us/j/5824888542 Meeting ID: 582 488 8542 Passcode: Vedanta