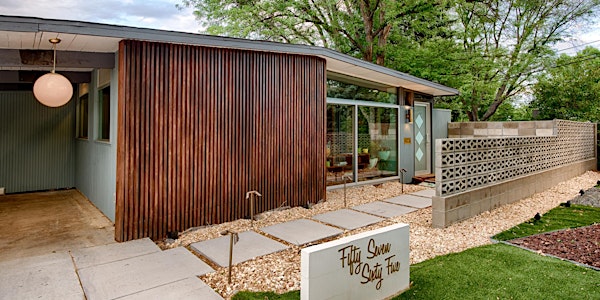 Krisana Park/Lynwood Modern Home Tour
An Open-House Style Home Tour of Multiple Modern Homes in Denver's Lynwood and Krisana Park Neighborhoods
When and where
Location
Lynwood / Krisana Park Neighborhood Check-In 5765 East Colorado Avenue Denver, CO 80224
About this event
An Open-House Style Home Tour of Multiple Modern Homes in Denver's Lynwood and Krisana Park Neighborhoods
About the Tour
Homes will be open from 2 pm-5 pm. The tour will include several Lynwood and Krisana Park Homes. After the quick sell out of Krisana Park's 176 mid-century modern homes, Wolff built a sequel neighborhood in nearby Lynwood.
Good To Know
At check in, you will receive a map of the house locations. 
Additional Background
Krisana Park and its nearby sister neighborhood Lynwood together contain 299 beatuiful examples of mid-century modern houses built during 1956-57. Wheras Krisana Park offered only one floorplan with multiple exterior designs, modifying roof-lines, windows, siding, and masonry to create different looks, Lynwood was offered with six different floorplans and two exteriors each. The design options included a tri-level and A-frame model in addition to updated versions of the "3-D Contemporary" model that made Krisana Park so popular.
Often referred to as "Like-lers," due to their similarity to the homes that the architecture firm Jones & Emmons designed for California's Joseph Eichler, these homes were designed by Denver architect Frenchie Gratts of the firm Gratts & Warner.