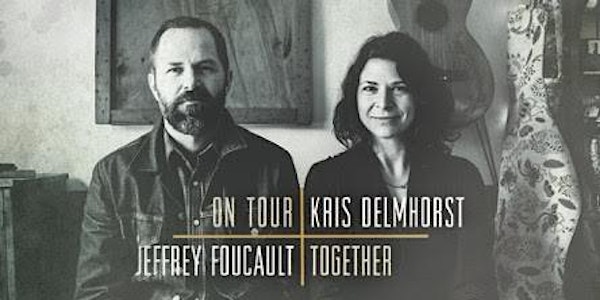 Kris Delmhorst, Jeffrey Foucault
When and where
Location
Ballard Homestead 6541 Jones Avenue Northwest Seattle, WA 98117
Refund Policy
Refunds up to 30 days before event
Description
11/2 Kris Delmhorst, Jeffrey Foucault
"This is what Delmhorst captures better than any songwriter in the game: the duality of emotion, how we are never just one thing in any given moment. The beauty and comfort in despondency, the inherent fear in joy, the unspoken hesitation in acts or proclamations of confidence - Kris Delmhorst's songs manage to cover that difficult terrain, putting the microscope on the complexities of human behavior" The Buzz About

@ Ballard Homestead
7:30p show, 7p doors
$15 student, $18 general advance (not including fees)
$25 Day of Show
All ages, seated
Kris Delmhorst and Jeffrey Foucault share the stage on a special split bill to celebrate the release of THE WILD, Kris Delmhorst's 2017 album featuring Foucault and members of his band. Though married since 2004, these two acclaimed artists have until now maintained independent touring careers, and THE WILD marks their first foray into the studio together, to record Delmhorst's darkly hopeful, fiercely wise new collection of songs. Merging her sophisticated melodies and hauntingly open voice with Foucault's lean aesthetic, the album navigates the poles of home and away, known and unknown, and reunites her with old bandmates including Billy Conway - the former Morphine drummer who produced her first two albums - and bassist Jeremy Moses Curtis (Booker T). Featuring two distinct sets of music every night, with the two artists fronting the band in succession and joining each other's sets, the tour offers a rare and intimate performance from two of the country's foremost songwriters.
MORE EVENT INFO:
- Seating is not reserved.
- We have a mix of padded chairs and benches available.
- We are an all ages venue.
- Please refrain from talking or texting during the show.
- Please enter quietly if the show has already begun.
- Please leave quietly, it's a very quiet neighborhood.
- Kids 10 & under are free at Abbey Arts concerts & arts events unless noted.
- For ADA information at Ballard Homestead, please see www.ballardhomestead.org/rent or email arts(at)fremontabbey.org There is a ramp around back on the south side of the Homestead for wheelchair access. Fremont Abbey is ADA accessible on both levels.
ABBEY ARTS, SEATTLE | NONPROFIT 501C3, NON-RELIGIOUS, EST. 2005
Presenting welcoming music, arts & cultural experiences for people of all ages & incomes.
We support low income families, veterans, and humanitarian nonprofit workers with free event tickets. http://www.fremontabbey.org/artsconnect
Venue rental info & more: http://www.fremontabbey.org/rent
Concert & events calendar: http://www.abbeyarts.me
Home Venue: Fremont Abbey, 4272 Fremont Ave North, Seattle, WA 98103 / 206-414-8325
Ballard Homestead: 6541 Jones Ave NW, Seattle
All ticket sales are final.