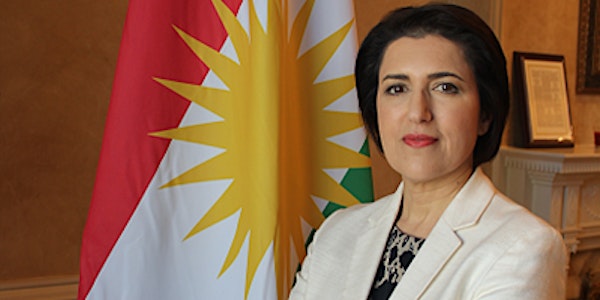 KRG Rep. Bayan Rahman: US & Kurdistan Region, Iraq: A Growing Partnership
Kurdistan Regional Government Representative Bayan Sami Abdul Rahmn on US-Kurdish Relations
About this event
Kurdistan Regional Government Representative to the US Bayan Abdul Sami Rahman will speak on US and Kurdistan Region, Iraq: A Growing Partnership at a virtual event on Thursday, November 12 at 6:30 PM ET.
Key to her role are strengthening ties between Kurdistan and the United States, advocating her government's position on a wide array of political, security, humanitarian, economic, and cultural matters and promoting coordination and partnership. Prior to her US appointment in 2015, Ms. Abdul Rahman was the High Representative to the United Kingdom. She was elected to the Leadership Council of the Kurdistan Democratic Party in 2010.
Before her career in public service, Ms. Abdul Rahman worked as a journalist for 17 years. She began her career on local newspapers in London and won the Observer Newspaper's Farzad Bazoft Memorial Prize in 1993, which led her to work at The Observer and later at the Financial Times. She worked for the FT in Britain and in Japan, where she was Tokyo Correspondent.
Her late father, Sami Abdul Rahman, was a veteran of the Kurdish freedom movement, joining the Kurdistan Democratic Party in 1963 and playing a critical leadership role in the Kurdish and Iraqi opposition to Saddam Hussein's regime. He held the post of Deputy Prime Minister of the Kurdistan Regional Government and General Secretary of the Kurdistan Democratic Party (KDP). Sami Abdul Rahman was killed alongside his elder son Salah and 96 others in a twin suicide bombing in 2004.
This event is generously sponsored by Bacon\Wilson PC.