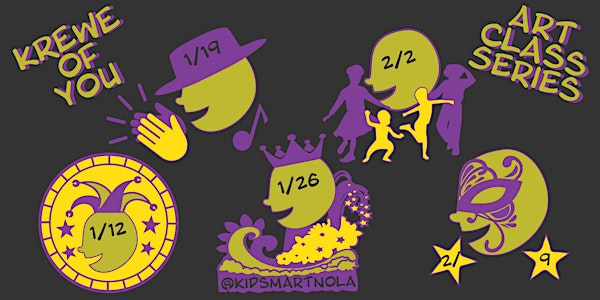 Krewe of You!
Create Your Own Mardi Gras Krewe with New Orleans Artists and Carnival Experts! Your registration donation benefits KID smART programs.
About this event
Mardi Gras in New Orleans will look a little different this year. Our favorite walking, dancing, marching, and rolling parades will be missed, but the opportunity to make Mardi Gras magic lives on. Revelers near and far are invited to an interactive event series exploring the music, movement, and art that brings Carnival to life.
Krewe of You participants will learn from New Orleans' most acclaimed Carnival krewe members and culture bearers to create all the elements of their own krewe. The series was created for students (ages 7+), families, and educators - but open to all! 
Upcoming session:
COSTUMES | Tuesday, February 9th | 4:30-5:30pm CT
Craft your krewe's costume pieces with a special guest from the Krewe of Red Beans
We've been wearing masks all year, but Mardi Gras masks are so much more fun! Your krewe needs you to design a unique and eyecatching mask!
Materials:
elastic ( to use as a tie for mask, string/ribbon will work too)
uncoated paper plate
white glue
scissors
glitter glue
markers or colored pencils
optional: gems, sequins, pom poms, old mardi gras beads, feathers
Sign up for one or attend all five sessions! Registration is pay-what-you-can and all donations go toward KID smART arts education programs in New Orleans public schools.
Past sessions explored:
THROWS | January 12th
Design your krewe doubloons with special guests from the Rex Organization & Krewe of Muses
MUSIC | January 19th
Create your krewe's song and rhythm with Gregory Davis of the Dirty Dozen Brass Band
FLOATS | January 26th
Build your krewe's floats with special guests from the Krewe of King Arthur
DANCE | Tuesday, February 2nd | 4:30-5:30pm CT
Choreograph your krewe's dance with special guests from the Camel Toe Lady Steppers
Thank you to our sponsor, WWNO 89.9FM, and all participating krewes!
---
Meet your teachers!
About Kevyn Miller / Wndrby: My name is Mr. Miller, but you can call me Wndrby because I believe everyone should be their own superhero. I've been teaching with KID smART for 3 years and I've been making music for as long as I can remember. At one point, I thought I should go into computer science, but I knew that if Music wasn't a big enough part of my life that I wouldn't be happy. I went on to study Music Education at LSU, where I fell in love with elementary music and dove headfirst into the world of singing, dancing, and playing to learn. Nothing makes me happier than finding new and exciting ways to engage students using the universal language of music and I can't wait to make music together.
About Erin Doherty: Ms. Erin is a native New Orleanian, visual artist, and arts educator. She attended the School of the Art Institute of Chicago and received an interdisciplinary Bachelor of Fine Arts with a focus on the handmade. Her mediums include painting, drawing, ceramics, sculpture, bookbinding, and weaving. Since 2012, she has been teaching visual arts at several nonprofits in Chicago, New Orleans, and rural Mississippi. She strives to create a safe, supportive creative space to nourish the souls of our diverse community here in New Orleans.