Krewe of Da Kine ● 1st Annual Mardi Gras Ball ● An Octopus's Garden

Sunday, February 23, 2014 at 7:00 PM (HST)
Event Details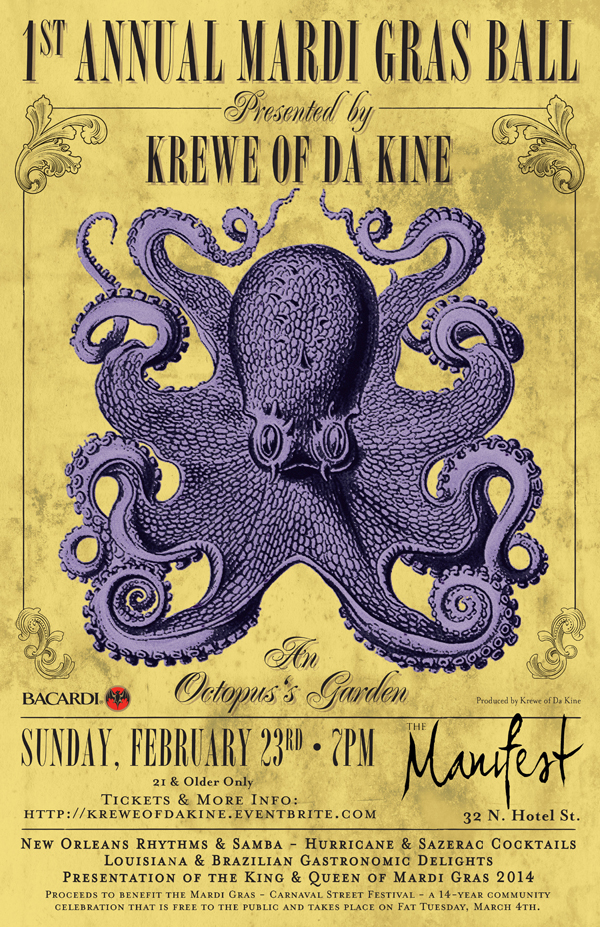 BALL PREVIEW
Laissez les bon temps rouler!!!! Krewe of Da' Kine is thrilled to kick-off Honolulu's Mardi Gras week festitivities with its 1st Annual Mardi Gras Ball - 'An Octopus's Garden' to be held at Manifest, a charming restaurant/coffee shop/bar in Chinatown. Mardi Gras krewe traditions come alive right here in Honolulu with a night filled with carnival revelry.
Regal...and Other Costumes

Foot Stompin' N'awlins Rhythms

Samba Dancers + Burlesque Beauties

The BEST Hurricane & Sazerac Cocktails on Island (no lie)

Complimentary Louisiana & Brazilian Gastronomic Delights

Presentation of the King & Queen of Mardi Gras 2014

Carnival Club Crawl wristband included with purchase of Mardi Gras ball ticket.**

Access to VIP Room at the Mardi Gras - Carnaval Street Festival.***


 
Do Whatcha Wanna !!!!!!!!!!!!!
Entertainment: New Orleans native John Cannizzaro w/ special gueset Caroline Ponder (champion fiddle player), Captain Gris Gris (accordian/guitar/harmonica), Maynard G (DJ set - New Orleans FuNK!), Fusion Dance Company (samba), dj mr. nick (world beats), Cherry Blossom Cabaret.
Menu (more dishes to be added): jambalaya from D'at Cajun Guy, red beans & rice + cornbread from Mom's Soulfood Crabwings, lechon (Cuban pork) sweet roll sliders from Soul de Cuba, Brazilian tapas from Do Braza Hawaii, King Cakes from Life is Sweet and Krewe member Miss Jeanne, petite sweets from Tea at 1024 and more!
**Carnival Club Crawl wristband provided to each person who purchases a Mardi Gras Ball ticket. Wristband provides access to all street bars at the Mardi Gras - Carnaval street fetival and all seven clubs participating in the Carnival Club Crawl on Fat Tuesday, March 4th. Click here for more info about the street fetival and club crawl.
***VIP Room: Everyone who purchases a Mardi Gras Ball ticket will receive access to our VIP Room at the Mardi Gras - Carnaval street festival between 7pm-9pm. Loading Zone Arts (47 N. Hotel Street) is the site of this year's VIP Room. It's the perfect spot to catch your breathe and enjoy a respite from the madness in the street. Loading Zone Arts is a gallery/performance space located on the second floor above Amy's place with windows providing a perfect view of ground zero of Mardi Gras - Carnaval (perfect view of Hotel Street & the Rio Sambadrome Stage). Details on gaining access to the VIP Room will be emailed to all Mardi Gras Ball ticket holders along with their Carnival Club Crawl wristbands one week prior to the festival.
Proceeds of 'The Octopus's Garden Mardi Gras Ball' to benefit Da Krewe of Da' Kine 'Carnival Heritage' float and the six additional floats featured at this year's Mardi Gras - Carnaval Street Festival taking place on Fat Tuesday, March 4th on Nu'uanu Avenue and the surrounding area. The Mardi Gras - Carnaval Street Festival is a 14-year community celebration that is free to the pulbic. Festival details.
The Founding Fathers & Mothers of Krewe of Da' Kine are: Mark Tarone, Kim Taylor Reece, Sylvia Flores, Dion, John Cannizzaro, Michele Henry, Jeanne Babula, Elise Anderson, John Keogh and Janna Bills

Special Mahalo to:
When & Where

Manifest
32 N. Hotel Street
Honolulu, HI 96817


Sunday, February 23, 2014 at 7:00 PM (HST)
Add to my calendar
Organizer
T-Rx Entertainment, LLC
T-Rx Entertainment has been producing events in Hawai'i for over 10 years.
Each year, we produce the Hallowbaloo Music + Arts Festival in Honolulu and roots concerts around the state. Past shows include Booker T. Jones, Edward Sharpe & the Magnetic Zeros, Diplo, 
Maceo Parker,
Xavier Rudd,
 Allen Toussaint, 
Big Freedia, Nahko and Medicine for the People,
Z-Trip, Steve Gadd, Cut Chemist, Greensky Bluegrass, 
Anders Osborne,
David Lindley, Gaudi, Jake Shimabukuro, Quantic, Brett Dennen, Ozomatli, Rebirth Brass Band, Warpaint, 7 Walkers (feat. Bill Kreutzmann & Papa Mali), Luther Dickinson, Iyeoka, Blitzen Trapper, Jon Cleary (with Steve Ferrone and Reggie McBride), Delta Spirit, John Cruz, The New Mastersounds, Mad Professor, Mike Love, Old Blind Dogs, Eddie Bo, Man Man, Big Chief Monk Boudreaux, Dengue Fever, Baths, The Budos Band, Paper Diamond, The Helio Sequence, Taimane, Benzi, Ursula 1000, DJ Logic, Jeremy Sole, Eric McFadden, Larry and Jenny Keel, Dj Low Down Loretta Brown (aka Erykah Badu), Charlie Hunter with Scott Amendola, and more.
Krewe of Da Kine ● 1st Annual Mardi Gras Ball ● An Octopus's Garden