Event Information
Location
The Love House
Westside Santa Cruz location provided with registration confirmation.
Santa Cruz, CA 95060
Description
Krautshop: Learn to Make Probiotic-Rich Fermented Sauerkraut

Wednesday, September 21, 2016, from 6:00 PM to 10:00 PM (PDT)
Learn techniques, tips, and recipes for creating your own healthy fermented sauerkraut for a fraction of the cost of store-bought. Chef Beth Love, author of the upcoming cookbook series Tastes Like Love, will share secrets for creating superb tasting sauerkraut. Here is what you will get in this hands-on workshop:

Techniques for creating fabulous sauerkraut on a consistent basis


The basic recipe plus ideas for numerous flavor variations


Instruction in determining high quality ingredients

The opportunity to practice all the required skills for making great kraut

A kraut tasting "party" including multiple varieties such as chipotle pecan, lemon garlic dill, and rosemary walnut


A half gallon fermentation kit complete with jar, weight, lid, and airlock

Three pints of delicious fermenting kraut in a choice of flavors

Follow up technical assistance after the workshop
All ingredients and equipment provided, though you are welcome to bring your favorite knife and an apron if you like. Participants wishing to take home more than one fermentation jar of kraut will be offered the opportunity to take home a second variety in exchange for ingredient reimbursement.

All ages welcome and encouraged to attend. Invite your friends!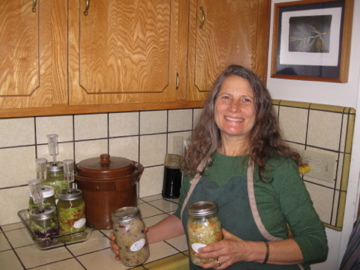 Date and Time
Location
The Love House
Westside Santa Cruz location provided with registration confirmation.
Santa Cruz, CA 95060