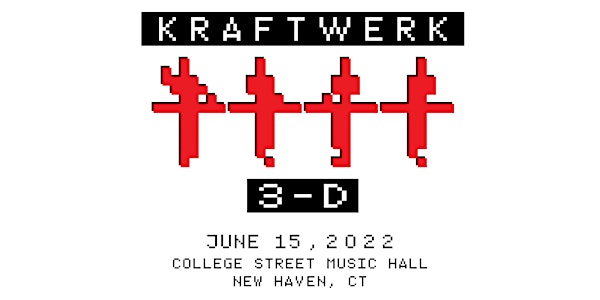 Kraftwerk 3-D
Premier Concerts and Manic Presents:
Event Information
Performers
Location
College Street Music Hall
238 College Street
New Haven, CT 06510
About this event
This event is General Admission Standing Room on the Floor and Reserved Seated in the Balcony.
Masks are strongly encouraged.
By purchasing tickets to this event, you agree to abide by the State of CT, City of New Haven, Artist, and College Street Music Hall's Health and Safety measures in effect at the time of the event. Check back for updates to your event on our website as guidelines and entry requirements are subject to change.
KRAFTWERK
After their worldwide hugely successful 3-D concert tours, the Electro pioneers Kraftwerk bring the show to College Street Music Hall on June 15th!
Bringing together music and performance art, Kraftwerk 3-D concerts are a true "Gesamtkunstwerk – a total work of art."
The multi-media project Kraftwerk was started in 1970 by Ralf Hütter and Florian Schneider. They set up their electronic Kling Klang Studio in Düsseldorf, Germany, where they conceived and produced all Kraftwerk albums.
By the mid 1970's Kraftwerk had achieved international recognition for their revolutionary electronic 'sound scapes' and their musical experimentation with robotics and other technical innovations. With their visions of the future, Kraftwerk created the soundtrack for the digital age of the 21st century.
Their compositions, using innovative techniques, synthetic voices and computerised rhythms, have had a major international influence across an entire range of music genres: from Electro to Hip Hop, from Techno to SynthPop.
In their live performances, Kraftwerk – Ralf Hütter, Henning Schmitz, Fritz Hilpert, Falk Grieffenhagen – illustrate their belief in the respective contributions of both man and machine.
Starting with the retrospective of their Catalogue at the Museum of Modern Art in New York in 2012, in recent years Kraftwerk have returned full circle back to their origins within the Düsseldorf art scene of the late Sixties.
The 3-D concert series at MoMA was followed by further presentations at Tate Modern Turbine Hall (London), Akasaka Blitz (Tokyo) Opera House (Sydney), Walt Disney Concert Hall (Los Angeles), Fondation Louis Vuitton (Paris), Neue National Galerie (Berlin) and Guggenheim Museum (Bilbao).
In 2014 Ralf Hütter and his former partner were honoured with the Grammy Lifetime Achievement Award.
German electropop pioneers Kraftwerk built the soundtrack for the digital age. A fusion of art, beat, and electronics, these 1970s visionaries ignited pop music's evolution from rock to electronic with their revolutionary soundscapes and musical experimentation. They've been sampled by hundreds and influenced thousands, from David Bowie to Missy Elliot to the helmet-clad Daft Punk. Kraftwerk stops in New Haven during their 3-D tour of "multi-sensory magnificence" (The Guardian).
"The world's most influential band" – The Guardian
Links: Official Website | Facebook | Instagram | Twitter | Spotify
Performers
Date and time
Location
College Street Music Hall
238 College Street
New Haven, CT 06510
Refund policy