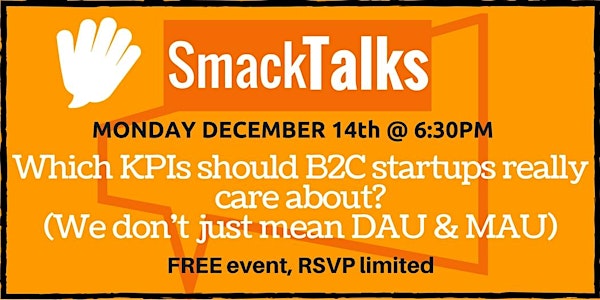 Date and time
Monday, December 14, 2015 · 6:30 - 8pm EST
Location
SMACK, Inc. 186 South Street 4th Floor Boston, MA 02111
Description
We are happy to announce the amazing panelists for our first SmackTalk event:
Peter Blacklow, Senior Partner - Boston Seed Capital: Former president & CMO @ WorldWinner, GSN, Senior VP Marketing @ Monster, Senior Marketing @ Converse
Katie Rae, Founder and Managing Director - Project 11: Former managing director @ Techstars Boston, Co-Founder & Chairman @ Startup Institute, Sr. Director, Product @ Microsoft, VP Community & Communications @ Lycos
David Chang, Angel Investor: Former COO @ PayPal Media Network, co-founder of the PayPal Start Tank innovation space, VP of Product @ WHERE, Director of New Product @ TripAdvisor
Moderated by Giuseppe Stuto, CEO & Co-Founder @ Smack

Understanding and tracking the right KPIs for your consumer tech business is paramount to developing a product that people absolutely love. Relative to their B2B counterparts, many will argue that B2C-oriented businesses here in Boston are not as clearly understood. This lack of understanding has improved in recent years due to the rise of many successful consumer tech businesses, but B2C companies still do not receive nearly the amount of attention that B2B companies receive from entrepreneurs, investors, etc.
In our opinion,based on conversations with many investors and entrepreneurs from both coasts, this discrepancy in attention has led to a weaker understanding of which KPIs are most important in the early stages of building any consumer-oriented application. Join us as we touch upon several topics surrounding the importance of identifying which KPIs are most important for your product and how / why these metrics should impact how you develop your end business / product overtime.
Beverages and snacks will be offered. Limited space available.
About the organizer
Smack creates community-focused products that give teens a way to both share valuable, everyday high school experiences, and easily connect with like minded people.