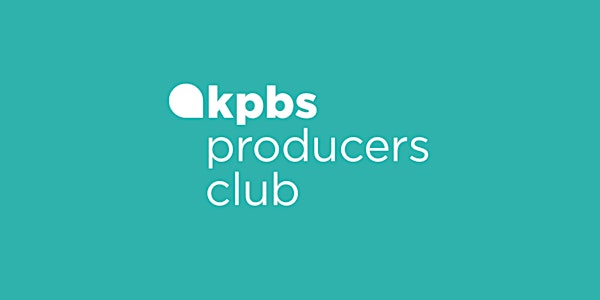 KPBS Producers Club event with Pati Jinich
Join KPBS for a night with renowned Mexican chef and TV host Pati Jinich!
Date and time
Starts on Friday, April 21 · 6pm PDT
Location
Coasterra 880 Harbor Island Dr San Diego, CA 92101
About this event
Join us for a special evening with renowned Mexican chef Pati Jinich, from PBS series Pati's Mexican Table and La Frontera with Pati Jinich. Pati will be with us for the night to share insights and behind the scenes look into the upcoming season of La Frontera, and her many other works. Reception and refreshments will be hosted at Coasterra's ocean-side terrace with breath taking views of the San Diego skyline. This will be a memorable night you will not want to miss!
NO cost to register or attend. SPACE IS LIMITED, PLEASE REGISTER AS SOON AS POSSIBLE.
About Pati Jinich
Born and raised in Mexico City, Pati is host of the 3x James Beard Award-winning PBS television series "Pati's Mexican Table" and the PBS primetime docuseries "La Frontera." She is resident chef at the Mexican Cultural Institute in Washington, D.C., and a cookbook author. A former political analyst she switched policy papers for cooking pots to make exploring and sharing Mexico's cuisine her life's work. She has cooked at the White House for President Obama's Cinco de Mayo celebration. The Council of the Americas named Pati one of the "Top 5 Border Ambassadors" who have performed outstanding work bringing the United States and Mexico closer together in their Americas Quarterly (AQ) magazine. She was also named one of the National Immigration Forum's "Keepers of the American Dream," which honors individuals who embody the spirit of immigrant achievement and contribute to the well-being of immigrants in the US.
Health Protocols and Recommendations
KPBS is delighted to create a memorable experience for you. We are paying close attention to local and state public health orders and CDC recommendations. We recognize that these recommendations change from time to time, based on local case positivity rates, hospitalization rates and other factors. In order to ensure the experience is safe for all, we are asking all guests, volunteers and staff to observe our health protocols and recommendations:
Before arriving at this event please assess your health. If you observe any runny nose, cough, tickle/sore throat, fever, body aches or any other unusual symptoms, please stay home.
Although masking is not required, you are welcome to wear a facial covering at your discretion, including times when you cannot maintain a comfortable social distance or when indoors. If you would like a facial covering, one will be made available at our check-in table.
KPBS staff will routinely clean and disinfect the check-in area and other hi-touch surface areas. Hand sanitizer will be available for all to use at the check-in table.
If you test positive for COVID-19 up to 14 days following the event, please notify our team as soon as possible.
These protocols are in compliance with San Diego County and SDSU guidelines. We appreciate your cooperation.
About the organizer
The KPBS Producers Club is a diverse group of philanthropic individuals and families committed to sustaining KPBS' ability to reach audiences on television, on radio, and online. Producers Club members share the distinction of being KPBS' most generous annual contributors, giving $1,200 or more each year to strengthen the impact of public broadcasting.