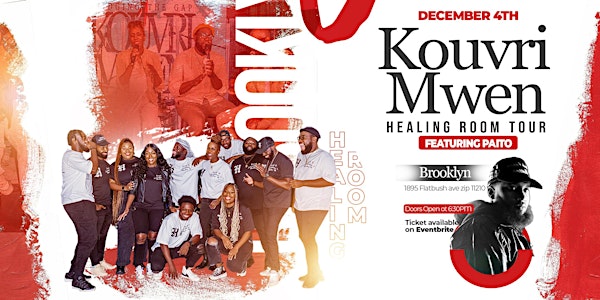 Kouvri mwen Healing Room Tour Brooklyn NYC
Welcome to the HEALING TOUR. Come and thank the Lord for this year where we can gather together and praise him for his deeds.
When and where
Location
Purpose Life Church 1895 Flatbush ave zip 11210 Brooklyn, NY 11210
Refund Policy
Contact the organizer to request a refund.
Eventbrite's fee is nonrefundable.
About this event
To you who have already had this experience with us, we just want to invite you to renew it and to you who have not yet had the opportunity to experience adoration, praise with us this year is your opportunity to do so. Come worship and praise the lord with BTG Healing Room because it is a beautiful experience of life where you forget all your problems, illnesses and others and connect with God and feel the presence of the Holy Spirit manifesting in us. So don't miss this opportunity.
À vous qui avez déjà vécu cette expérience avec nous voulons juste vous inviter à la renouveller et vous qui n'avez pas encore eu l'occasion d'expérimenter l'adoration, la louange avec nous cette année est votre occasion de le faire. Venez adorer et louer le Seigneur avec BTG Healing Room dans différentes villes car c'est une belle experience de vie ou vous oubliez tous vos problèmes, maladies et autres et se connecter avec Dieu et sentir la présence du Saint Esprit se manisfester en nous. Alors ne ratez pas cette occasion de vie.
Ou menm ki viv eksperyans sa avèk nou deja ou konnen kisa li ye e ane an nou ap envitew renouvlel ak nou e ou menm tou ki poko fèl se okazyon pouw fèl. Vin louwe ak adore Bondye avèk nou nan vil ak eta ke nou ap ye yo. Se yon bèl eksperyans kote ou bliye tout pwobèm ou, maladi ou epi ou lagew bay Bondye epi eksperimante prezans li a travè sentespri li kap manifeste. Pa rate eksperyans de vi sa pou anyen. Nap tann ou.