Event Information
Location
7th West
1255 7th Street
Oakland, CA 94607
Refund policy
Contact the organizer to request a refund.
Eventbrite's fee is nonrefundable.
Time to groom and bloom in our spring hafla for our trans/non-binary/queer SWANA community.
About this event
Welcome to the third Kousa - Off-Spring: a queer/non-binary/trans SWANA dance party.
Please read all items below.
Now that Um-icron is calming down (inshallah!), we can celebrate all you mothers and fathers and aunts and uncles and khals and 3mos and dayis and morak'uyrs and horeġbayrs and piblings (look it up!). We're offpsring: sometimes we're spring lambs and sometimes we're black sheep but for this party, let's be both.
In this community, we get to look up to each other as progenitors/ancestors of the next LGBTQI+ generation, opening doors to feel more comfortable, planting gardens so the future can feel more themselves. Dress up for spring fun, to dance the night away (2 a.m.), and be the elder you've always wanted.
We are offering space for individual performances. We will have a beautiful spring celebration performance, some lip syncing, some singing and more!
Performances by:
Shadybee - @iamShadybee
Sultana - @sultanadancing
Nicki Menwara - @nicki.menwara
Juju the Bellydancer - @j.faerie
Ancestry of Desire - with Shams Hayati @youcandoithabibi , Birds of Paradise @fragrant_hawa , and Juicy Khajoor @mirzaphoool
Rupture - with Lara @laraaburamadan, Salma, Hesham, Voulette
For some folks in our community, the spring equinox marks a new year (nowruz in Afghanistan, central asia and Iran) and mothers' day (generally, the levant and gulf countries). We would be remiss to not mention other spring-celebrating festivals and mothers' days like Trndez (armenian), Kha b-Nisan (assyrians, chaldeans, syriacs), Sham Ennessim (egypt). In some North African countries (Algeria, Morocco, Tunisia), mother's day happens on the last Sunday of May. If you're interesting in sharing how you celebrate with our community (e.g. a nowruz table, a little speech/performance, art), please reach out to us.
We are celebrating our queer, trans, fem, and nonbinary SWANA community. This is our space and these are the people we are prioritizing. We prioritize women and trans & nonbinary people of color, those who support them and make space for them, and you should, too. Be mindful of the space, your presence, your privilege, and of consent. We really care about creating a beautiful, supportive space. Party-goers should feel comfortable letting us know about anyone disrupting this space and we will promptly take care of it.
We're still in a pandemic. Remember practicing kindness and patience. We take care of ourselves, so act like the family you need.
Photography: For the safety of our community, please do not take pictures /videos or share social media without the explicit consent of the individuals in the photos. E.g. take your selfies and group-selfies but avoid recording the party at large. Feel empowered to help others maintain these boundaries.
Tickets are required for entry, available on a sliding scale. No one turned away for lack of funds. This is being organized and hosted by local queer community members. This party is open to our Q/T/GNB SWANA community, guests and allies. Tickets are required but folks will be admitted at the time of the party via Venmo/Cashapp (buying a ticket ahead of time makes life easier!). If you benefit from the classist, patriarchal, cis society, consider paying more. All of this helps cover the cost of music and set-up, so we can all have a safe, good time. Any extra will be donated to local organizations. If you might have trouble paying, please reach out for a discount code. 21+ only.
Per 7th West, you need to be fully vaccinated for entry. See COVID-19 protocol at the bottom.
We love you all and see you soon.
If you have any limitations or questions about anything, please reach out to Fadi Shihadeh (630-209-2666).
COVID Guidelines for Guests (must be listed in event link)
All guests must have/wear a mask to enter 7th West. All guests are required to complete 7th West's digital Health Declaration Form and agree to the following:
Agree to participate in our Contract Tracing Program (provide email to contact if any possible covid spread)
Agree to a temperature check as 7th West does not allow anyone over 99 degrees to enter
Agree to accepting hand sanitizer provided by 7th West upon successful completion of the Health Declaration Form
Agree that anytime guests leave their table to go to the bathroom, talk to another table or if they are leaving the venue, masks must be worn at all times.
Masks can be taken off while eating and drinking.
All ordering of Food & Drink is contactless and must be ordered at your tables through the QR codes. Once items are ready, staff will bring them out directly to the tables.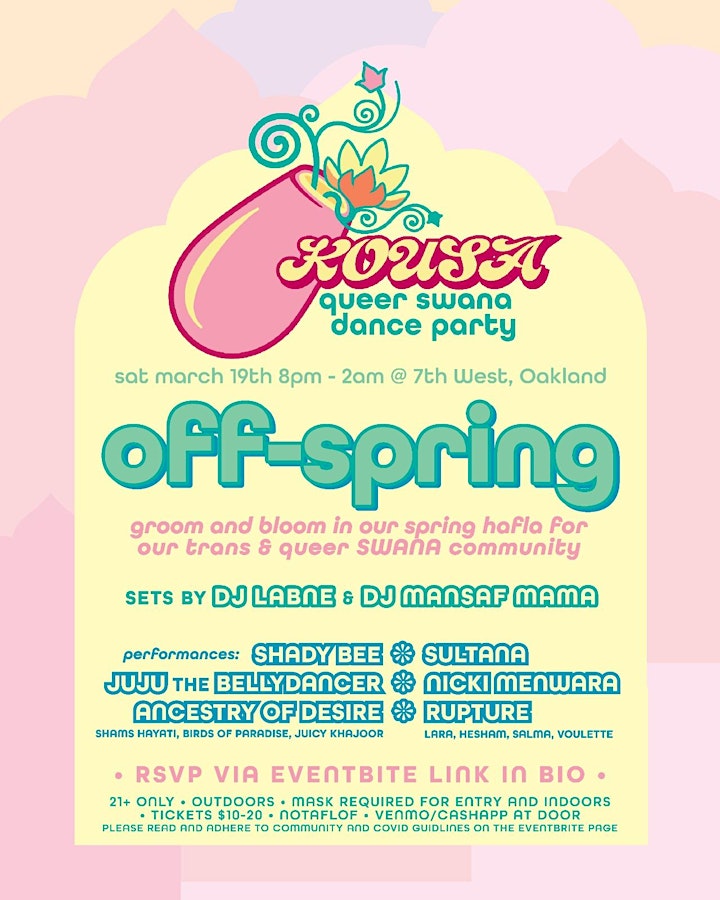 Date and time
Location
7th West
1255 7th Street
Oakland, CA 94607
Refund policy
Contact the organizer to request a refund.
Eventbrite's fee is nonrefundable.