Kotori's Cherry Blossom Festival 2014 & Frozen Movie Night

Saturday, April 5, 2014 from 12:00 PM to 6:00 PM (EDT)
Event Details
This is a small relaxing event.  $10 admission fee for the event. $5 additional ticket for the Frozen screening! 
 Music
Paul Yurgin will join again this year!
In addition we will hold the first Kotori Idol, a competition for those singers who want to Let it Go!  
Games
We will have causal play of video games.  Super Smash Brothers Brawl, Project M, Mario Kart, Kirby Air Ride, Bomberman,  Godzilla: Destroy All Monsters Melee, Unleashed.  Games will change over the afternoon.
Pokemon Trainers Challenge on your DS with Pokeom X or Y.  See how many gym masters you can beat!
Magic The Gathering tournaments (may charge extra to cover prizes) Kotori Idol contest.  Light Lunch included.
Weather permitting we have some fun outdoor games planned  but you can always Ride that Nustang!
Kotori's Fast chats: the cosplay meet & greet)! 
We are offering a fun version of speeding dating without the pressure.  Sign up for our cosplay meet and greet.  You will sit and chat with each person for 2 minutes and then move to the next when the bell rings.  Stay in character for the most fun!  If you don't have a cosplay you can still participate.
Lunch!  
Bring your own picnic but we will also have some food catered!
Vendors! 
Talented artists and crafters will be joining us.  
FROZEN Screening STARTS at 6PM! We have secured the rights to screen Frozen! To cover this cost we will have an extra ticket for $5.  There are only 140 seats available so get yours soon! If you ONLY want to come to the screening and not the festival you can just buy this tickets and come to the Instructional Center 430 at 6 PM.
Questions?  We have a facebook event at: https://www.facebook.com/events/588801314530495/
All proceeds are going to these charities:
The Mission is to encourage mothers to achieve economically and educationally and to seek brighter futures for themselves and their families.  We will be assisting with the program to provide women's personal care products to local day care centers, pediatric hospital wards and medical day care facilities, women's shelters and agencies and facilities such as the Veterans Memorial Home, Cooper Hospital, Samaritan Hospice, Anna's Angels, My Sister's Place and Robins' Nest.  Since 2001, Mothers Matter volunteers distributed more than 20,000 gift baskets for special and needy Moms at more than 60 different locations in southern New Jersey and Philadelphia, providing many with the only Mother's Day gift they receive.
LiNK is the only full-time grassroots organization in North America devoted to the North Korean human rights and humanitarian crises. LiNK provides protection and aid to North Korean refugees hiding in China and, utilizing a modern-day underground railroad through Southeast Asia, rescues refugees and helps them to reach freedom.
We set up a Rescue Team to raise $2,500 to assist one North Korean to get to safety. We are halfway to our goal and this event will add to our fund.
Tentative Schedule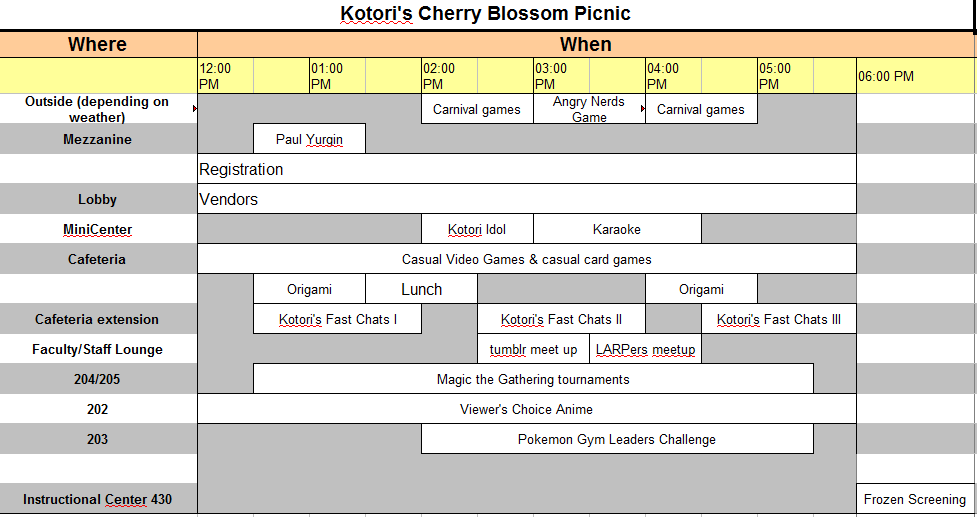 When & Where

Gloucester County College- KotoriCon
1400 Tanyard Rd
Deptford Township, NJ 08080


Saturday, April 5, 2014 from 12:00 PM to 6:00 PM (EDT)
Add to my calendar
Organizer
RCGC Japanese Anime Guild
The Japanese Anime Guild at Rowan College @ Gloucester County (aka Gloucester County College) holds KotoriCon and other events all year to raise money for charity. Kotoricon started in 2010 and has grown each each.  Over the years over $28,000 has been donated to various charities.
KotoriCon is organized by a student club of volunteers with assistance from staff and faculty at Rowan College @ Gloucester County. These Otaku want to encourage sharing in Japanese culture, and help those in need.  We are the "little anime con with a big heart".
Kotori's Cherry Blossom Festival 2014 & Frozen Movie Night