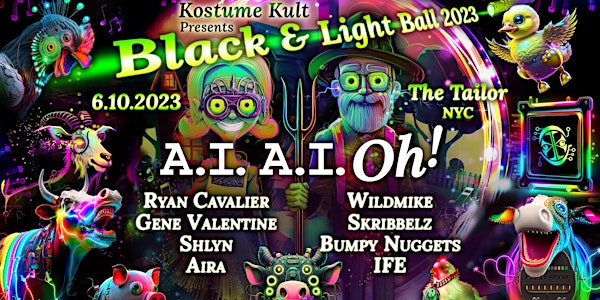 Kostume Kult Presents: A.I. A.I. Oh! - Black & Light Ball 2023
Come and help us spawn many Artistically-Intelligent, black-lit possibilities at this legendary all-night dance party!
Date and time
June 10 · 9pm - June 11 · 5am EDT
Location
The Tailor Public House 505 8th Ave New York, NY 10018
About this event
Kostume Kult Presents:
--= A.I. A.I Oh! =--
Black & Light Ball 2023
THEME
At Black & Light Ball, all forms of electronic or black light reactive fashions are encouraged. For this year's theme, consider the artistic and absurdist possibilities of Artificial Intelligence -- Utopic, Dystopic and especially "Neontopic". Seed this metaphoric farm, wade into the black light and generate eye-popping visions as a unique creation, artificially enhanced nursery rhyme character or glowing animal ready for BM23's Animalia theme... With an Oink Oink here, and a Beep Beep there!
THEATRICAL THEME (in development)
Upgrade your software, enhance your hard drive and expand your capabilities with our revolutionary KK-AI... Performance before midnight, interactive activities throughout. Get involved! (link below).
MUSIC (DJ's spinning electronic beats in two rooms)
AIRA
WildMike
GENE VALENTINE
SHLYN
BUMPY NUGGETS
RYAN CAVALIER
SKRIBBLEZ
IFE
ART & ACTIVITIES
- Midnight Fashion Show
- MakkDonald Theater
- The Singularity
- Reverse Turing Tests
- Robotic Petting Zoo
- Barnyarn Maze
- Body Painting by Jaskela Body Art
GET INVOLVED:
Propose Art/ Activity: bit.ly/KKBLB23APF
Volunteer: bit.ly/KKBLB23VF
TEAM
Production: Gene Harrison
Music Curation: Kishti & Gene Harrison
Theatrical: Alex Gurevich
Lighting: Christian Diaz
Photographer Wrangler: Tom Egan
Ticketing issues: tickets@kostumekult.com
Flyer by Alizarin Zroob & Costume Jim with Midjourney. Old timey copywriting.
ABOUT BLACK & LIGHT BALL AND KOSTUME KULT
Black & Light Ball is an annual springtime fundraiser for Kostume Kult (Costume Cultural Society), a non-profit arts org supporting costume art, street theater and big fun while bringing wonderful people together. Historically a psychedelic spoof of Truman Capote's Black & White Ball, BLB #18 is a high tech event mixing glowing light art and fabulous fluorescent fashions illuminated by a vast array of black lights. All KK events are participatory theater where the guests are the players and where we take any artistic license that makes things more fun or ridiculous. Get involved, join us at kostumekult.com/join/
COMMUNITY CODES
True to Burning Man's 10 Principles: Kostume Kult is inclusive, welcoming the stranger and all those who dare to participate. Our events are safe spaces where we welcome new people while warning everyone to *respect boundaries* and *ask first* when photographing or flirting